First Line
Tag
Who needs an extra sexy romance read this weekend? ROCKY RIDE is one you need to try.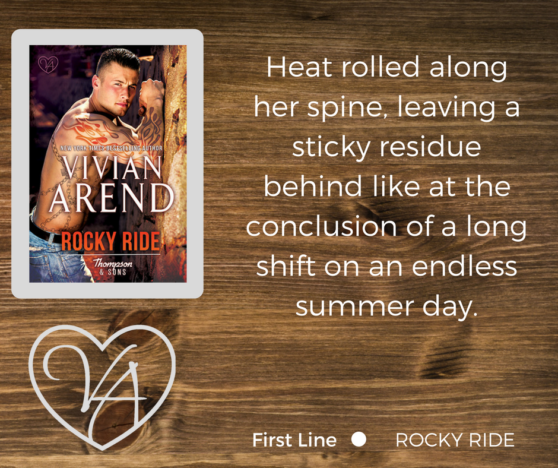 Heat rolled along her spine, leaving a sticky residue behind like at the conclusion of a long shift on an endless summer day. Only it wasn't hard labour that had brought the undeniable flush to her skin. It wasn't the sweltering breeze blowing past, causing leaves on the nearby trees to tremble, or the scalding sun beating down on her dash.

It was sex. Or more accurately, the anticipation of sex.

A straight-up, body-pounding, muscle-clenching fuck about to be delivered with all too much finesse by her favourite speeder in the entire district.

Right now she wasn't in the RCMP cruiser, and she certainly wasn't on any major highway in the Rocky Mountain House area. Anna Coleman sat in her personal vehicle at the side of a lonely country gravel road as anticipation rapidly rolled toward consummation.

Thank God.

Her side-view mirror gave her a flawless view of Mitch Thompson. He uncurled himself from his Harley, removed his helmet and left it behind on the handlebars. Her heart rate kicked up as he sauntered closer, dragging a hand through his dark hair before pulling off his sunglasses and hanging them from his front pocket. Black leathers gripped his thighs, sunlight flicking off the fabric as he strode forward. The tight black T-shirt only emphasized the width of his chest and biceps, the dark lines of his tattoos curling over his forearms to where they ended in ragged flames on his wrists and the back of his hands.

Hmmm, his hands…

His usual cocky grin was absent, instead his expression one of total dignity and control, one step away from a glare. From this distance, she couldn't see the golden specks in his dark brown eyes, but they were there, the knowledge of how they flashed brighter during moments of intense pleasure intimately embedded in her memory. His hair was too short to be more than rumpled from the time under his helmet, the dark brown strands matching the shadow of facial hair darkening his square jawline.

Nice. Today Mitch was one hundred percent hoodlum playing one hundred percent dangerous authority, and the combination caused one hundred and ten wicked reactions. She squeezed her knees together, but the pressure did nothing to ease the localized ache between her thighs.

He rapped his knuckles on her window.

Anna moved slowly, as if she hadn't been panting for this moment. She rolled down her window but stared straight ahead, refusing to make eye contact.

"I need to see some identification," he drawled.

"What seems to be the problem?" she tossed back, one side of her mouth twitching upward briefly before she got her amusement under control.

"You have no idea what you've done?" Mitch leaned in, elbows resting on the doorframe and inhaled deeply. "You got an explanation for the smell in here?"

She jerked to face him. That question wasn't in their usual repartee. "Smell?"

His panty-melting grin exploded. "Hmm. Like sweet, hungry pussy."

Holy moly. Anna squirmed. "You're mistaken. I'm not transporting any animals.
Purchase
Digital: Amazon US | Amazon UK | Amazon CA | Barnes & Noble | Kobo | iBooks US | iBooks UK | iBooks CA
Print: Amazon | CreateSpace
Audio: Amazon | Audible | iTunes
Ever read a book about a hero who falls head over heels for his ex-girlfriend's little sister? Now's your chance! Get ROCKY MOUNTAIN DESIRE today!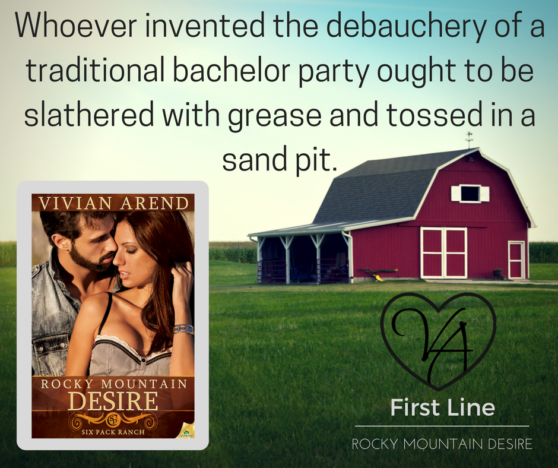 Whoever invented the debauchery of a traditional bachelor party ought to be slathered with grease and tossed in a sand pit. Matt Coleman worked his way down the length of the bar, tray full of beer jugs balanced precariously as he manoeuvred his burden over the rowdies crowding the floor.
There were too many bodies, too many familiar faces to cut and run like everything screamed for him to do. This wasn't where he wanted to be, not by a long shot. But his personal preferences didn't free him from his responsibilities as the oldest single male in his family.
His brother was tying the knot? Matt would take a trip into hell itself to make sure all the rituals and customs were followed. Even the stupid ones.
A loud roar sounded from ahead of him, and he hurried his step, hoping to control the damage before someone—probably one of his younger brothers—went totally out of control.
"To Daniel, who not only got his balls chained but sleepless nights with kids thrown into the bargain." One of the many cousins in attendance shook a stuffed bear in the air. The attached set of handcuffs rattled, and laughter rang out before he tossed the gag gift onto the table with the others.
Matt lowered his tray in time to see Daniel's response all too clearly. The familiar ear-to-ear grin his brother had worn for most of the past year proved he didn't give a shit his freedom was about to officially disappear into the sunset.
The music picked up, both in volume and tempo, and enthusiastic hoots rose from the males crowding the private room at Traders Pub. The door on the far side of the raised platform opened and a pair of long, slim legs appeared.
Someone yanked on his shirtsleeve. Matt leaned in close enough to hear Daniel above the rest of the boys' caterwauling.
"Strippers? You trying to get me killed?"
"I stopped at dirty dancers. Beth won't kill you unless you touch 'em." Matt lifted his shoulders briefly. "Face it, bro, this part of the party ain't for your sake anyway. You tell me the entire clan would accept your idea of a steak dinner and a brew down at the ranch, and I'll suspect you've found a bottle of Unca's moonshine and been sampling it on the sly a little too hard."
Daniel shook his head, raising his drink in salute. "I'm telling her this was your idea."
Have you ever read about Dolphin shifters? Now's your chance!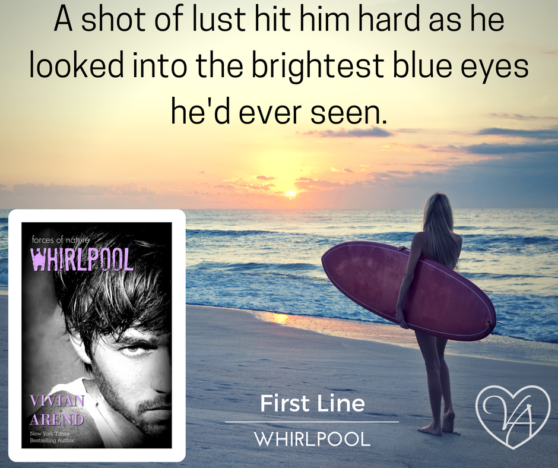 Chapter One

A shot of lust hit him hard as he looked into the brightest blue eyes he'd ever seen. Jamie cleared his throat, striving to distract his body before his involuntary reaction became too noticeable.

"Can I help you?" The blonde held on to the door, blinking up at him, her soft voice tickling the nerves along the back of his neck.

Could she help him? Holy hell, he wished she were the reason he'd come. "I'm looking for Ms. Colten. I had an appointment to categorize the artifacts her late husband had gathered."

A confused expression crossed the young woman's face before she blasted him with an earthshaking smile. "Oh, you mean Lady Victoria. She doesn't live here anymore. She's moved into an apartment in town. Ms. Alexia lives here now, and her husbands aren't dead."

Jamie dragged his gaze off her and the amazing objects visible just over her shoulder in the background. The house overflowed with enticing treasures, but he needed to concentrate a little harder until the preliminary welcome was over. He must have misheard her.

"Could I speak with Ms. Alexia then?" he asked.

"She's on her honeymoon. I'm watching the house. What's your name?"

He stared into her pure, sweet face, absolutely mesmerized.

"Jamie Powell." Skin like porcelain, delicate eyelashes. He patted his pockets absently. "I have ID if you'd like. I was hired to do an inventory and assessment on Blain Colten's diving collection. Joshua Marley contracted me. Is he here?"

She hesitated for a second. "No, he's gone too. Ummm, he's…traveling."

A door opened behind the woman and a man easily six foot seven stepped through. Rock-solid muscles flexed as he strode closer. His head was shaved clean and between him and the woman Jamie felt like he'd walked onto the set of a Beautiful People magazine shoot. He'd never seen a more attractive pair.

"Chelsea, did you need me to pick up any groceries while I'm in town?" The soft expression on the man's face tightened and his voice sharpened as his dark brown eyes focused on Jamie. "Can I help you?"

Jamie wondered what he'd done to annoy the giant. He managed to pull a business card from his pocket and present it.

"He said he's here to do an assessment," Chelsea offered.

"I'm looking for Joshua Marley or Alexia Colten. I'm supposed to work on a marine-artifact collection." Jamie found himself staring at the woman again. A faint scent of perfume wafted over and his mouth watered. Damn, everything about her was attractive.

The tall newcomer stepped between them.

"They're on their honeymoon," the giant answered briskly. He gently nudged Chelsea aside, prodding her in the direction of the open room behind him. She wandered backward from the door, her gaze meeting Jamie's as she gave a mischievous wink. His heartbeat increased. He returned her smile before glancing up to see a disapproving glare drilling into him.
Purchase:
Whirlpool is available for Kindle Unlimited subscribers, or for purchase on Amazon
Read all about Len and Janey in ONE SEXY RIDE.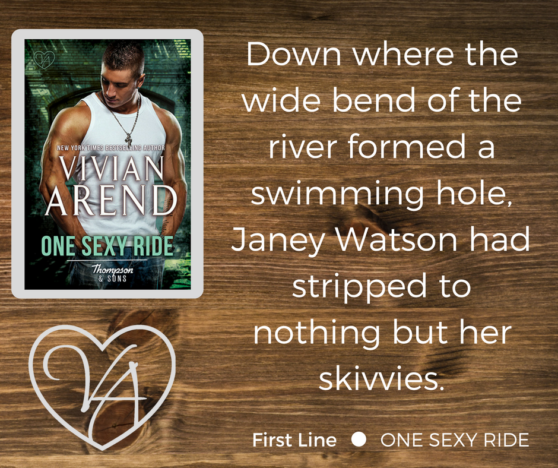 L
ate June, Rocky Mountain House

Down where the wide bend of the river formed a swimming hole, Janey Watson had stripped to nothing but her skivvies. Len Thompson stood hidden in the trees between the gathering by the bonfire and the clearing at the water's edge, and wondered what he'd done to deserve this kind of punishment.

Fading sunlight breached the leafy canopy, shining like a spotlight on Janey's mostly unclothed flesh. Her strong limbs were covered with a nice layer of curves, and she raised her arms in the air, swinging her hips to the music carrying from the distant bonfire.

His body's response was instant and brutal, but escaping his self-inflicted torture was impossible. Nope, it didn't matter that his cock was rock hard. Maybe he could get some relief if he turned his back on the enticing sight of nearly naked Janey and walked away—but that was impossible. The second option was to yank out his dick and jack off right there and then.

Third option—wade in and take what you damn well want.

"I can dance forever." Janey shouted to the heavens, twirling, arms extended like angel wings. Len's gaze dropped involuntarily over every inch, soaking in the sight and cursing himself for being too weak to look away. Firm hips, ample breasts, her hair swinging as she continued to rotate. Between her legs, a dark patch showed through underwear that had gone see-through now that it was wet.

He pressed his hand over his cock. He refused to pull out his dick and simply give in to the need, but fuck if he didn't want to.

Another grumble of objection rose in his gut as Shannon and Liz joined Janey, the three girls slipping into the water and splashing innocently. He was some kind of goddamn saint for having resisted temptation this fucking long.

When the girls had snuck away from the gathering around the bonfire, he'd followed. He'd kept to the background, but no way, no matter how lighthearted this get-together was supposed to be, no way were three young women gallivanting off by themselves in the growing darkness.

And by this point in his life, keeping an eye on Janey was more than a habit.

If he was honest, every time she barreled into his personal space with her wild, vibrant energy, he'd been waiting. Expecting her to be there, tormenting him with her sensual touches and unending flirtation. Even tonight, while she acted as if she didn't know he was watching—her pale skin gone slick with handfuls of river water she laughingly tossed overhead—even tonight he bet anything she knew he was there.

She always knew where he was. He knew where to find her.
Purchase
Digital: Amazon US | Amazon UK | Amazon CA | Barnes & Noble | Kobo | iBooks US | iBooks UK | iBooks CA | GooglePlay | Scribd | Oyster
Print: Amazon | CreateSpace
Audio: Audible | Amazon | iTunes
Get the first book in the sexy pararnormal romance series, Takhini Shifters: Copper King.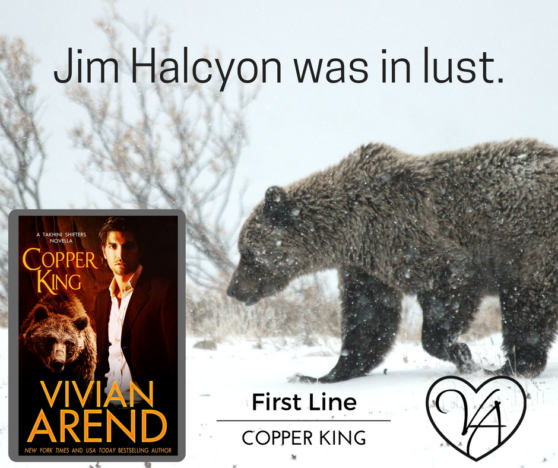 Jim Halcyn was in lust.

Or maybe obsessed was a better term. Whatever it was, he couldn't pull his gaze away. Her bright coppery tones reflected the overhead lights, sparkling back as she rotated before him. Soft edges, infinite value—not because she was so rare, but because of what she represented.

This time, she wasn't getting away from him.

"You're the easiest person in the world to distract," Damon Black taunted.

Jim instinctively closed his fingers over the coin lying in the palm of his hand, tempted to slam the fist he'd formed into the pretty-boy face of one of the only shifters brave enough to mock him.

His best friend peeled his grasp open and withdrew the small copper disk, placing it and its protective plastic case on the bar counter in front of them. "Now that you've seen for yourself Lady Luck is here, let's talk. How have you been? I haven't seen you much in the past month, and phone calls and texts don't cut it, since you suck at doing anything other than yattering about work."

"I've been busy," Jim snapped.

Damon raised a brow, his unspoken see what I mean? coming through loud and clear.

Jim let out a long, slow breath. Fine, he'd humour the blond bastard. "You know, for someone who swears he wants me to relax, you might let a fellow have some quality time with the woman he loves, instead of rushing the moment." Jim deliberately lifted the coin in the air, twisting slowly so the casino lighting bounced off the cut lines, making the ancient artifact shine like a brand-new penny.

"Fine by me." A gloating grin drifted over Damon's fair features. "Since this is the only time you'll get a chance to fondle her, you may as well make the most of it."

"Ass."

Damon chuckled. "Three years running I've won the bet. You must miss having Lady Luck in your life."
Purchase:
Digital: Amazon US | Amazon UK | Amazon CA | Barnes & Noble | Kobo | iBooks US | iBooks UK | iBooks CA
Print: Amazon | CreateSpace
Audio: Audible | iTunes | Amazon