First Line Friday: Rocky Ride
Who needs an extra sexy romance read this weekend? ROCKY RIDE is one you need to try.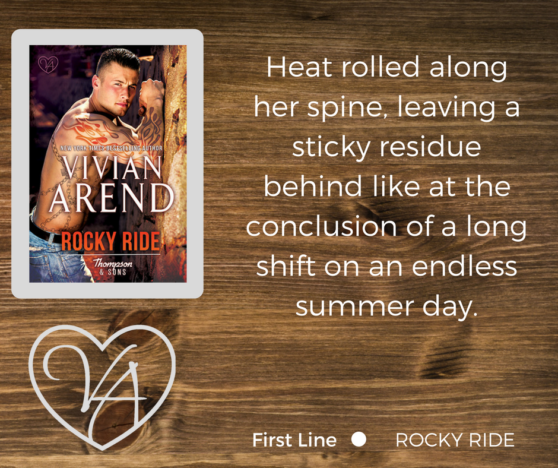 Heat rolled along her spine, leaving a sticky residue behind like at the conclusion of a long shift on an endless summer day. Only it wasn't hard labour that had brought the undeniable flush to her skin. It wasn't the sweltering breeze blowing past, causing leaves on the nearby trees to tremble, or the scalding sun beating down on her dash.

It was sex. Or more accurately, the anticipation of sex.

A straight-up, body-pounding, muscle-clenching fuck about to be delivered with all too much finesse by her favourite speeder in the entire district.

Right now she wasn't in the RCMP cruiser, and she certainly wasn't on any major highway in the Rocky Mountain House area. Anna Coleman sat in her personal vehicle at the side of a lonely country gravel road as anticipation rapidly rolled toward consummation.

Thank God.

Her side-view mirror gave her a flawless view of Mitch Thompson. He uncurled himself from his Harley, removed his helmet and left it behind on the handlebars. Her heart rate kicked up as he sauntered closer, dragging a hand through his dark hair before pulling off his sunglasses and hanging them from his front pocket. Black leathers gripped his thighs, sunlight flicking off the fabric as he strode forward. The tight black T-shirt only emphasized the width of his chest and biceps, the dark lines of his tattoos curling over his forearms to where they ended in ragged flames on his wrists and the back of his hands.

Hmmm, his hands…

His usual cocky grin was absent, instead his expression one of total dignity and control, one step away from a glare. From this distance, she couldn't see the golden specks in his dark brown eyes, but they were there, the knowledge of how they flashed brighter during moments of intense pleasure intimately embedded in her memory. His hair was too short to be more than rumpled from the time under his helmet, the dark brown strands matching the shadow of facial hair darkening his square jawline.

Nice. Today Mitch was one hundred percent hoodlum playing one hundred percent dangerous authority, and the combination caused one hundred and ten wicked reactions. She squeezed her knees together, but the pressure did nothing to ease the localized ache between her thighs.

He rapped his knuckles on her window.

Anna moved slowly, as if she hadn't been panting for this moment. She rolled down her window but stared straight ahead, refusing to make eye contact.

"I need to see some identification," he drawled.

"What seems to be the problem?" she tossed back, one side of her mouth twitching upward briefly before she got her amusement under control.

"You have no idea what you've done?" Mitch leaned in, elbows resting on the doorframe and inhaled deeply. "You got an explanation for the smell in here?"

She jerked to face him. That question wasn't in their usual repartee. "Smell?"

His panty-melting grin exploded. "Hmm. Like sweet, hungry pussy."

Holy moly. Anna squirmed. "You're mistaken. I'm not transporting any animals.
Purchase
Digital: Amazon US | Amazon UK | Amazon CA | Barnes & Noble | Kobo | iBooks US | iBooks UK | iBooks CA
Print: Amazon | CreateSpace
Audio: Amazon | Audible | iTunes