SixPack Ranch
Category
It's here!
We've got a couple of red-hot seniors finding a well-deserved happily-ever-after.
Tons of adorable family time. Some laughter, some tears.
Come settle in for a good, long visit with your friends.
Here's a peek into Blake and Jaxi's morning…
Excerpt
Curled up against him, Jaxi pressed her lips against the side of his neck, easing her legs on either side of his. A throaty moan escaped her, and Blake wanted to both laugh and curse as he realized his hand no longer rested innocently on her hip. Nope. He'd full on cupped her ass and was even now in the process of dragging her on top of his body.
"Looking for trouble—" Jaxi began.
"Maaaaama." The doorknob rattled as PJ's voice rang against the door. "Daaaaaadeeeee."
Absolutely adorable even as their four-year-old's timing made Blake groan. "Invasion?" he asked Jaxi.
She pressed a quick kiss to his lips before carefully crawling off. "I'll get him. You deal with—things."
With a slightly wicked pat of her hand against his belly, Jaxi swung away before he could grab her, hips wiggling saucily as she headed toward the door.
Blake rolled, adjusting his hard-on to a more comfortable position that was slightly protected in case their oldest son decided to jet propel his way onto the mattress like he usually did.
"Yes? We didn't order any pizza," Jaxi said as she knelt beside the door.
Around her, PJ's expression went utterly serious as he shook his head. "Not peeza. Cuddles."
"Well, that's totally different." Jaxi scooped him up, closing the door and returning to the bed. "Look, Daddy, we have an early morning delivery of cuddles."
"One of my favourite things," Blake said sincerely, opening his arms.
PJ snuggled in, and Blake felt that pulse deep inside again. The one that made him ache even as it brought a smile to his face.
Jaxi sat on the edge of the bed, her expression filled with wonder. "I love you."
She said the words so simply, but it was clear the message was meant for him, not their son. Although she totally loved their kids to pieces, this thing between them wasn't getting any smaller. After eight years of marriage it seemed to simply grow, expanding to fill every single bit of room, not just in Blake's heart, but in their home.
Even as he draped an arm around their son, he patted the mattress beside him. "Climb in. It's cold out there."
She smiled wryly. "I will. But I figured I'd wait to let the rest of them in first."
"Who—?"
He shouldn't have bothered asking. He knew the answer.
"Daddy?" A chorus of little girls.
Jaxi blew him a kiss before sneaking from the room. By the time she got back with two-year-old Justin in her arms, the seven-year-old blonde-haired twins, Rebecca and Rachel, had settled on either side of six-year-old Lana.
Lana sighed contentedly. "I like sleepovers."
"Not a sleepover when it's Mommy and Daddy's bed…" Becca explained seriously.
"…it's family cuddles," Rae finished.
"Shove over there, kids," Jaxi said with amusement. "Make room for your brother."
Shockingly, ten minutes later the bed was silent. The girls had curled up in a heap like puppies and fallen back asleep almost immediately. Against Blake's chest, PJ's blondish hair spread in a tangled mess. He'd snuck his thumb in his mouth, his little chest moving easily.
Justin was sprawled on top of Jaxi, contented baby snores rising from him.
And Blake and Jaxi, teetering on the opposite edges of the mattress.
Rocky Mountain Forever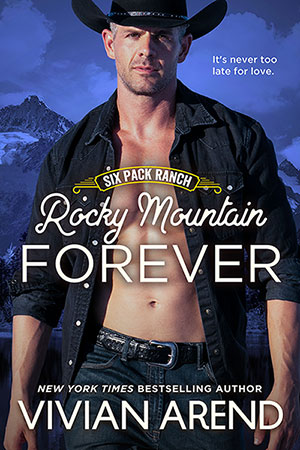 With the release of Rocky Mountain Forever right around the corner, it's time for the Six Pack Ranch readers to take on the ultimate SPR Die Hard Chronological Reading List! Good luck!! 
Rocky Mountain Heat             (Six Pack Ranch 1)
Rocky Mountain Haven          (Six Pack Ranch 2)
Rocky Mountain Desire          (Six Pack Ranch 3)
Making Memories                   (Six Pack Ranch Vignette 1)
Rocky Mountain Angel           (Six Pack Ranch 4)
Rocky Mountain Rebel            (Six Pack Ranch 5)
Never Too Far                         (Six Pack Ranch Vignette 2)
Rocky Mountain Freedom      (Six Pack Ranch 6)
Rocky Ride                              (Thompson & Sons 2)
Home Building                        (Six Pack Ranch Vignette 3)
Rubber Boot Romance            (Six Pack Ranch Vignette 4)
Rocky Mountain Romance     (Six Pack Ranch 7)
Rocky Mountain Retreat         (Six Pack Ranch 8)
Rocky Mountain Shelter         (Six Pack Ranch 9)
Lights & Secrets                      (Six Pack Ranch Vignette 5)
Rocky Mountain Devil             (Six Pack Ranch 10)
A Daddy's Love                       (Six Pack Ranch Vignette 6)
Rocky Mountain Home           (Six Pack Ranch 11)
A Rancher's Heart                   (Stones of Heart Falls 1)
Surprised at Bootstomp Point (Heart Falls Vignette Collection Vol.1)
The Cowgirl's Forever Love    (Colemans of Heart Falls 1)
The Cowgirl's Secret Love       (Colemans of Heart Falls 2)
The Cowgirl's Chosen Love     (Colemans of Heart Falls 3)
Oh, Baby!                                (Heart Falls Vignette Collection Vol.1)
Rocky Mountain Forever        (Six Pack Ranch 12)
This list includes books and vignettes for all the family members of the Coleman clan. Books from Six Pack Ranch, Thompson & Sons, Stones of Heart Falls and Colemans of Hearts Falls series. Can you get through them all before Rocky Mountain Forever releases on February 16th? 
If you do, let me know! Or let me know your favourite titles as you revisit them!
[for those who want the definitive list with ALL western romance titles to date in my collective worlds, go to the bottom of this page: https://vivianarend.com/western-romance-books/six-pack-ranch-series/]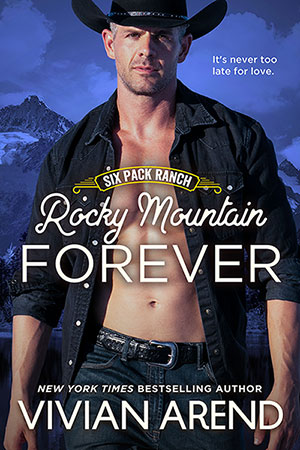 I have news!!
ROCKY MOUNTAIN FOREVER (SIX PACK RANCH BOOK 12)
*cheers along with you* Yes, it's coming. For those of you constantly haunting my inbox for updates, my assistant Nic will no longer tell you "when the time is right, we'll let you know!"
The time is right.
I've finally written the book that takes us back to Rocky Mountain House to revisit the entire Coleman clan. You'll catch up on what's been happening with your favourite characters, and who's up to what mischief in the community.
We won't be the only ones returning. It's time for Mark Coleman (Uncle Mark) to find a way back to the family, and to his happily-ever-after.
The cover? Hmmmmmmm!!
Timeline for the story: a slight overlap with the end of The Cowgirl's Chosen Love, and with Lisa and Josiah's short story, covering nearly a year and ending just before Canadian Thanksgiving. The book will be available in ebook, audio and the print version will include the vignettes found in the ebook ROCKY MOUNTAIN VIGNETTES.
I hope you're ready to celebrate this story with me. Be sure to let your fellow Six Pack reading friends know that ROCKY MOUNTAIN FOREVER is on the way!
Release date: February 16, 2021
---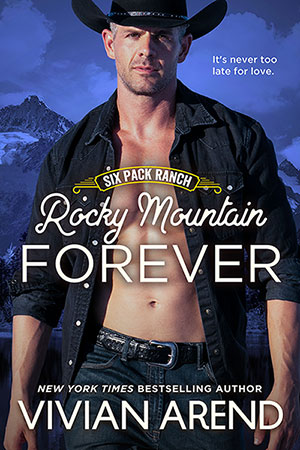 A return to the bestselling SIX PACK RANCH series by New York Times Bestselling Author Vivian Arend. While this book contains a stand-alone romance, it's best read as a part of the series.
——-
It's never too late for love.
Years ago, Mark Coleman made the only possible choice and left Rocky Mountain House before he tore his family apart. When he hears the four clans—Six Pack, Whiskey Creek, Moonshine and Angel—are working together to create a memory book, Mark also discovers the one detail that finally triggers his return.
Because he's not just coming back to the family. Now that Dana is free and ready to move on, Mark plans to give the only woman he's ever loved all the devotion and happiness she deserves, no matter how much sweet-talking, or dirty talk, it takes.
Meanwhile, when a shocking truth is shared with the oldest of the Six Pack sons, Blake Coleman begins a journey of assessment. Can he really fill his father's boots and be the leader his generation turns to for guidance?
With lots of visits with all your favourite Colemans, this is a celebration of love and the lessons learned along the way.
Warning: this book is full of happily-ever-afters. Lots of I love yous, lots of babies, lots of laughter and happy tears. Pretty much, readers familiar with the series have a ton of feel-good hours of reading ahead. If you want angst—this isn't it.
It's their turn.
The Whiskey Creek women, of course.
It's been a long time coming for them to find their happily-ever-afters, and this author is very glad to finally dive into the series that completes ALL the Coleman family stories.
If you're new to my books, this is a bit of history, and you don't need it to enjoy The Colemans of Heart Falls. I've made sure the new stories are completely stand alone, but if you're interested where the rabbit hole began, read on!
When the Six Pack ranch started in 2009 (or 2011 when it was re-published at Samhain) the original idea was to have five books in the series. Then I realized that, while it was a big family, I couldn't bear to not find true loves for ALL the cousins.
Only one problem. When the dust settled there were 6-Six Pack brothers, 4-Moonshine siblings, 2-Angel brothers, and 3-Whiskey Creek sisters, which meant there were 15 Colemans and would be 15 books in the series.
That's a big bite for anyone!
So even though I'd already given thought to what was going to happen in Karen's story, and planted the seeds in Six Pack Ranch book 6 (Rocky Mountain Freedom) I made the executive decision that series would be all about the boy cousins.
Anna (Moonshine) Coleman found her love in the spin off Thompson & Sons series.  Tamara (Whiskey Creek) Coleman finally got hers in A Rancher's Heart.
And now there's a new trilogy to complete the Coleman saga, and what a journey it's been! You could re-read the previous series if you want glimpses of the Whiskey Creek women. But if you want to sit back and wait, let me assure you that Lisa and Josiah are one of my favourite couples to date. Josiah's definitely a cinnamon roll hero (ie sweet and delicious and would do ANYthing for his woman), and Lisa could be my bestie, and the two of them together make me smile.
There will be more of the friends you met in Heart Falls, and a sweet puppy named Ollie, and a baby, and definitely some surprises.
I'm looking forward to you starting this new adventure with me as love comes to Heart Falls once again!
The Cowgirl's Forever Love releases May 21st!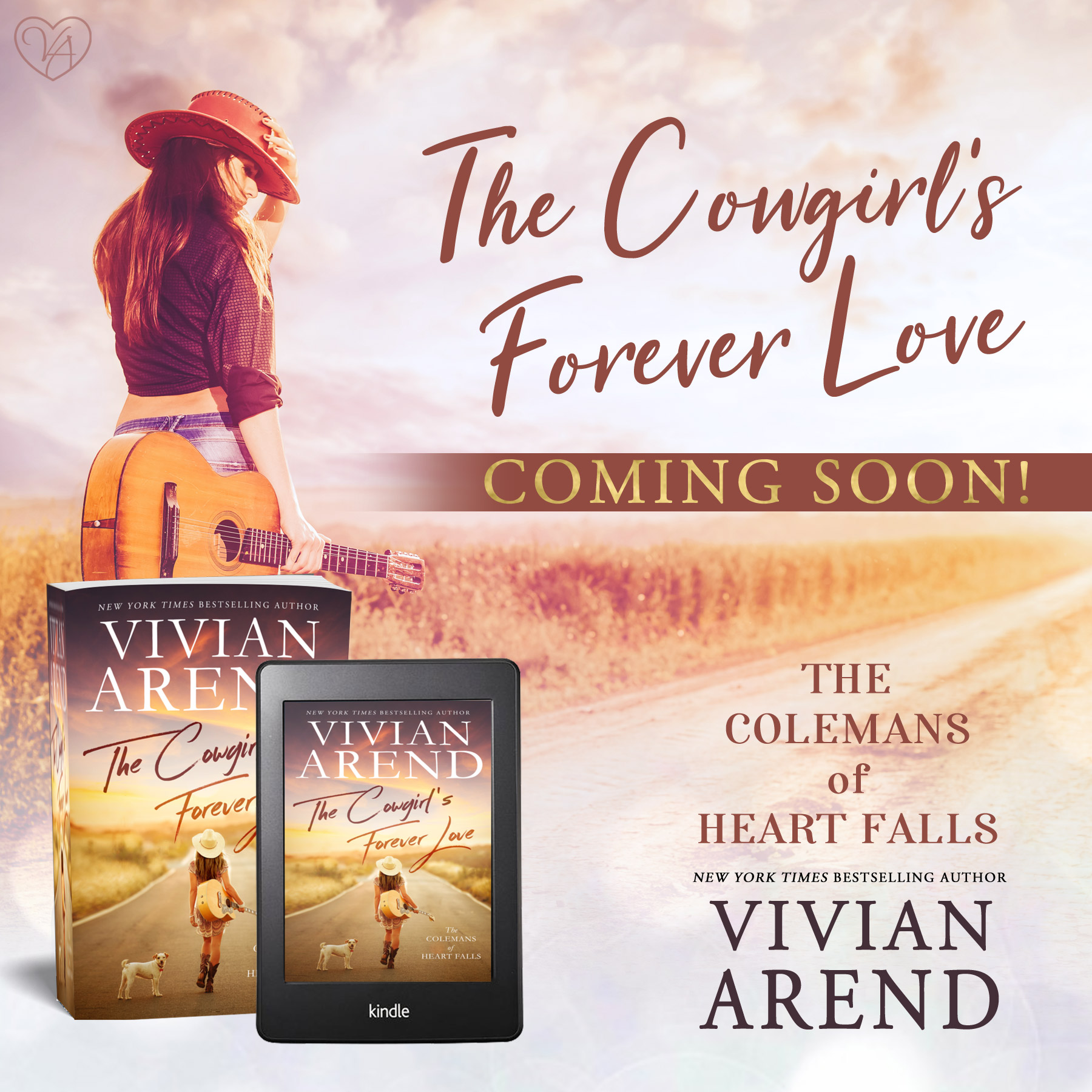 Have you read Rafe and Laurel yet? These childhood best friends get a second chance.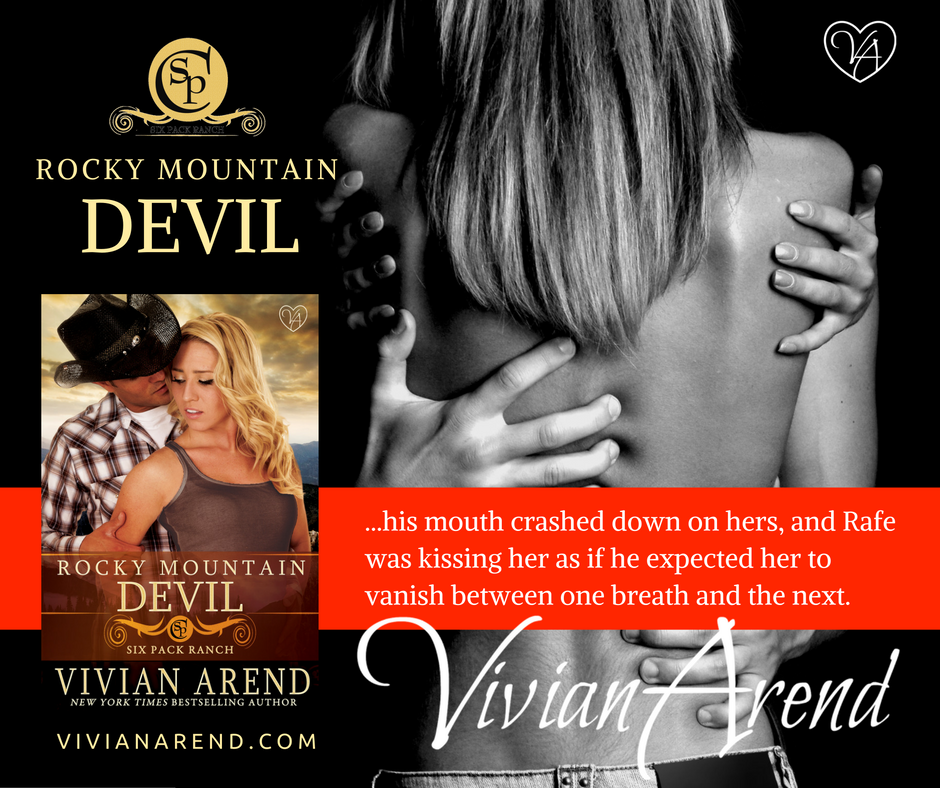 The sweetest part of temptation is giving in…

Raphael (Angel) Coleman and Laurel Sitko were thick as thieves throughout their school years. The unlikely friendship between the rancher's son and the preacher's daughter might have gone unnoticed by most, but their shared laughter and connection were the best parts of Rafe's life growing up. Now that she's returned to Rocky, he's eager to move from friend to something far more intimate.

After three years away, Laurel's ready to start over with the gorgeous cowboy who's always owned a piece of her heart. But when her college ex shows up in town, she's got a lot more to deal with than expected, including one suddenly possessive cowboy determined to protect her even as he tutors her through every sexual lesson in the book.

Desire flares hotter and hotter through stolen moments and willing seduction. But when tragedy strikes, Rafe's left on shaky ground, his biggest fear now a reality that could tear them apart and rip forever from their grasp.

Will the connection forged by time be strong enough to see them through to the other side?

Warning: Friends to lovers equals sweet kisses heating to earth-shaking passion, mixed with laughter and tears. Get ready for hellos, farewells and goodbyes…some forever. Because everyone knows the only real secrets in a small town are the ones you're willing to take to the grave.
Pre-Order your copy today!