New release
Category
Every book I write becomes special for some reason. This one—there are deep truths that became clear as the story progressed. Some universal lessons about family that made me think hard and long about what's truly important, and how discovering them would guide people to try to become better in the future.
While the story is about Finn and Karen learning how to be rock-solid for each other as a couple, it's also about looking within and deciding what would make them into who they need to be for themselves.
And if that sounds too woo-woo and emo, don't worry. There are also wild horses, foals, and Dandelion Fluff, the kitten. Duck races and human CLUE games and a lot of time spent by a bonfire.
Throw in sisters, laughter, and tons of sparks of joy, and you'll have the not-so-very-secret anymore love affair of Karen and Finn. I hope you enjoy this second chance at love.
Here's a short excerpt so you can meet Dandy!
It was barely two o'clock, and he was done.

As Finn made his way slowly across the yard and up to the cottage, parts of his body screamed in pain that he hadn't expected.

He made it as far as the living room before a little ball of white fluff attacked the sock covering his uninjured foot. The next moment, the demonic creature had all four claws dug into the thick knit fabric, limbs splayed wide to keep his balance as Finn's leg swung freely.

It was like an elephant getting attacked by a mouse, and in spite of his pain and exhaustion, Finn discovered laughter bubbling up.

"Beast."

He pulled out a kitchen chair and leveraged himself into it. Once his foot was resting on the ground, the kitten made his way upward, climbing Finn like a scratching post.

"Oh, hell no. None of that." Finn grabbed the thing by the scruff of the neck before he could dig his claws into Finn's crotch. He held the kitten in the air in front of his face.

The beast swung teeny paws and offered adorable growling meows.

Finn snickered. "Should've called you Marshmallow Fluff. You're sweet enough to make a man go into shock."

He scratched the little thing under his furry chin then tucked the kitten against his chest. He kept one hand over Dandy's body, cradling him close, and the next thing Finn knew, the kitten was purring, nuzzling his shirt.

"Now there's a sight." Karen stood in the doorway, a soft smile on her lips. "I wondered where you'd gotten to, but now it all makes sense. You knew Dandy needed cuddles."

"Can't have him getting lonely," Finn said gruffly.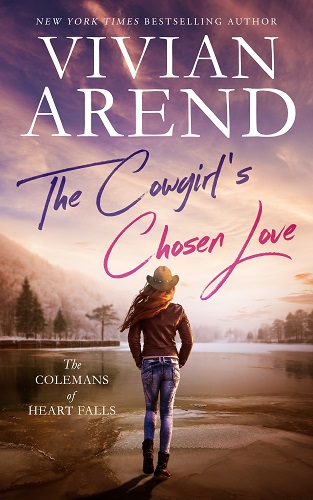 Welcome to Heart Falls—a place for family, friends, and a second chance to fall in love.
A stand alone novel in a new trilogy by New York Times bestselling author Vivian Arend.
Wealthy rancher Finn Marlette's move to Heart Falls to fix what went wrong between him and Karen Coleman just got complicated. Suddenly he's got five months to get his new dude ranch up and running, or lose the place to a hated rival.
New agenda: Show up on Karen's porch, tell her they belong together, and offer her a job.
After a lifetime of following the rules and other's dreams, Karen's determined to find her own path. The last thing she needs is to get involved with Finn again—it was only a secret fling, and she still fell hard.
But the summer job he offers is tempting—it's a chance to work with men who truly appreciate her ranching skills. Finn's determined to tempt her into remembering all the delicious sexual appreciation between them as well.
Wild horses can't keep them apart, but sabotage and too many secrets might…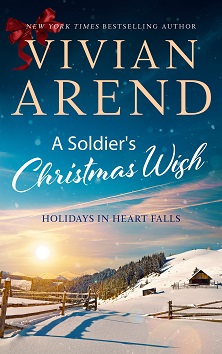 It's time! I hope you enjoy Brooke and Mack's trip to forever!
On a different note, there are a LOT of treats mentioned in this book. A lot. So many, I was getting hungry while writing it. Let me know which treats you spot, which you've never had and which are your favourites!
Happy Holidays to you!
 Pick up your copy today!
US Booksellers:
It's time! The start of something fun and light-hearted, with friends to lovers and family and polar bear shifters!
I hope you enjoy reading Kaylee and James's adventure on the way to forever. And remember books 2 & 3 are up for preorder so you don't miss a single bit of the match-making mischief happening in the Borealis Bears clan!
He's going to accept his fate—but only with the woman he chooses!
 Youngest brother James Borealis figures if he has to get mated, it should be with someone he already knows and cares about—his best friend Kaylee. But when the mating fever hits, she's still stuck in friendshipland while he's ready to move all the way to true love and forever.
Kaylee has heard about polar bear mating fever, but while James has held the starring role in her fantasies for a long time, she's not about to leap into a permanent relationship that's all wrong for him. He's the PR powerhouse for Borealis Gems while she's a quiet bobcat shifter with massive family baggage. He loves the spotlight; she wants to hide in quiet corners.
But mating fever knows best, and when the storm settles, there's no use in arguing with a polar bear's choice.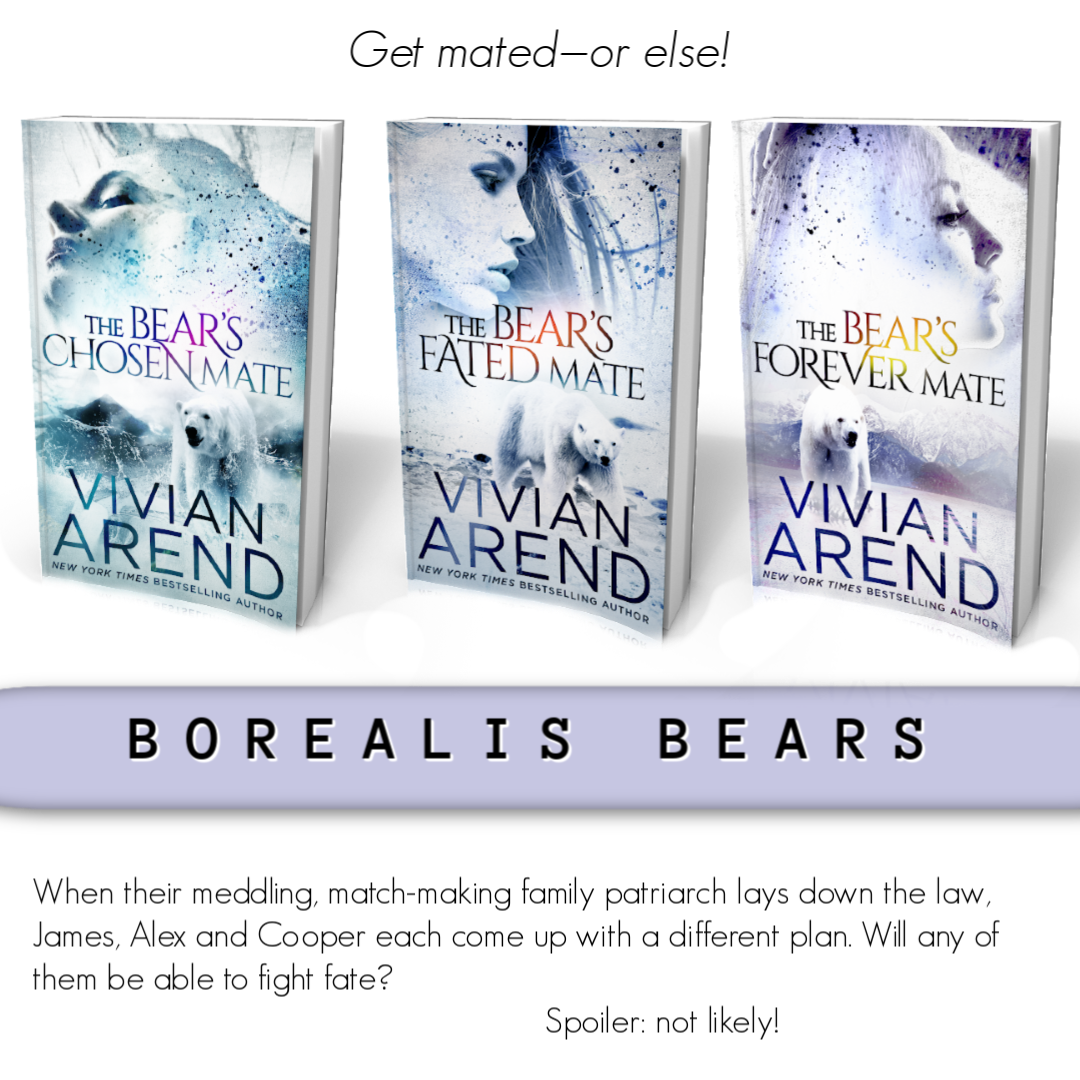 Purchase
Today is the release day of A RANCHER'S BRIDE! I can't wait for everyone to read Luke and Kelli's story.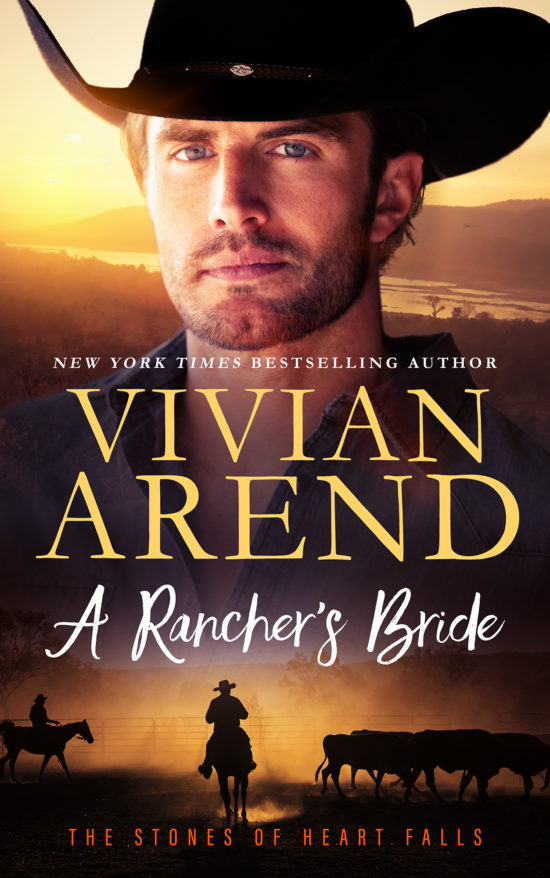 Excerpt
"Thank you for my kiss."
His eyes flashed hot before he cringed, lips twisting into a sarcastic smile. "It shouldn't have happened."
Oh no he didn't. "Don't you start that," she ordered. "It's not as if I twisted your arm and forced you to kiss me, so let's just carry on the way we started."
"I get it. I hear you," Luke insisted. He opened his knees, making a face as he moved, but then he caught her by the hand and tugged her to stand between his legs. When he caressed a finger over her cheek, Kelli wanted to nuzzle against him.
June bugs were jumping in her belly.
"I don't want to hurt you," Luke said. "You're somebody special, Kelli. I'm not going to fall into bed with you just to scratch an itch. No matter how much you say you'd be okay with it."
"It's what I want," she pointed out.
"So you say, but this isn't you and me acting in isolation. There are a whole lot of people at Silver Stone who'd be willing to tie me up and let the goats eat me if I treat you badly."
She'd already thought about this excuse. "We're adults, and last time I checked, neither of us live our lives by committee. For the duration of our time here, I truly am good with us having a red-hot fling."
Purchase
US
UK
Canada
What makes a good relationship?
When it comes to friends—    Honesty with caring.
When it comes to lovers—      Honesty with caring and lots of sparks.
When it comes to forever—   All of the above, and I really think you need to be able to laugh together.
Being a couple for many years usually means navigating some difficult moments, as well as enjoying highlights and passion and things you've looked forward to forever. But another component to what makes a relationship last, I think, is the ability to laugh on a daily basis, sometimes in the middle of worst situations.
It might not be a belly laugh, but that moment when you have to smile, even when your heart is breaking—that's special. That's a connection that goes deep.
One of my favourite moments in A Rancher's Bride is when there's something happening outside the hotel where Kelli and Luke are staying, and…well, I'll let you read part of it. It's a light-hearted scene, but it takes place after a huge emotional change has begun, and it's when Luke starts to see Kelli more completely for the first time.
May you have people in your life who truly see you, and people who want to share the little moments of joy with you enough to force you to come sit with them in a bathtub…
Luke woke to an empty bed, the bathroom door still moving as he peered around the room in search of his missing bed partner.

"Kelli?"

Her head poked out the doorway a second later, eyes twinkling as she crooked a finger and motioned for him to join her. "Hurry up."

He hesitated too long because she rolled her eyes then marched out to whip back the top sheet and grab his hand. "Don't worry, I'm not about to ravish you in the shower or anything. You've got to see this."

This time he followed, curiosity winning out. She guided him to the deep soaker tub that sat in the corner of the bathroom, stepping into the empty basin so she could sit on the far side and point toward the mountains. "Look."

It was a little strange, stepping into the empty tub. He leaned over her, and happiness bubbled up from inside as her laughter rang out.

The massive snowfall had been put to good use already this morning. Someone had built a field full of snowmen, with typical branches for arms and carrots for noses. Here and there were hats and scarves.

A herd of deer were foraging on the edge of the tree line. A couple of the does had fawns with them, yearlings by now, but still with a heightened sense of curiosity. Two of the young ones had wandered in amongst the snowmen, sniffing and scratching at the snow near the base of the rounded balls.

One fawn took a great liking to a scarf around a snow woman's neck, grabbing hold of the end and giving it a tentative nibble. The deer tugged too hard, and the scarf tightened, knocking against the snow woman's neck and decapitating the poor creature.

The loosened head rolled toward the deer, and chaos ensued.

Tails were lifted, flashes of white warning rang out. Deer jumped back, knocking into other snowmen. Within seconds the herd had trampled the snowy field, and most of the snowman army lay in ruins.

Kelli was laughing so hard she couldn't breathe. She turned to toward him, catching his arm and dragging him with her into the bottom of the tub where she gasped for air between peals of laughter.

He felt pretty lightheaded himself.

How had he missed seeing this? How had he missed seeing Kelli?
Preorder Today
US
UK
Canada