Takhini Shifters
Category
Today is the release day for WILD PRINCE! Get your copy of this fun and sexy story about a thief, a mystery, and fated mates.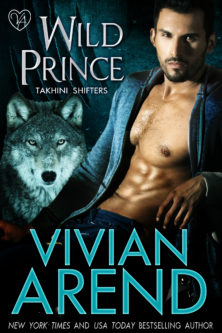 Purchase:
Kobo | Barnes & Noble | iBooks US| iBooks UK | iBooks CA | Amazon US | Amazon UK | Amazon CA
Excerpt:
She looked him over slowly, considering her next move.
His face had that classic movie-star structure. Dark brows, haunted expression, as if he was thinking deep thoughts regarding how to save the world. His solid muscular body was thick in all the right spots, like his biceps and chest, narrowing in at the waist to trim hips, and she really wanted to slip her hands into his back pockets before rubbing herself all over him.
If she had a type, he was it.
A layer of scruff covered his chin, and she was tempted to reach over to see if it was soft or scratchy—she hadn't met many shifters with facial hair.
Intriguing.
He backed up slightly. "What're you doing?"
Oops. She had moved forward on the hard, wooden seat, one hand lifted toward his face. It was too much fun to resist. "Wait. You have something right here…"
Her palm ghosted over his chin and cheek. Hmm, interesting. A combination of scratchy and soft. She wondered what it would feel like if he rubbed it over her skin—especially between her legs. She hummed in approval at the naughty thoughts.
He scrambled backward, the chair falling behind him as he shot to his feet. "Don't do that."
The sharp cut of pain in her chest was unfamiliar, and strong. Being underestimated she was used to.
Being run away from as if she were some kind of monster?
Dani fought back with sarcasm, folding her arms before she could stop herself. "I wanted to see what it felt like. I wasn't going to hurt you."
"Of course you weren't. You're a sweet, innocent girl—you can't hurt me."
Fury struck out of left field. Sweet and innocent?
Fuck. Him.
Dani shot to her feet. "You take that back."
Confusion twisted his face. "You can hurt me?"
She wanted to stomp her foot, but wouldn't, because—obvious reasons.
Three things make billionaire Jim Halcyon's to-do list: women, work…and more women. It's a perfect agenda for a rich shifter who has no problem letting his inner grizzly out to play. From the bright lights of Vegas, to the sophisticated action of New York—he's got the money and the power to do anything he wants.
Anything, except resist the lure of Lady Luck, an ancient copper coin he gambles yearly to possess. Jim is determined to regain control of the pretty penny, and damn if he'll let any bit of eye candy distract him from his goal. Not even the mesmerizing woman in the middle of the casino floor with the shimmering hair and enormous green eyes.
With a life-changing move ahead of her, Lillie's finagled a temporary layover en route to her future. She's got five days to soak in new experiences, and while Vegas is too big and shiny and loud for her shy bear self, she's eager to do this up right. It's the last chance she's got to let her hair down.
Until his challenge begins, Jim is more than willing to oblige Lillie's wish for a final fling. Only Lady Luck has some twists of fate planned for them both…
Purchase:
Digital: Kobo | iBooks US | iBooks UK | iBooks CA | Amazon US | Amazon UK | Amazon CA | Barnes & Noble
Print: Amazon | CreateSpace
Audio: Audible | iTunes | Amazon
The fourth book in the Takhini Shifters series, WILD PRINCE is coming in about a month!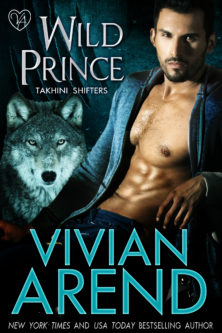 Pre-Order:
Kobo | Barnes & Noble | iBooks | Amazon
Blurb:
Wolf shifter Cole Masterson has been waiting impatiently for his future to arrive. The prophecy declared at his birth seems like pure gibberish, but he's still spent the past thirty-three years trying to prepare for whatever's coming. When his mate finally arrives, her appearance—on a skidoo stolen from him, no less—triggers a cascade of events he's not sure he's ready for.

Dani Neville thought the covert training offered by the leader of an ultra-secret shifter association was her only escape from being stuck forever on an isolated island with her bear-shifter clan. But when her first assignment goes awry, and she ends up being chased through the wilderness by the sexiest, growliest wolf she's ever met, Dani begins to wonder if her goals were big enough.

Suddenly Cole's got to deal with the most delectable thief he's ever had the misfortune to meet—a woman who's also his fated mate, and years younger than him. Dani's got to figure out if being a ninja wannabe is her true desire, or if the chance to stay with her growly wolf is worth fighting for. Meanwhile, a prophecy that's been waiting for years steamrollers them toward their ultimate destiny.

Not everything is as it appears…not even fated love.
Mate…?
The temptation was impossible to resist. He lowered his face to the crook of her neck and inhaled deeply.
A massive shiver shook her teeny frame. "Don't hurt me," she begged. "Don't bite me."
Fear turned her voice ragged, and her panic was nearly enough to make him release his grasp.
Nearly—
His nose told him her tone of voice was the trick because, other than that initial quiver, her entire body wasn't saying terrified. Instead she'd used the motion to loosen his grip and now she was wound up with the tension of a warrior waiting to spring a trap.
"Don't tempt me," he growled. Biting her. Jeez, just the thought made his body react. "If I want to, I damn well will."
For a split second she held on to her act before making a rude noise. "Your response was pretty good," she admitted. "Very gruff and scary. You win this round. Now do you think you could put me down, Mr. Mouse?"
What the hell was this shit? "Mouse?"
He didn't move.
She stared back, examining his face carefully. All he could really see of her was the tip of her nose and a glimmer of light off her eyes. The oversized hood hid the rest of her face in the shadows, but Cole's nose had told him all he really needed to know…
His mate.
She shook her head slightly. "Okay, you're bigger than the average mouse. That would explain why you were making more noise than I expected. But we could have a regular conversation like human beings. There's a perfectly good table over there, with chairs."
Cole refused to let her go. It had taken too much energy to find her, not to mention he was enjoying being pressed against her. "Not human," he pointed out.
Catch Up
Catch up on the Takhini Shifters series now, to prepare for the release of Cole.
Today is the release of A Lady's Heart, the third book in the Takhini Shifters series.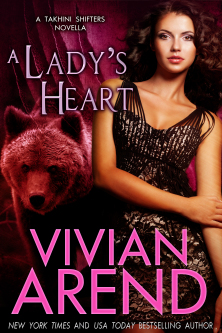 Digital: Amazon US | Amazon UK | Amazon CA | Barnes & Noble | Kobo | iBooks US | iBooks UK | iBooks CA
Print: CreateSpace | Amazon (Coming soon!)
Blurb
Lady Amanda Ainsworth found a safe place to pull herself together under the roof of the loud, boisterous Takhini Wolf pack. Safe—except for the sexy grizzly shifter with the oversized biceps and the steely-grey eyes who's also hanging his hat with the Whitehorse wolves. Justin Cullinan makes her light up and shimmer inside like the Northern Lights, and she knows it's time to start her new life.
He may be the bodyguard and not the CEO, but Justin's powerful in his own right. He gets what he wants—and who he wants is the sweet, seductive Mandy. He'll go as slowly as necessary, but he has no intention of stopping until she admits they're meant to be.
But when her safety is threatened, all bets are off. Justin's going to keep his lady safe and find out who's stalking her, and the best place is hidden in plain sight in the biggest shifter town in the north.
That is, if they aren't running into a trap…
Warning: get ready for a trip up north to visit the Takhini pack (and Chicken!) because everyone deserves a happily-ever-after, especially a Lady with secrets.
Excerpt:
"Kent, drive our friend where she needs to go for the night. You'll probably want to pick up some groceries and—"
"I'll take care of Mandy," Justin interrupted, loud and clear.
He'd stepped closer, one foot between her and the new wolf. Everything about the way Justin held himself made it clear he was staking a claim, and that flutter of anticipation inside her belly raced in a new and unexpected direction.
She twisted on the spot and looked up.
And up.
And up a bit more.
Jeez, he was big.
Mandy swallowed her fears and forced every bit of authority possible into her voice. "Excuse me? Did I ask you to take care of me?"
A whole lot of oh shit, what did I just do? hit his expression, and Justin backpedaled rapidly. "Um, no, but I thought that—"
Mandy slapped up a hand to gesture for him to stop.
She liked him, she really did, but if this was going to work, he had to figure this out now, and not a moment later. "And did you ask if you could take care of me?"
He, and the entire room of wolves—who were watching breathlessly as if this was the best live soap opera ever—all shook their heads. It was like being surrounded by a room of bobbleheads, and she bit her lip so she didn't burst out laughing and ruin everything.
Instead, she drew herself up as regally as possible. "Then, I'd suggest you try again—some other time. Tonight Kent is taking me to my new home."
She turned on her heel and walked away without looking back.
Purchase:
Digital: Amazon US | Amazon UK | Amazon CA | Barnes & Noble | Kobo | iBooks US | iBooks UK | iBooks CA
Print: CreateSpace | Amazon (Coming soon!)
Today is the day that Copper King releases solo! If you've already bought ALPHAS AFTER DARK, this is the same story that's in there, so don't buy it again until you really want to.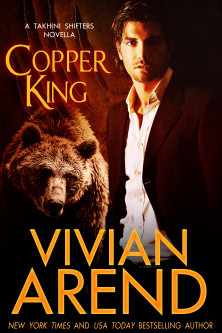 If you haven't already had a chance to go out and get Alpha After Dark,  now's your chance to get Jim, Lillie, (and Damon) all by themselves! OR…if you love print, I will have print versions of COPPER KING (SO CUTE!!) ready very soon for a good price!
Buy Links:
Amazon | Barnes & Noble | Kobo | iTunes | All Romance eBooks
Excerpt:
Lillie shoved her phone back in her pocket and lifted her chin, scenting the air for the best direction to head. She'd grab some supper…maybe even take in a show.
Finding someone to have a final fling with was also on her bucket list, but low. Really low. The concept sounded like fun, but she wasn't very good at flings, at least not in real life.
In her imagination? That was a different story. In her fantasy life, she was the queen of dirty interludes.
She glanced around the casino floor, taking in the flashing lights and loud noises as she mentally scrolled through some of the amazing romps she'd conjured up without a lick of trouble. Her perfect man flashed to mind. Dark and mysterious, sexy enough to set her heart pounding, but kind and understanding…
Actually in the fling-planning department, she'd focus on the sexy and he knows what to do with it instead of the bit about remembering birthdays and bringing her flowers. She wanted someone to sweep her off her feet and rock her world all night long.
Like that was ever going to happen.
Her gaze stuttered to a stop at the approach of one of the finest masculine specimens she'd seen in her life, as if her fantasy man had come to life. Maybe this was like Disneyland, where all her dreams could come true.
When you wish upon a star…
Dream or not, watching the dark-haired man stalk down the casino aisle was an exercise in sheer pleasure.
He didn't simply walk, or stroll from side to side like any of the other people in the area. It was as if each stride he took was deliberate. Not an inch to the left or right he didn't intend. And at every step, his tailored suit shifted casually on his broad shoulders, the crisp white shirt underneath open at the collar.
Hmm, that was extra nice. If he'd worn a tie, he would have looked more businesslike. Solemn and stately. Hunky as ever, in the sharply cut suit, but…
Something about the missing tie turned the yummy eye candy up to eleven. As if he'd unknotted the black silk, pulling it off slowly. Drawing it through his hand in a sensual tease before wrapping the still warm from his body fabric around his willing partner's wrists, then calmly tying her to the headboard of his bed.
Or maybe he'd begun undressing in anticipation of ravishing someone, which turned the rest of his outfit into a dress code be damned attitude.
The predator visible in every inch of his body was attempting to camouflage itself, hiding until the moment when the polished veneer would slide away, and he'd explode into a furious, hungry animal, possessiveness in his grasp…
Whoa, nelly.
Lillie blinked hard, hand pressed to her chest as she fought to slow her breathing. It had gotten a touch out of control as she'd slipped into her fantasy world. Damn, she needed to take up writing fanfic or something, she was making herself sweat with her daydreams.
Still, with the scruff on his chin, his aristocratic nose, his firm lips pressed together determinedly—she wasn't imagining the kind of deliciousness he would be in starring in one of her daydreams. Not to mention the intense gaze in his dark eyes as he stared at her as if she were his prey and—
That's when she finally clued in that all those deliberate steps were bringing Mr. Dark and Dangerous straight toward her.
The thump of her guilty heart was hard enough to rock her entire body. Phooey, had she been discovered already?
There was no reason to assume the little slip-away she'd pulled from her scheduled agenda would continue to be successful, but this was far too soon to give up the adventure. It had taken an incredible amount of luck to get to Vegas in the first place.
Only, as the drool-worthy dark-eyed man narrowed the distance between them, it grew clearer he wasn't some security guard who'd figured out she wasn't where she was supposed to be.
And the closer he got, the more she realized whether or not he was a security guard, coming face-to-face with that intense of a man was not on her current wish list.
Lillie twirled on the spot and made a rapid retreat, damn near jogging down the open center of the aisle before darting sideways between rows of penny slots. She took five paces forward and cut to the left, five more then to the right, moving as rapidly as possible, zigzagging her way through the casino.
Thank goodness she had on runners instead of high heels. It didn't matter that she must look totally undignified, as long as she didn't get caught.
Slipping between crowds of people, ducking around machines. Whatever it took to get her away from the man who had eyed her as if she were the only thing on his agenda for the next twenty-four hours.
The only thing on the menu.
Nowadays there is lot of unforeseen circumstance which force folk to take remedies. You can order medicines directly your office. In these latter days the stock you can find in online pharmacy is actually high. Some medications are as a rule used to treat many types of bacteria, such as tonsillitis and infections of the throat. Other ones are used to treat diabetes. Cialis is a remedy used to treat divers afflictions. What do you have to know about cialis order online? Presently many families search for the exact keyword ordering cialis online on the Internet. Perhaps you already read something about it. Having erectile malfunction can beyond doubt complicate romance. What can cause erectile disfunction? A row of psychological issues can produce erectile dysfunction. What should you discuss with a physician before taking Cialis? Any treatment may cause dangerous side effects. Sometimes side effects can be actually dangerous. Talk to your pharmacist about the proper disposal of your medicine.