A Lady's Heart Release
Today is the release of A Lady's Heart, the third book in the Takhini Shifters series.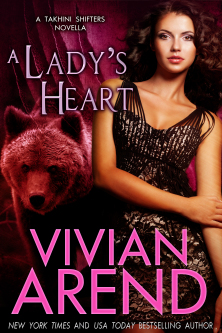 Digital: Amazon US | Amazon UK | Amazon CA | Barnes & Noble | Kobo | iBooks US | iBooks UK | iBooks CA
Print: CreateSpace | Amazon (Coming soon!)
Blurb
Lady Amanda Ainsworth found a safe place to pull herself together under the roof of the loud, boisterous Takhini Wolf pack. Safe—except for the sexy grizzly shifter with the oversized biceps and the steely-grey eyes who's also hanging his hat with the Whitehorse wolves. Justin Cullinan makes her light up and shimmer inside like the Northern Lights, and she knows it's time to start her new life.
He may be the bodyguard and not the CEO, but Justin's powerful in his own right. He gets what he wants—and who he wants is the sweet, seductive Mandy. He'll go as slowly as necessary, but he has no intention of stopping until she admits they're meant to be.
But when her safety is threatened, all bets are off. Justin's going to keep his lady safe and find out who's stalking her, and the best place is hidden in plain sight in the biggest shifter town in the north.
That is, if they aren't running into a trap…
Warning: get ready for a trip up north to visit the Takhini pack (and Chicken!) because everyone deserves a happily-ever-after, especially a Lady with secrets.
Excerpt:
"Kent, drive our friend where she needs to go for the night. You'll probably want to pick up some groceries and—"
"I'll take care of Mandy," Justin interrupted, loud and clear.
He'd stepped closer, one foot between her and the new wolf. Everything about the way Justin held himself made it clear he was staking a claim, and that flutter of anticipation inside her belly raced in a new and unexpected direction.
She twisted on the spot and looked up.
And up.
And up a bit more.
Jeez, he was big.
Mandy swallowed her fears and forced every bit of authority possible into her voice. "Excuse me? Did I ask you to take care of me?"
A whole lot of oh shit, what did I just do? hit his expression, and Justin backpedaled rapidly. "Um, no, but I thought that—"
Mandy slapped up a hand to gesture for him to stop.
She liked him, she really did, but if this was going to work, he had to figure this out now, and not a moment later. "And did you ask if you could take care of me?"
He, and the entire room of wolves—who were watching breathlessly as if this was the best live soap opera ever—all shook their heads. It was like being surrounded by a room of bobbleheads, and she bit her lip so she didn't burst out laughing and ruin everything.
Instead, she drew herself up as regally as possible. "Then, I'd suggest you try again—some other time. Tonight Kent is taking me to my new home."
She turned on her heel and walked away without looking back.
Purchase:
Digital: Amazon US | Amazon UK | Amazon CA | Barnes & Noble | Kobo | iBooks US | iBooks UK | iBooks CA
Print: CreateSpace | Amazon (Coming soon!)