News
Category
It's here! This book is full of fun days, and learning how to be a two-some when that's not what they expected. I couldn't have picked two better people for this adventure, though. Julia is what Zach needs, and Zach is what Julia needs, and once they both figure that out, they'll find they've built a relationship on a solid foundation.
In spite of having started under the strangest of circumstances!
I hope you enjoy this trip to Heart Falls, and the chance to visit with so many of our past friends.
It's really only the beginning…
---
Excerpt
You get this excerpt because it's got one of my favourite exchanges between Zach and Julia. They've just woken in bed together, naked and still a lot tipsy…
**
While Zach very much wanted to be involved with Julia, being naked with not much memory of what had happened the previous evening was not a good way to begin.
Add in the fact that a quick glance around the room showed two closed suitcases still stacked against the wall, which meant if they had done something that they didn't remember, dear God he hoped not, they would've done it without protection.
Julia blinked a few more times, gaze fixed on his. Her nose wrinkled as she considered his words.
Her lips curled into a perfect circle as understanding fluttered in. "Oh. Oh."
She glanced to the side for a moment, her body tightening from top to bottom. Unexpectedly, she relaxed, releasing a breath hard enough it made her long hair wave.
A very decisive headshake followed. "It's okay. Whatever we did get up to last night, we didn't have sex."
Oh, really? "And you know this how?"
Her lips twitched. "Wait. I suppose we might've had sex, but it's very unlikely. Tell me, Zach. How big is your penis?"
The unexpected question floored him. "Uh…"
Her smile widened. "And on that note, I'm taking a shower. And finding some clothes. Then I want bacon. Lots and lots and lots of bacon."
He was still reeling from the penis question.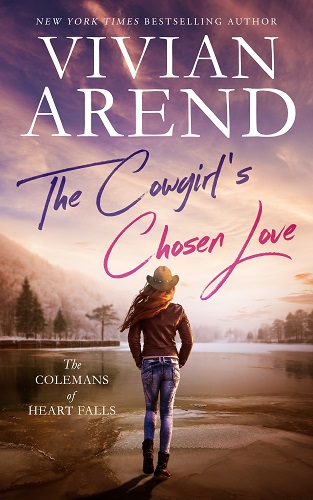 Ebook
Print
Get ready!
I know it's taken a long while to get here, but it's finally time for Karen Coleman to find her happily-ever-after.
One of the things I loved the most as this story developed was the chance to spend time with the Whiskey Creek Coleman sisters. The entire Colemans of Heart Falls is about finding family—not just their youngest sister, Julia, but the a deeper connection between the already close older women.
There's also some dealing with baggage, because family isn't always perfect…and that's part of life as well.
But for now, I hope you enjoy the visit with Karen, Lisa, Julia and Tamara as the oldest of them heads into a new adventure with Finn Marlette. This time their fling isn't going to be secret, and he's going to do everything he can to convince Karen they belong together.
And he might just get a little help along the way from the sisters who already approve…
Enjoy a little taste of some time with the girls:
Karen pointed at Lisa. "Finn Marlette. Start talking."

Tamara snickered then wiped a hand over her mouth as she patted baby Tyler's butt with the other. He wiggled in her chest carrier.

Karen shifted her finger to point in a new direction. "You're next on the hit list. Both of you knew he was in town. Why didn't you say something?"

"Because there was no reason to tell you at first," Lisa said. She lifted one brow high. "Are you seriously telling me you never heard a word about him being around?"

Tamara leaned forward toward Julia, who was obviously at a loss. "Finn and his two brothers came to Whiskey Creek ranch a number of years ago to help out. Something intriguing went on between Finn and Karen during that time that they managed to keep all of us from finding out about until recently." She glanced at Lisa.

"Could have knocked me over with a feather." Lisa laid a hand over her chest with dramatic flair. Then she leaned forward as well, speaking softer as if Karen weren't right there listening to the whole thing. "Obviously secret shenanigans were taking place. And so, when one part of the shenanigarians decided he wanted to move to our fair town and then began asking questions about the other part of the shenanigarian duo, it piqued our interest."

Julia frowned. She turned to Karen. "We'll just push aside the fact that Lisa makes up strange words way too easily. Is this Finn guy creeping on you? Because if he is, I will put a stop to it like, yesterday."

A rush of emotion shot upward, and Karen threw caution to the wind. She wrapped her arms around her newfound sister and squeezed tight. "I like you. You're good people."

Julia patted her on the back. "Thanks. But I mean it."

Karen let her go and stared at Lisa and Tamara, who were watching closely. "You guys are turkeys. And you're both kind of assholes for not warning me, but no" —Karen faced Julia— "he's not a stalker. It's just really complicated, and as much as I love my sisters, they like to meddle."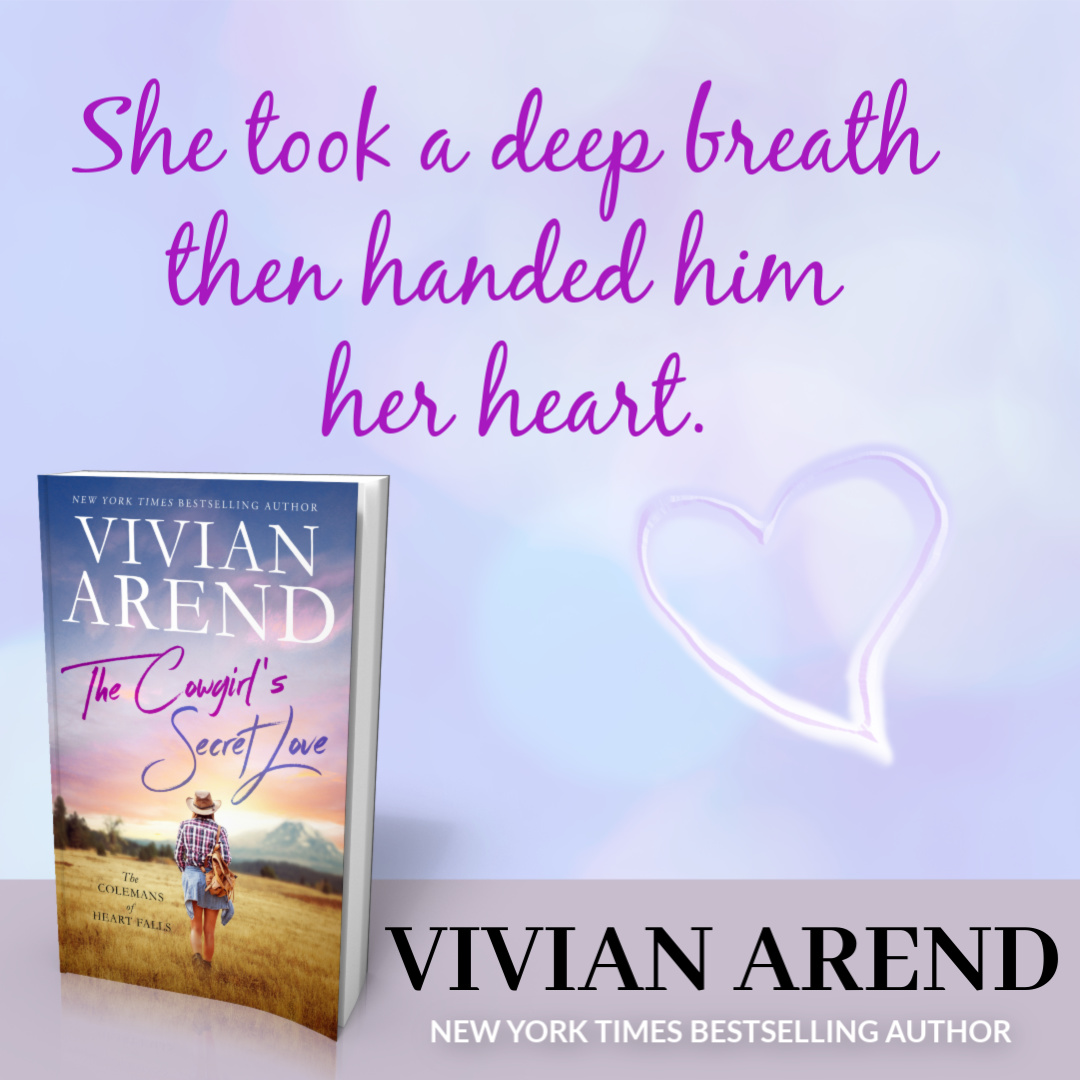 Welcome to Heart Falls—a place for family, friends, and a second chance to fall in love.
A stand alone novel in a new trilogy by New York Times bestselling author Vivian Arend.
Wealthy rancher Finn Marlette's move to Heart Falls to fix what went wrong between him and Karen Coleman just got complicated. Suddenly he's got five months to get his new dude ranch up and running, or lose the place to a hated rival.
New agenda: Show up on Karen's porch, tell her they belong together, and offer her a job.
After a lifetime of following the rules and other's dreams, Karen's determined to find her own path. The last thing she needs is to get involved with Finn again—it was only a secret fling, and she still fell hard.
But the summer job he offers is tempting—it's a chance to work with men who truly appreciate her ranching skills. Finn's determined to tempt her into remembering all the delicious sexual appreciation between them as well.
Wild horses can't keep them apart, but sabotage and too many secrets might…
The favorite tropes collection was a project that I was so excited about, sharing my love of tropes and new books with all of you. However, the time has come to pull these books from circulation. 
If you still want to get the stories, I've included a list of the books, and where you can find them.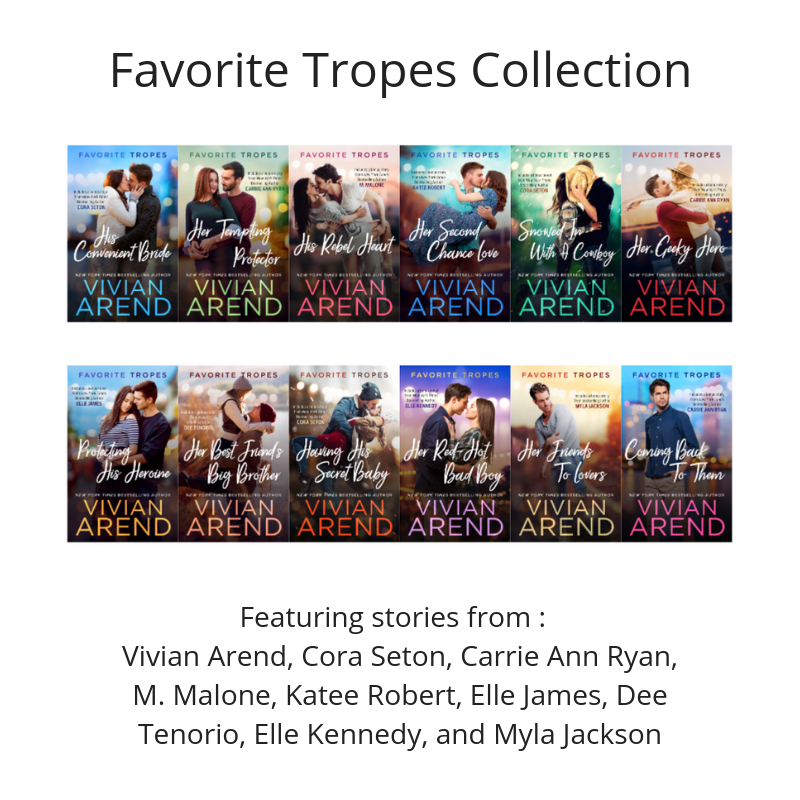 His Convenient Bride: Includes Issued to the Bride: One Airman by Cora Seton and Rocky Mountain Angel by Vivian Arend.
Her Tempting Protector: Includes Whiskey Secrets by Carrie Ann Ryan and Turn It On by Vivian Arend. 
His Rebel Heart: Includes Zack by M. Malone and Rocky Mountain Rebel by Vivian Arend. 
Her Second Chance Love: Includes Prom Queen by Katee Robert and Rocky Mountain Romance by Vivian Arend. 
Snowed In with a Cowboy: Includes The Cowboy Rescues a Bride by Cora Seton and Rocky Mountain Retreat by Vivian Arend. 
Her Geeky Hero: Includes Written in Ink by Carrie Ann Ryan and Turn it Up by Vivian Arend
Protecting His Heroine: Includes Montana D-Force by Elle James and Rocky Mountain Shelter by Vivian Arend. 
Her Best Friend's Big Brother: Includes Yearning Hearts by Dee Tenorio and One Sexy Ride by Vivian Arend. 
Having His Secret Baby: Includes A SEAL's Consent by Cora Seton and Ride Baby Ride by Vivian Arend. 
Her Red Hot Bad Boy: Includes Getting Hotter by Elle Kennedy and Rocky Ride by Vivian Arend. 
Her Friends to Lovers: Includes Boots and Roses by Myla Jackson and Falling Freestyle by Vivian Arend. 
Coming Back to Them: Includes Ink Enduring by Carrie Ann Ryan and Rocky Mountain Freedom by Vivian Arend. 
It's their turn.
The Whiskey Creek women, of course.
It's been a long time coming for them to find their happily-ever-afters, and this author is very glad to finally dive into the series that completes ALL the Coleman family stories.
If you're new to my books, this is a bit of history, and you don't need it to enjoy The Colemans of Heart Falls. I've made sure the new stories are completely stand alone, but if you're interested where the rabbit hole began, read on!
When the Six Pack ranch started in 2009 (or 2011 when it was re-published at Samhain) the original idea was to have five books in the series. Then I realized that, while it was a big family, I couldn't bear to not find true loves for ALL the cousins.
Only one problem. When the dust settled there were 6-Six Pack brothers, 4-Moonshine siblings, 2-Angel brothers, and 3-Whiskey Creek sisters, which meant there were 15 Colemans and would be 15 books in the series.
That's a big bite for anyone!
So even though I'd already given thought to what was going to happen in Karen's story, and planted the seeds in Six Pack Ranch book 6 (Rocky Mountain Freedom) I made the executive decision that series would be all about the boy cousins.
Anna (Moonshine) Coleman found her love in the spin off Thompson & Sons series.  Tamara (Whiskey Creek) Coleman finally got hers in A Rancher's Heart.
And now there's a new trilogy to complete the Coleman saga, and what a journey it's been! You could re-read the previous series if you want glimpses of the Whiskey Creek women. But if you want to sit back and wait, let me assure you that Lisa and Josiah are one of my favourite couples to date. Josiah's definitely a cinnamon roll hero (ie sweet and delicious and would do ANYthing for his woman), and Lisa could be my bestie, and the two of them together make me smile.
There will be more of the friends you met in Heart Falls, and a sweet puppy named Ollie, and a baby, and definitely some surprises.
I'm looking forward to you starting this new adventure with me as love comes to Heart Falls once again!
The Cowgirl's Forever Love releases May 21st!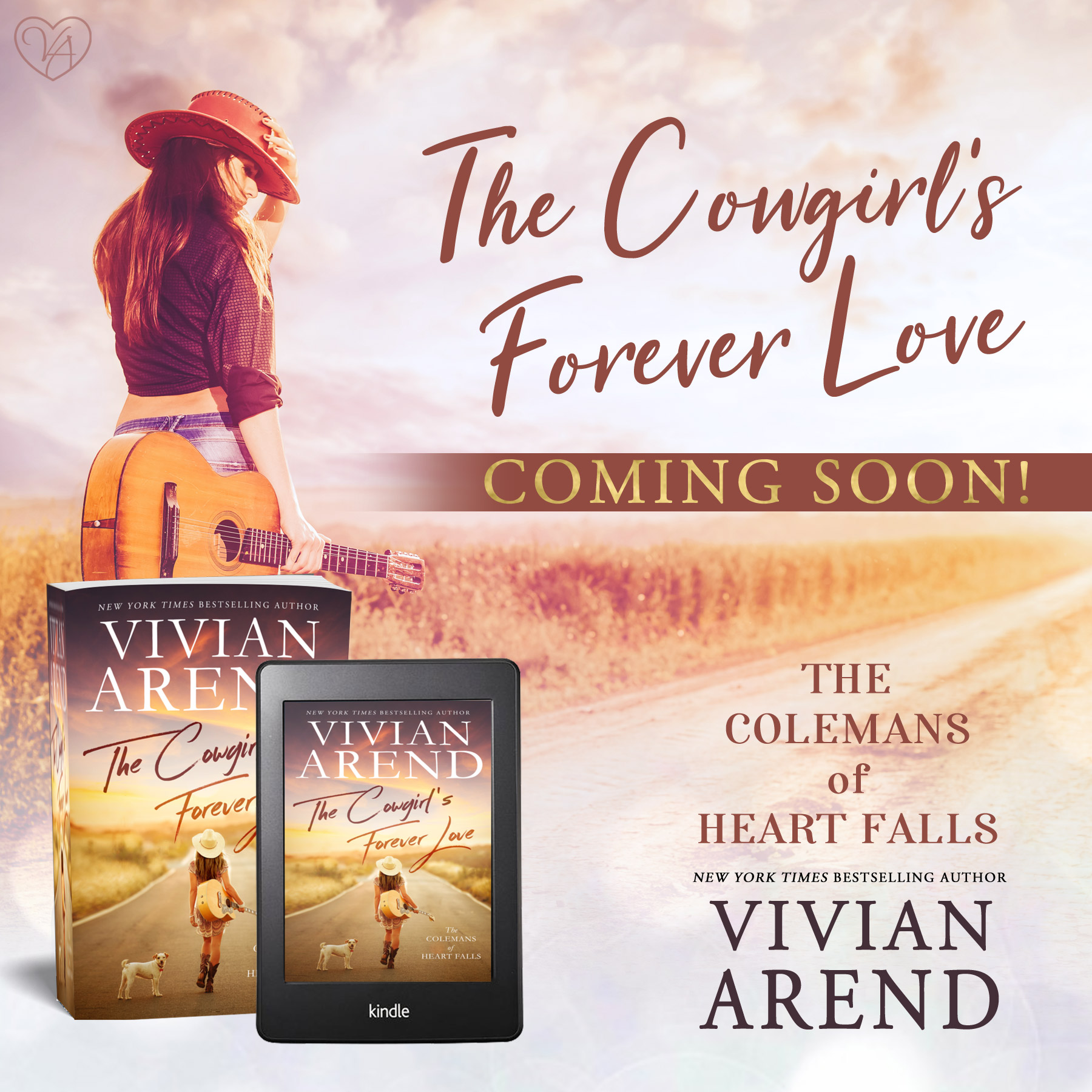 As things in publishing change, so too does my backlist of available books. For your convenience and information, I wanted to compile a list of books that are no longer available for purchase. 
Stormchild, Stormy Seduction, Silent Storm: The Pacific Passion series was written as serial novellas, and each individual story is no longer available for purchase. However, you can get the entire series as a box set in Pacific Passion: Books 1-3. 
Tangled Tinsel: This fun, short holiday book was published in conjunction with two other authors as part of a winter wonderland box set. If you would like to read it, it is still available for a limited time as an audiobook in Winter Wishes. 
Claiming Derryn: This science fiction romance was written with Ellora's Cave, and my first and only foray into a space opera romance. 
Peerless, Faetful: The Falling for Fae series was co-written with Celia Kyle, and has been out of print.
Fired Up: This was another project co-written with Celia Kyle and was part of a larger series written by multiple authors. 
The Wind and The Sun: This story was a retelling of an Aesop's Fable.
Soul Deep: A very short soul mates story.