First Line Friday: Wolf Nip
Looking for a sexy shifter romance with a twist on the fated-mates trope? You must read WOLF NIP!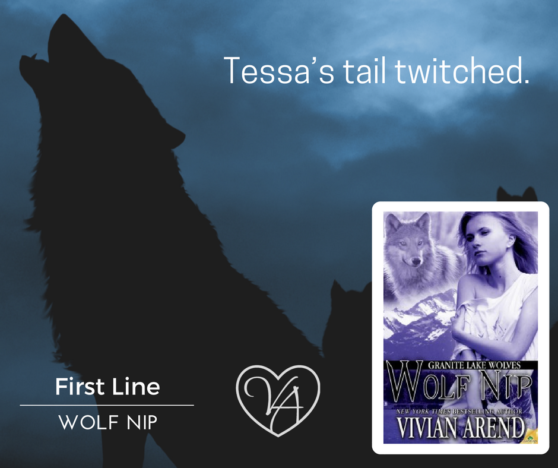 Tessa's tail twitched.

Drat.

She concentrated harder, crouching lower to the ground. Muscles steady, but ready to move in an instant. One deep breath followed after another as she attempted to calm her nerves. Every instinct screamed for her to squirm, to peek around. To check if all her parts were tucked out of sight.

But then it had been proven that some of her cat instincts were a trifle on the broken side.

In her cougar form, his scent wasn't strong enough to hit before his paw pads sounded, and by the time she heard him, there was no way to escape. A warm body slammed into her, and together they rolled from behind the barrier she'd chosen as a hiding spot. Before he could pin her in place, she wiggled free and took off.

Fine, maybe he'd found her, but he hadn't won yet. She used her strong cat muscles to dash away through the maze of the gymnasium area.

No matter how fast she ran, though, her pursuer remained right on her tail. Literally on her tail, and when he playfully patted her hindquarters for the third time, Tessa gave up. She leapt for the narrow ledge along the wall where she'd shifted in the first place. Changing back to human and dressing only took a moment before she rejoined her big brother on the gym floor.

Tony had also shifted and pulled on nearly identical jeans and T-shirt to hers. His relaxed grin teased her from under his mop of blond hair. "I'd say you did better that time, but I'd be lying."

Tessa stuck out her tongue. "Someday I'll win."

"In your dreams. I am the king of the cats, and no one will take my crown."

She rolled her eyes and made gagging sounds.

Tony tweaked her nose. "Face it, brat, your skills lie in areas other than cat-and-mouse games."

And there was the opening she'd been waiting for. "Right. So in terms of my skills, did you remember I need your signature on that form at the bank?"

"Did you remember I said you were nuts?"

Tessa pulled back her hair into a ponytail and resisted sticking out her tongue again. "You've said it so many times over the years, I figured it was code for Hey, Sis, you rock. You didn't see the place, Tony. It's incredible. Exactly the kind of establishment I want to manage. The setting is exquisite, and the area just screams eco-tourism, which you know as well as I do—"

"Stop. Not the eco-business thing." Tony covered his ears and groaned in mock pain.

Tessa pounced, grabbing hold of his forearms and dragging his hands free. "Eco-eco-eco-eco…"

They laughed together, and she knew everything would be okay.
Purchase
Digital: Amazon US | Amazon UK | Amazon CA | Barnes & Noble | Kobo | Samhain |  iBooks US | iBooks UK | iBooks CA | GooglePlay | Scribd
Print: Amazon | Barnes and Noble | Book Depository | BooksAMillion | Powells | Samhain