The fourth book in the Takhini Shifters series, WILD PRINCE is coming in about a month!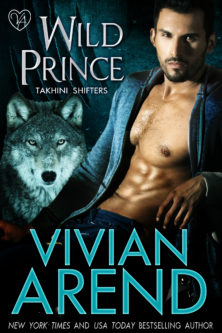 Pre-Order:
Kobo | Barnes & Noble | iBooks | Amazon
Blurb:
Wolf shifter Cole Masterson has been waiting impatiently for his future to arrive. The prophecy declared at his birth seems like pure gibberish, but he's still spent the past thirty-three years trying to prepare for whatever's coming. When his mate finally arrives, her appearance—on a skidoo stolen from him, no less—triggers a cascade of events he's not sure he's ready for.

Dani Neville thought the covert training offered by the leader of an ultra-secret shifter association was her only escape from being stuck forever on an isolated island with her bear-shifter clan. But when her first assignment goes awry, and she ends up being chased through the wilderness by the sexiest, growliest wolf she's ever met, Dani begins to wonder if her goals were big enough.

Suddenly Cole's got to deal with the most delectable thief he's ever had the misfortune to meet—a woman who's also his fated mate, and years younger than him. Dani's got to figure out if being a ninja wannabe is her true desire, or if the chance to stay with her growly wolf is worth fighting for. Meanwhile, a prophecy that's been waiting for years steamrollers them toward their ultimate destiny.

Not everything is as it appears…not even fated love.
Mate…?
The temptation was impossible to resist. He lowered his face to the crook of her neck and inhaled deeply.
A massive shiver shook her teeny frame. "Don't hurt me," she begged. "Don't bite me."
Fear turned her voice ragged, and her panic was nearly enough to make him release his grasp.
Nearly—
His nose told him her tone of voice was the trick because, other than that initial quiver, her entire body wasn't saying terrified. Instead she'd used the motion to loosen his grip and now she was wound up with the tension of a warrior waiting to spring a trap.
"Don't tempt me," he growled. Biting her. Jeez, just the thought made his body react. "If I want to, I damn well will."
For a split second she held on to her act before making a rude noise. "Your response was pretty good," she admitted. "Very gruff and scary. You win this round. Now do you think you could put me down, Mr. Mouse?"
What the hell was this shit? "Mouse?"
He didn't move.
She stared back, examining his face carefully. All he could really see of her was the tip of her nose and a glimmer of light off her eyes. The oversized hood hid the rest of her face in the shadows, but Cole's nose had told him all he really needed to know…
His mate.
She shook her head slightly. "Okay, you're bigger than the average mouse. That would explain why you were making more noise than I expected. But we could have a regular conversation like human beings. There's a perfectly good table over there, with chairs."
Cole refused to let her go. It had taken too much energy to find her, not to mention he was enjoying being pressed against her. "Not human," he pointed out.
Catch Up
Catch up on the Takhini Shifters series now, to prepare for the release of Cole.
Leave A Reply