Feature First Line Friday: One Sexy Ride
Read all about Len and Janey in ONE SEXY RIDE.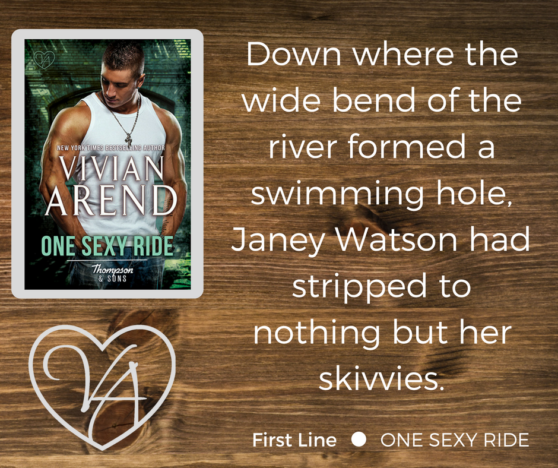 L
ate June, Rocky Mountain House

Down where the wide bend of the river formed a swimming hole, Janey Watson had stripped to nothing but her skivvies. Len Thompson stood hidden in the trees between the gathering by the bonfire and the clearing at the water's edge, and wondered what he'd done to deserve this kind of punishment.

Fading sunlight breached the leafy canopy, shining like a spotlight on Janey's mostly unclothed flesh. Her strong limbs were covered with a nice layer of curves, and she raised her arms in the air, swinging her hips to the music carrying from the distant bonfire.

His body's response was instant and brutal, but escaping his self-inflicted torture was impossible. Nope, it didn't matter that his cock was rock hard. Maybe he could get some relief if he turned his back on the enticing sight of nearly naked Janey and walked away—but that was impossible. The second option was to yank out his dick and jack off right there and then.

Third option—wade in and take what you damn well want.

"I can dance forever." Janey shouted to the heavens, twirling, arms extended like angel wings. Len's gaze dropped involuntarily over every inch, soaking in the sight and cursing himself for being too weak to look away. Firm hips, ample breasts, her hair swinging as she continued to rotate. Between her legs, a dark patch showed through underwear that had gone see-through now that it was wet.

He pressed his hand over his cock. He refused to pull out his dick and simply give in to the need, but fuck if he didn't want to.

Another grumble of objection rose in his gut as Shannon and Liz joined Janey, the three girls slipping into the water and splashing innocently. He was some kind of goddamn saint for having resisted temptation this fucking long.

When the girls had snuck away from the gathering around the bonfire, he'd followed. He'd kept to the background, but no way, no matter how lighthearted this get-together was supposed to be, no way were three young women gallivanting off by themselves in the growing darkness.

And by this point in his life, keeping an eye on Janey was more than a habit.

If he was honest, every time she barreled into his personal space with her wild, vibrant energy, he'd been waiting. Expecting her to be there, tormenting him with her sensual touches and unending flirtation. Even tonight, while she acted as if she didn't know he was watching—her pale skin gone slick with handfuls of river water she laughingly tossed overhead—even tonight he bet anything she knew he was there.

She always knew where he was. He knew where to find her.
Purchase
Digital: Amazon US | Amazon UK | Amazon CA | Barnes & Noble | Kobo | iBooks US | iBooks UK | iBooks CA | GooglePlay | Scribd | Oyster
Print: Amazon | CreateSpace
Audio: Audible | Amazon | iTunes