Ever read a book about a hero who falls head over heels for his ex-girlfriend's little sister? Now's your chance! Get ROCKY MOUNTAIN DESIRE today!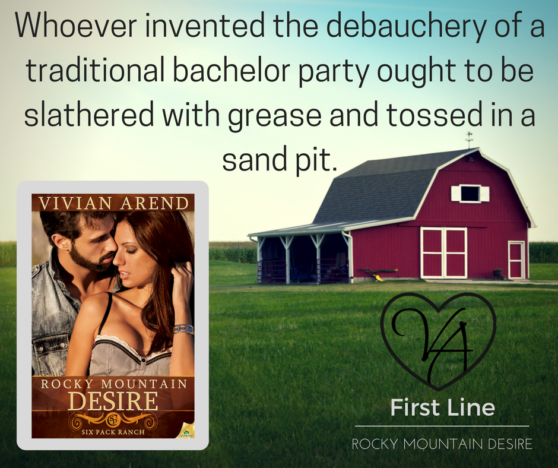 Whoever invented the debauchery of a traditional bachelor party ought to be slathered with grease and tossed in a sand pit. Matt Coleman worked his way down the length of the bar, tray full of beer jugs balanced precariously as he manoeuvred his burden over the rowdies crowding the floor.
There were too many bodies, too many familiar faces to cut and run like everything screamed for him to do. This wasn't where he wanted to be, not by a long shot. But his personal preferences didn't free him from his responsibilities as the oldest single male in his family.
His brother was tying the knot? Matt would take a trip into hell itself to make sure all the rituals and customs were followed. Even the stupid ones.
A loud roar sounded from ahead of him, and he hurried his step, hoping to control the damage before someone—probably one of his younger brothers—went totally out of control.
"To Daniel, who not only got his balls chained but sleepless nights with kids thrown into the bargain." One of the many cousins in attendance shook a stuffed bear in the air. The attached set of handcuffs rattled, and laughter rang out before he tossed the gag gift onto the table with the others.
Matt lowered his tray in time to see Daniel's response all too clearly. The familiar ear-to-ear grin his brother had worn for most of the past year proved he didn't give a shit his freedom was about to officially disappear into the sunset.
The music picked up, both in volume and tempo, and enthusiastic hoots rose from the males crowding the private room at Traders Pub. The door on the far side of the raised platform opened and a pair of long, slim legs appeared.
Someone yanked on his shirtsleeve. Matt leaned in close enough to hear Daniel above the rest of the boys' caterwauling.
"Strippers? You trying to get me killed?"
"I stopped at dirty dancers. Beth won't kill you unless you touch 'em." Matt lifted his shoulders briefly. "Face it, bro, this part of the party ain't for your sake anyway. You tell me the entire clan would accept your idea of a steak dinner and a brew down at the ranch, and I'll suspect you've found a bottle of Unca's moonshine and been sampling it on the sly a little too hard."
Daniel shook his head, raising his drink in salute. "I'm telling her this was your idea."
Leave A Reply