Every book I write becomes special for some reason. This one—there are deep truths that became clear as the story progressed. Some universal lessons about family that made me think hard and long about what's truly important, and how discovering them would guide people to try to become better in the future.
While the story is about Finn and Karen learning how to be rock-solid for each other as a couple, it's also about looking within and deciding what would make them into who they need to be for themselves.
And if that sounds too woo-woo and emo, don't worry. There are also wild horses, foals, and Dandelion Fluff, the kitten. Duck races and human CLUE games and a lot of time spent by a bonfire.
Throw in sisters, laughter, and tons of sparks of joy, and you'll have the not-so-very-secret anymore love affair of Karen and Finn. I hope you enjoy this second chance at love.
Here's a short excerpt so you can meet Dandy!
It was barely two o'clock, and he was done.

As Finn made his way slowly across the yard and up to the cottage, parts of his body screamed in pain that he hadn't expected.

He made it as far as the living room before a little ball of white fluff attacked the sock covering his uninjured foot. The next moment, the demonic creature had all four claws dug into the thick knit fabric, limbs splayed wide to keep his balance as Finn's leg swung freely.

It was like an elephant getting attacked by a mouse, and in spite of his pain and exhaustion, Finn discovered laughter bubbling up.

"Beast."

He pulled out a kitchen chair and leveraged himself into it. Once his foot was resting on the ground, the kitten made his way upward, climbing Finn like a scratching post.

"Oh, hell no. None of that." Finn grabbed the thing by the scruff of the neck before he could dig his claws into Finn's crotch. He held the kitten in the air in front of his face.

The beast swung teeny paws and offered adorable growling meows.

Finn snickered. "Should've called you Marshmallow Fluff. You're sweet enough to make a man go into shock."

He scratched the little thing under his furry chin then tucked the kitten against his chest. He kept one hand over Dandy's body, cradling him close, and the next thing Finn knew, the kitten was purring, nuzzling his shirt.

"Now there's a sight." Karen stood in the doorway, a soft smile on her lips. "I wondered where you'd gotten to, but now it all makes sense. You knew Dandy needed cuddles."

"Can't have him getting lonely," Finn said gruffly.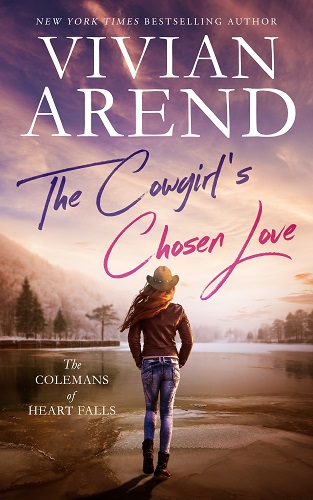 Welcome to Heart Falls—a place for family, friends, and a second chance to fall in love.
A stand alone novel in a new trilogy by New York Times bestselling author Vivian Arend.
Wealthy rancher Finn Marlette's move to Heart Falls to fix what went wrong between him and Karen Coleman just got complicated. Suddenly he's got five months to get his new dude ranch up and running, or lose the place to a hated rival.
New agenda: Show up on Karen's porch, tell her they belong together, and offer her a job.
After a lifetime of following the rules and other's dreams, Karen's determined to find her own path. The last thing she needs is to get involved with Finn again—it was only a secret fling, and she still fell hard.
But the summer job he offers is tempting—it's a chance to work with men who truly appreciate her ranching skills. Finn's determined to tempt her into remembering all the delicious sexual appreciation between them as well.
Wild horses can't keep them apart, but sabotage and too many secrets might…
Leave A Reply