The Cowgirl's Chosen Love is coming soon!
Finishing up the Whiskey Creek Coleman stories is bittersweet. I first got to know three of these ladies way back in their Rocky Mountain House days. Seeing where they've come to and knowing that each of them, Julia included, now have a place to call home with men who truly appreciate them and love them unconditionally—
It's been worth every tear along the way.
Although I wouldn't call this an emotionally tough book. I mean, starting out with a fake-relationship, sliding onto a drunken wedding. Add hot yoga (sort of), a lot of dancing, and a dad who shows up at exactly the wrong moment…
I'll stop there, and let you enjoy the story. Here's to falling in love and Elvis songs.
And here's to teasing like only sisters can provide. Enjoy a short excerpt.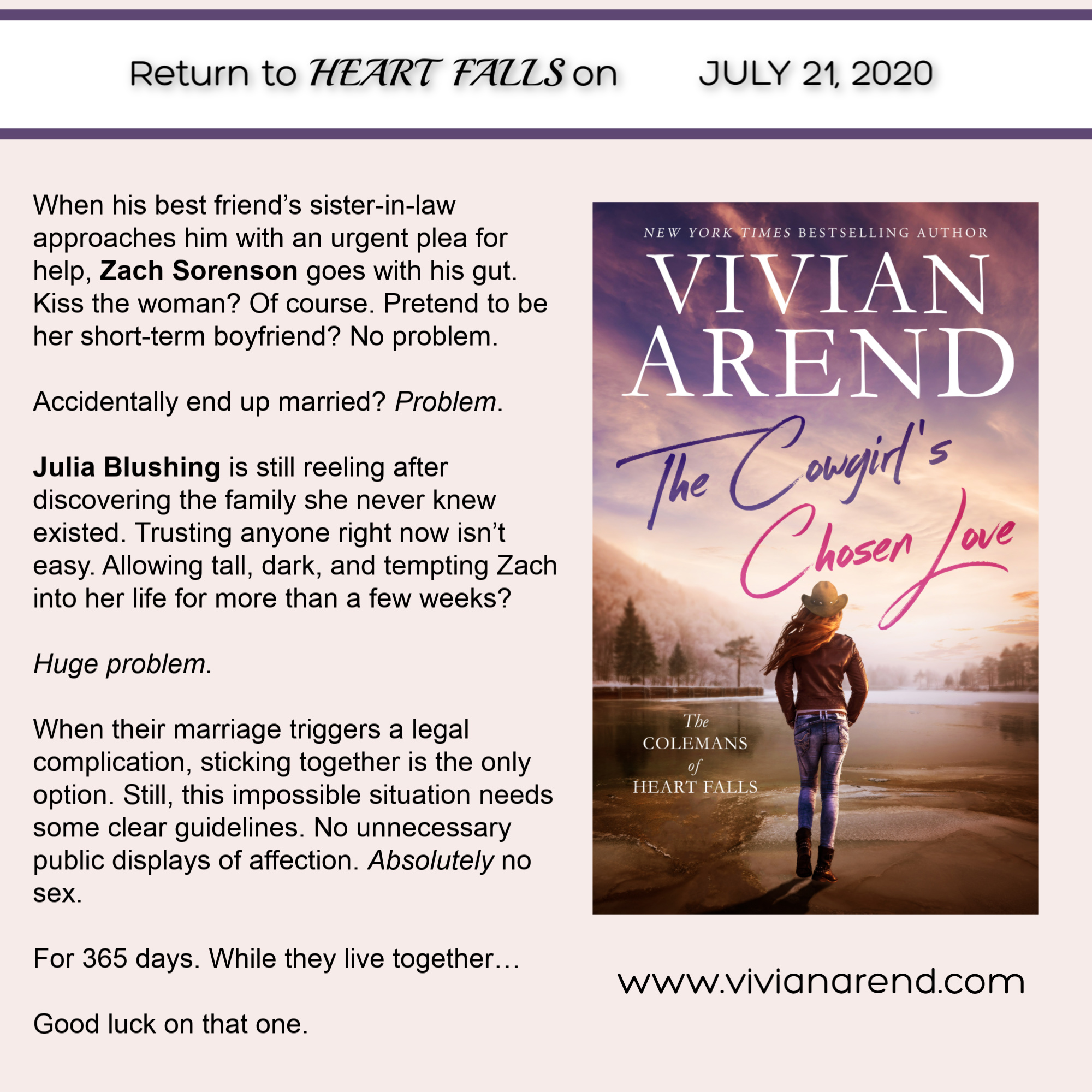 **
Julia's sisters exchanged a glance before Karen took charge. "Considering that sentence didn't start with do you think, now is when we start guessing."
"Do you think…Rose would mind if I took Zach dancing?" Lisa asked sweetly, before qualifying. "The I in that statement being Julia, of course."
Karen responded instantly. "Rose wouldn't mind at all. She insisted she was done with him."
Lisa snorted. "That just sounds so wrong. But you're right, she did say that."
As embarrassed as Julia was at the twist in the conversation, the teasing from her sisters was gentle-hearted. Julia's cheeks heated, though. "That's not what I was going to ask."
Lisa ignored her, speaking directly to Karen. "Do you think…Zach wants to take Julia dancing?"
"Is that what they're calling it these days?" Karen quipped.
A snort escaped Julia, and her sisters turned happy faces toward her, leaning in to speak in a conspiratorial tones.
"You like him, don't you?" Lisa asked.
"Of course I like him." Julia was shocked at the question. "He's Finn's best friend, which means he has to be awesome or else that wouldn't have happened. Plus, he's really nice to Karen."
"Pshaw." Karen waved a hand. "Zach's nice to everybody. He's just plain nice."
A mischievous smile slid over Lisa's face. "You know the nice ones are usually the dirtiest in the bedroom."
"Lisa." Both Julie and Karen spoke in a scandalized tone at the same moment, and suddenly the guys glanced over as if very interested in their conversation.
Karen stuck out her tongue at Finn. "Never mind. Nothing interesting happening over here."
Julia met Zach's gaze and wondered what she'd gotten herself into.
**
When his best friend's sister-in-law approaches him with an urgent plea for help, Zach Sorenson goes with his gut. Kiss the woman? Of course. Pretend to be her short-term boyfriend? No problem.
Accidentally end up married? Problem.
Julia Blushing is still reeling after discovering the family she never knew existed. Trusting anyone right now isn't easy. Allowing tall, dark, and tempting Zach into her life for more than a few weeks? Huge problem.
But when their marriage triggers a legal complication, sticking together is the only option. 
Still, this impossible situation needs some clear guidelines. No unnecessary public displays of affection. Absolutely no sex. For 365 days. While they live together… Good luck on that one.