Get ready!
I know it's taken a long while to get here, but it's finally time for Karen Coleman to find her happily-ever-after.
One of the things I loved the most as this story developed was the chance to spend time with the Whiskey Creek Coleman sisters. The entire Colemans of Heart Falls is about finding family—not just their youngest sister, Julia, but the a deeper connection between the already close older women.
There's also some dealing with baggage, because family isn't always perfect…and that's part of life as well.
But for now, I hope you enjoy the visit with Karen, Lisa, Julia and Tamara as the oldest of them heads into a new adventure with Finn Marlette. This time their fling isn't going to be secret, and he's going to do everything he can to convince Karen they belong together.
And he might just get a little help along the way from the sisters who already approve…
Enjoy a little taste of some time with the girls:
Karen pointed at Lisa. "Finn Marlette. Start talking."

Tamara snickered then wiped a hand over her mouth as she patted baby Tyler's butt with the other. He wiggled in her chest carrier.

Karen shifted her finger to point in a new direction. "You're next on the hit list. Both of you knew he was in town. Why didn't you say something?"

"Because there was no reason to tell you at first," Lisa said. She lifted one brow high. "Are you seriously telling me you never heard a word about him being around?"

Tamara leaned forward toward Julia, who was obviously at a loss. "Finn and his two brothers came to Whiskey Creek ranch a number of years ago to help out. Something intriguing went on between Finn and Karen during that time that they managed to keep all of us from finding out about until recently." She glanced at Lisa.

"Could have knocked me over with a feather." Lisa laid a hand over her chest with dramatic flair. Then she leaned forward as well, speaking softer as if Karen weren't right there listening to the whole thing. "Obviously secret shenanigans were taking place. And so, when one part of the shenanigarians decided he wanted to move to our fair town and then began asking questions about the other part of the shenanigarian duo, it piqued our interest."

Julia frowned. She turned to Karen. "We'll just push aside the fact that Lisa makes up strange words way too easily. Is this Finn guy creeping on you? Because if he is, I will put a stop to it like, yesterday."

A rush of emotion shot upward, and Karen threw caution to the wind. She wrapped her arms around her newfound sister and squeezed tight. "I like you. You're good people."

Julia patted her on the back. "Thanks. But I mean it."

Karen let her go and stared at Lisa and Tamara, who were watching closely. "You guys are turkeys. And you're both kind of assholes for not warning me, but no" —Karen faced Julia— "he's not a stalker. It's just really complicated, and as much as I love my sisters, they like to meddle."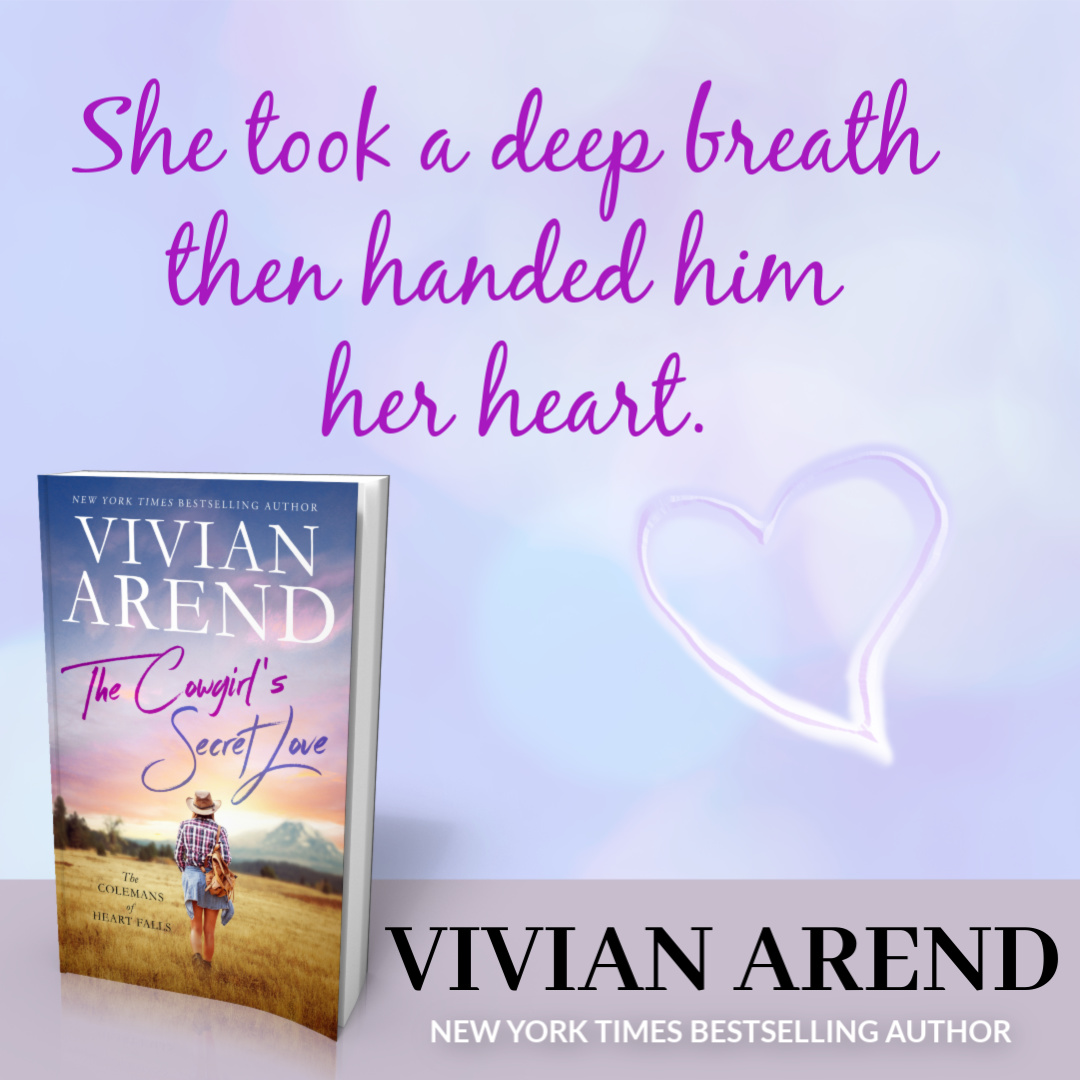 Welcome to Heart Falls—a place for family, friends, and a second chance to fall in love.
A stand alone novel in a new trilogy by New York Times bestselling author Vivian Arend.
Wealthy rancher Finn Marlette's move to Heart Falls to fix what went wrong between him and Karen Coleman just got complicated. Suddenly he's got five months to get his new dude ranch up and running, or lose the place to a hated rival.
New agenda: Show up on Karen's porch, tell her they belong together, and offer her a job.
After a lifetime of following the rules and other's dreams, Karen's determined to find her own path. The last thing she needs is to get involved with Finn again—it was only a secret fling, and she still fell hard.
But the summer job he offers is tempting—it's a chance to work with men who truly appreciate her ranching skills. Finn's determined to tempt her into remembering all the delicious sexual appreciation between them as well.
Wild horses can't keep them apart, but sabotage and too many secrets might…
Leave A Reply