Heart Falls
Tag
I am so excited to announce that A Soldier's Christmas Wish is up for pre-order! The second book in the Holidays in Heart Falls will release October 15th.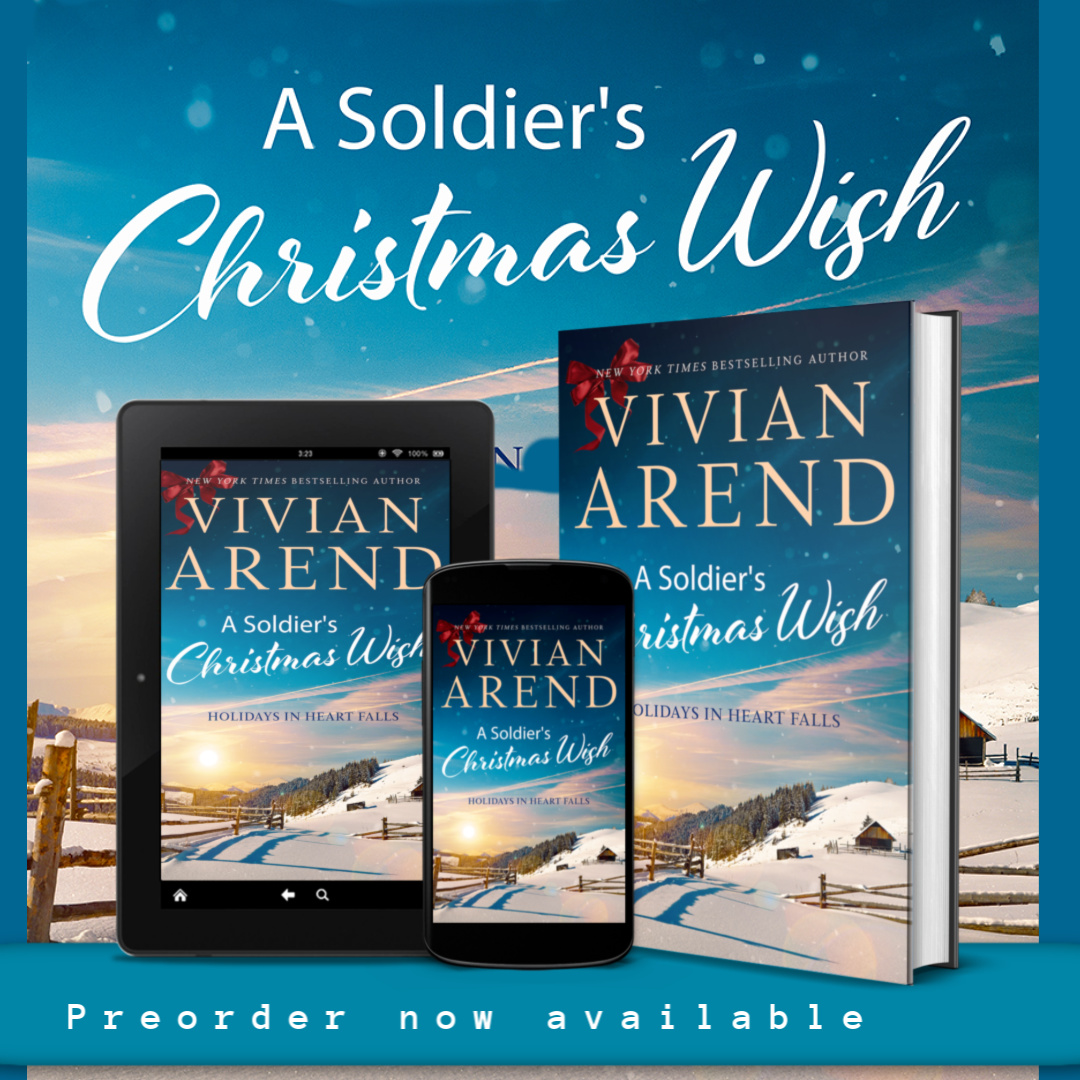 You can pre-order the book now at your favorite retailers:
What makes a good relationship?
When it comes to friends—    Honesty with caring.
When it comes to lovers—      Honesty with caring and lots of sparks.
When it comes to forever—   All of the above, and I really think you need to be able to laugh together.
Being a couple for many years usually means navigating some difficult moments, as well as enjoying highlights and passion and things you've looked forward to forever. But another component to what makes a relationship last, I think, is the ability to laugh on a daily basis, sometimes in the middle of worst situations.
It might not be a belly laugh, but that moment when you have to smile, even when your heart is breaking—that's special. That's a connection that goes deep.
One of my favourite moments in A Rancher's Bride is when there's something happening outside the hotel where Kelli and Luke are staying, and…well, I'll let you read part of it. It's a light-hearted scene, but it takes place after a huge emotional change has begun, and it's when Luke starts to see Kelli more completely for the first time.
May you have people in your life who truly see you, and people who want to share the little moments of joy with you enough to force you to come sit with them in a bathtub…
Luke woke to an empty bed, the bathroom door still moving as he peered around the room in search of his missing bed partner.

"Kelli?"

Her head poked out the doorway a second later, eyes twinkling as she crooked a finger and motioned for him to join her. "Hurry up."

He hesitated too long because she rolled her eyes then marched out to whip back the top sheet and grab his hand. "Don't worry, I'm not about to ravish you in the shower or anything. You've got to see this."

This time he followed, curiosity winning out. She guided him to the deep soaker tub that sat in the corner of the bathroom, stepping into the empty basin so she could sit on the far side and point toward the mountains. "Look."

It was a little strange, stepping into the empty tub. He leaned over her, and happiness bubbled up from inside as her laughter rang out.

The massive snowfall had been put to good use already this morning. Someone had built a field full of snowmen, with typical branches for arms and carrots for noses. Here and there were hats and scarves.

A herd of deer were foraging on the edge of the tree line. A couple of the does had fawns with them, yearlings by now, but still with a heightened sense of curiosity. Two of the young ones had wandered in amongst the snowmen, sniffing and scratching at the snow near the base of the rounded balls.

One fawn took a great liking to a scarf around a snow woman's neck, grabbing hold of the end and giving it a tentative nibble. The deer tugged too hard, and the scarf tightened, knocking against the snow woman's neck and decapitating the poor creature.

The loosened head rolled toward the deer, and chaos ensued.

Tails were lifted, flashes of white warning rang out. Deer jumped back, knocking into other snowmen. Within seconds the herd had trampled the snowy field, and most of the snowman army lay in ruins.

Kelli was laughing so hard she couldn't breathe. She turned to toward him, catching his arm and dragging him with her into the bottom of the tub where she gasped for air between peals of laughter.

He felt pretty lightheaded himself.

How had he missed seeing this? How had he missed seeing Kelli?
Preorder Today
US
UK
Canada
It's amazing how quickly this book has arrived—at least for me! Stepping into the new setting of Heart Falls after so many years of writing stories for Rocky Mountain House has been…
An adventure?
A challenge?
It's a little like going to a new town and having to learn where everything is. Not just at the grocery store, but in town, period! You need to find out who everyone is, where the thrift shop is, the hours at the library (very important!), and in the midst of that chaos, settle into a routine of school and work and family and chores.
After four books in the place, though, I'm feeling a lot like Heart Falls is home. I'm glad.
There are good people here, and I'm looking forward to finding out all their stories, but in the interest of making my life (and yours!) easier, we'll be working through the tales in trilogies and quartets. Long enough to dig in and get deep, and short enough to finish story arcs in a timely manner where we don't have to memorize a list of characters as long as the phone book.
So, yes, this is the final book in The Stones of Heart Falls—for now. The other Stone siblings, Ginny and Dustin, will get their happily-ever-afters eventually, but Ginny needs to finish her apprenticeship in Europe, and Dustin needs some years to grow up.
Now about our upcoming release— A Rancher's Bride.
I'm so delighted for you to watch Luke and Kelli's love story unfold. This wasn't where I expected things to go when I first envisioned the series, but it's pretty perfect for them. This friends-to-lovers romance reveals secrets from both their pasts, and we'll also find an answer to the Silver Stone financial crisis. Most importantly, though, we'll learn about family by choice and how important it is to stay true to ourselves even as we step into new roles.
As Luke and Kelli find themselves pretending to be more than they are, it's clear that stepping into a fake relationship isn't tough on either of their parts. The path isn't smooth, and there are surprises along the way that could have lasting repercussions, but if Kelli and Luke face what trouble comes together, they have a shot at forever.
Plus, I have to tell you about two new friends you'll meet in this story. When they stepped onto the page, I tossed out the first names that came to mind—Diane, and then Jack.
*pauses so you can repeat their names a few times and hear the song start to play*
Annoying? Yes, I know that NOW, but at the moment, it seemed a good idea. I tried to change their names, but they were having none of it. So I apologize for the permanent earworm you're going to get while reading this book. Did I mention that I feel as if I MUST write a short story for Jack and Diane, as well? To make sure we all get to see their HEA unfold?
Beyond our two "about to be abruptly shocked because we didn't see THIS coming" hero and heroine, aka Luke and Kelli, and their new friends, there's the whole cast of family at Heart Falls to catch up with, including Eeny, Meany and Miney. Because what's a happily-ever-after without the family goats' approval?
I hope you enjoy A Rancher's Bride; the conclusion to the first trilogy: The Stones of Heart Falls.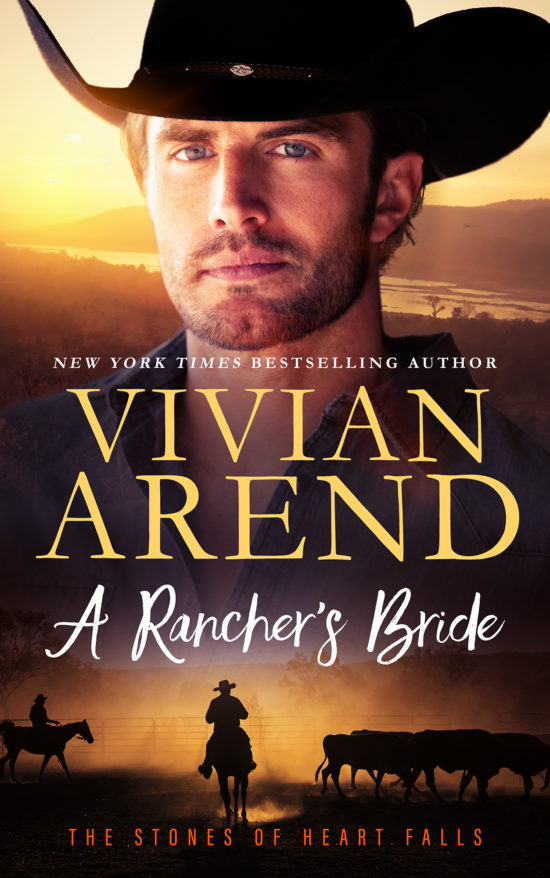 Preorder Today
US
UK
Canada
Are you ready for A FIREFIGHTER'S CHRISTMAS GIFT, the first book in the Holidays in Heart Falls series? This book is set in the world of Heart Falls and features some of our favorite Heart Falls characters including Tamara Coleman, Ivy Fields, and Kelly James. 
Before A FIREFIGHTER'S CHRISTMAS GIFT comes out in September, catch up on the Heart Falls series and ready A RANCHER'S HEART and A RANCHER'S SONG today!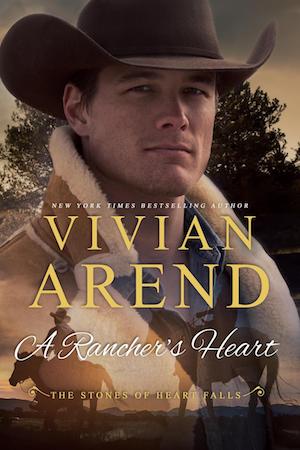 This cowboy has given up on love, but the new nanny might just make him change his mind. The first in a brand-new series from New York Times bestselling author Vivian Arend.
Caleb Stone is wearing too many hats and it's making him crankier than usual. He's a cowboy, a father, and the head of his large family—and has been since tragedy claimed his parents over ten years ago. The ranch is struggling, but it's the title of single dad that's got him tangled up in knots. He needs a full-time, live-in nanny at the Silver Stone homestead in Heart Falls, Alberta, to help with his two little girls, but the woman about to arrive on his doorstep? Tantalizing, tempting, and trouble with capital T's.
Tamara Coleman doesn't regret the choices that led to losing her job, but she definitely needs a fresh start. When a friend recommends her for a nanny position in a new town, she swears this time it'll be different. No more acting on impulse—except sexy, gruff Caleb is exactly the kind of man who pushes all her buttons. And what's more, it's so much fun to push his in return. Sparks fly between Tamara and her gorgeous boss, but she can't risk her position, and he doesn't dare risk his heart.
With two people fighting their true natures, something's going to give. Luckily, there's more than one way to capture a rancher's heart.
Excerpt:
Caleb shook his head. "She's my sister. I trust her. She says you're the one for the job, and I believe her, God help me."
Amusement lightened Tamara's expression as a snicker escaped. "Thanks for the vote of confidence. You really think you need heavenly intervention with me working for you?"
He needed it to stop dreaming about decidedly non-heavenly pursuits. Like her lips, soft and delicious. And those damn glasses she wore—he'd never realized he had a thing for glasses, but obviously, he did. The ones she had on today were black-rimmed with tipped-up outside edges. The way she peered at him through them made the dirty thoughts rise, along with his cock.
Which wasn't completely surprising because it had been a hell of a long time since the thing had gotten attention from anything other than his hand…
…and this was a direction he needed to avoid heading in the future.
Purchase A RANCHER'S HEART: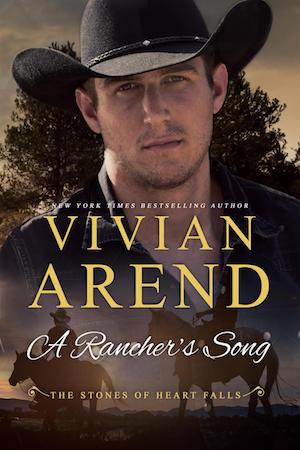 Can love help a champion bull rider face his fears and find his future?
Ivy Field's heart nearly broke when she left Heart Falls, but her high school sweetheart insisted she follow-through on her dream of becoming a teacher. She thought that meant putting their relationship on hold briefly, but it's taken eleven years to return. Now she's back, no longer a painfully shy young girl but a confident woman who knows exactly what and who she wants–a home and a family–with too-sexy-for-his-boots Walker Stone. He was her first; she wants him to be her last.
Walker "Dynamite" Stone was still reeling from his parents' unexpected deaths when Ivy left. He let her go, throwing himself into work on the Silver Stone ranch and dangerous living on the rodeo circuit. But lately Walker's adrenaline junkie ways have crashed–he's having panic attacks. Potentially devastating to his budding music career, they're a deadly handicap when shooting for eight seconds aboard an angry bull. He needs to learn to face his fears to save the family fortunes. If he succeeds, this time Walker will be the one to leave Heart Falls, and Ivy, behind.
Will Ivy and Walker have to give up on forever, or can they turn this rancher's song into a winning duet?
Excerpt:
Another round of cheers went up, and then the shouting changed to words.
Kiss her. Kiss her. Kiss her
The locals knew their history—knew they'd been sweethearts back in the day. It made sense they'd be riled up and willing to tease. The crowd was helping to pull Ivy forward, and hands were at Walker's back guiding him as well.
As if he needed any encouragement.
They met in the middle of the room, and the noise level hit a deafening volume as the chant continued.
Kiss her. Kiss her.
Walker held out a hand, and she placed her fingers in his with no hesitation. It wasn't the crowd's encouragement that made him do it. It was the need in his gut telling him to go ahead and take a bite.
He pulled her against him, sliding a hand behind her back as he brought their bodies into contact, twisting and dipping her, bending forward until she had to arch back and rely on him to hold her safely.
She didn't fight him, not one bit. She just moved in unison with him as if it'd been yesterday and not years ago they'd been in each other's arms. And when he leaned over and pressed his lips to hers, it was like coming home.
Purchase a rancher's song:
     
In A Firefighter's Christmas Gift, Hanna Lane and her daughter Crissy end up staying at someone else's house during the holiday season. One of the things they do during their time involves baking Christmas treats, which might lead to a kiss or two between the hero and heroine, because kitchens tend to be the place where mischief like that happens.
Am I right? ;)
Some of that mischief includes decorating cookies and a mishap, which brought to mind a story I thought I'd tell you about one of myfamily's funny cookie adventures. When my children were young I used to do goodie exchanges with friends for the holidays. Each of us would bake 8 dozen of a single item (like brownies, or Nanaimo bars, or mincemeat tarts), then we'd gather together and trade. We'd go home with eight trays of mixed baking. I'd wrap mine up and pop the trays into the freezer and then pull out one at a time over the holidays when people visited. I loved it.
My kids loved it, too, but thought I was stingy in how often I brought out the trays. So I said they could make their own cookies. My daughter (with a little help) made sugar cookies. Three dozen that turned out crisp, yummy and perfect.
My son, who was slightly older, didn't need my help, so he said. He measured and poured and stirred and stirred some more, and ended up with an enormous batch of gingerbread cookie batter. The he rolled out the dough and cut out gingerbread men and baked them, then rolled out some more, and baked them, then rolled out some more…
The island top was covered with gingerbread men. The counters. The table. And still they came…
Turned out he'd decided he loved gingerbread men so much he'd quadrupled the recipe. Only,I'd already doubled it before I gave it to him.
There might still be some gingerbread men in my freezer all these years later…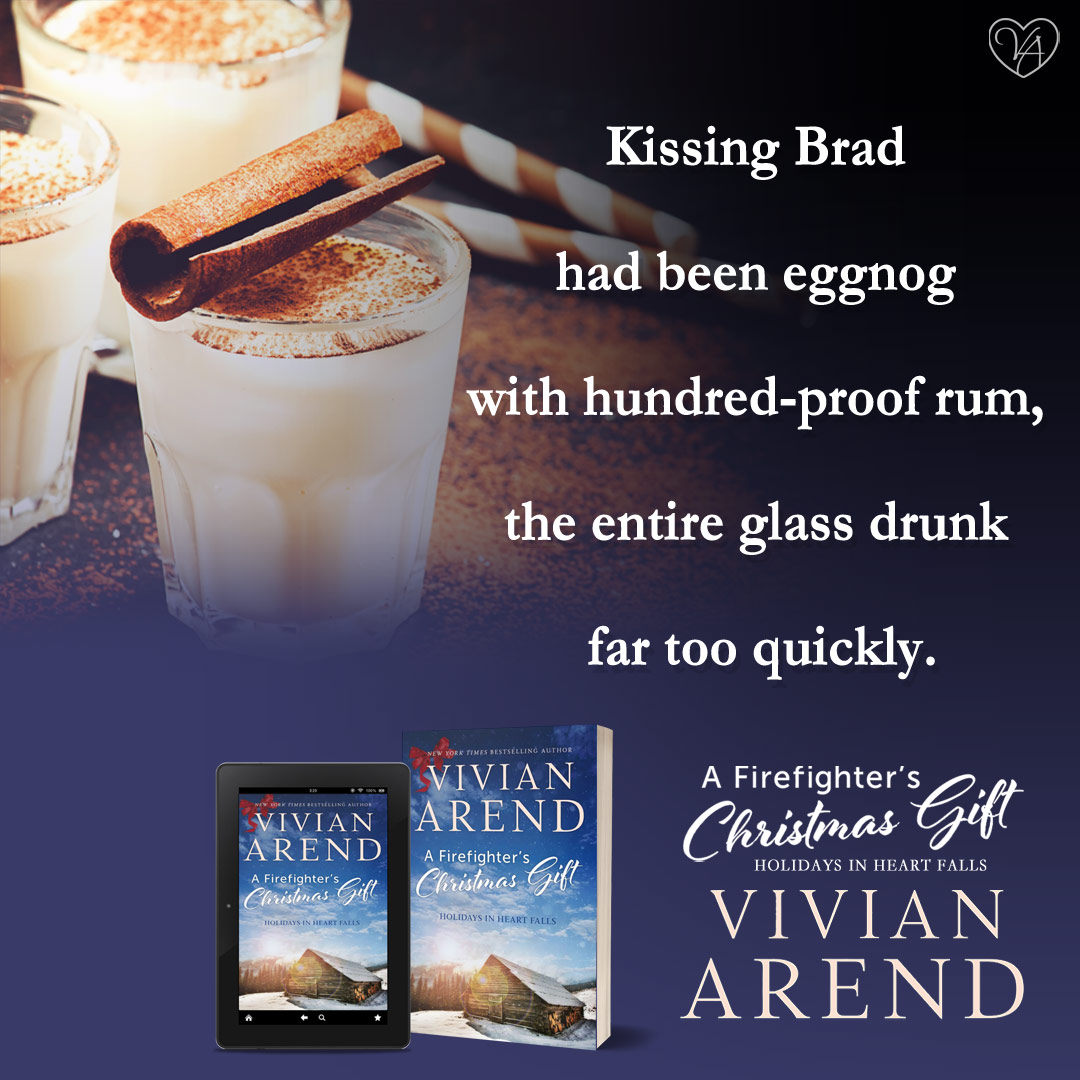 Excerpt:
Crissy climbed up in the chair next to her. "What're we going to make, Mommy?"
"Gingersnaps. And sugar cookies."
"Gingerbread men?" Crissy begged. "So we can ice them?"
"I have to agree with her," Patrick said with a slow nod, stroking his snowy white beard. "Gingerbread men taste a whole lot more delicious than simple gingersnaps."
"If you haven't already noticed, my father has a sweet tooth," Brad said in a teasing tone.
"I guess you come by it naturally, Mr. Three-spoons-of-sugar-in-my-coffee," Hanna said, without looking up from the recipe.
Laughter rolled across the room, and suddenly Hanna realized she hadn't been very polite. Truthful, but not polite.
Thankfully, Crissy hadn't noticed. Patrick continued to grin as he bookmarked a dozen pages in his wife's recipe book. Hanna fought her embarrassment and slid up to where Brad was pouring a mountain of macaroni noodles into boiling water. "I didn't mean that in a bad way," she murmured.
Brad's deep chuckle stroked her. "I'll be the first to admit I like sweet things."
She glanced up to find his gaze drifting over her. His lips were still curled into a friendly smile, but the heat in his eyes grew, and while her girlfriends might tease her that she was an innocent, Hanna knew what was going on in a man's head when he had that look.
Bradley Ford wasn't daydreaming about sugar cookies.
Pre-Order: