Book three in the Borealis Bears will be here soon!
It's been a delight to get to go from start to finish on this series in under a year, and I will be doing this more in the future because it's so much FUN for me (as well as you!) to get to the happily-ever-afters quicker.
This time, you'll be able to enjoy reading about some wintery activities in Cooper and Amber's story, like sledding and skidoos and lots of northern lights. The preorder is ready to drop in February, so if you haven't read book 1 & 2 yet, there's time. Escape for a bit of light-hearted happiness!
What else to look forward to? Well, more mischief from Grandfather Giles, that's for sure…
Here's a taste of THE BEAR'S FOREVER MATE!
Personal Journal, Giles Borealis, Sr.
And so one remains.
Of course, it makes sense that he'd be the final one to follow my instructions and find himself a mate. Stubborn as the day is long, just like his father.
Like every male member of this family, if we're being honest.
Cooper's probably the most like me when it comes down to it. Protective, caring—he's a solid rock for the rest of the family. The lad's always got one of his brothers coming to him for advice, and in any group, everyone seems to gravitate in his direction.
He strives to do the right thing for everyone else. Damn well time he did the right thing for himself for a change.
Stubborn boy would argue about that, I'm sure. Legal training never goes amiss except when the young varmints try to use it to wiggle their way out of losing a discussion with me.
Don't know why he thinks he can continue to get away with being so perverse. He got that character trait from some other side of the family. Possibly from my beloved mate, although I'd never tell Laureen my suspicions.
Anyway, I know the type of woman Cooper needs. She's got to have a soft touch to slip in under that protective instinct of his, but a spine of steel to force his hand when he gets all unreasonable. Amber is definitely the one for him, and between her and the mating fever, there's no way Cooper will get away.
So, yes, my oldest grandson will fall as well, no matter how firmly he believes the contrary. I set the wheels in motion for this match so long ago, he'll never see it coming. Won't know that I was involved at all.
Which is right, I suppose. I don't have to get the credit for making fine matches for my grandsons. I just want the grandbabies for me and Laureen to cuddle, and if I read the signs right, this last match might end up being the perfect beginning to the next generation.
Getting older means I have the time to watch their stories unfold. I can hardly wait to see what Christmas brings to the Borealis family, and most especially to Cooper and Amber.
I won't gloat until everything is completed, but it's coming—
I can tell!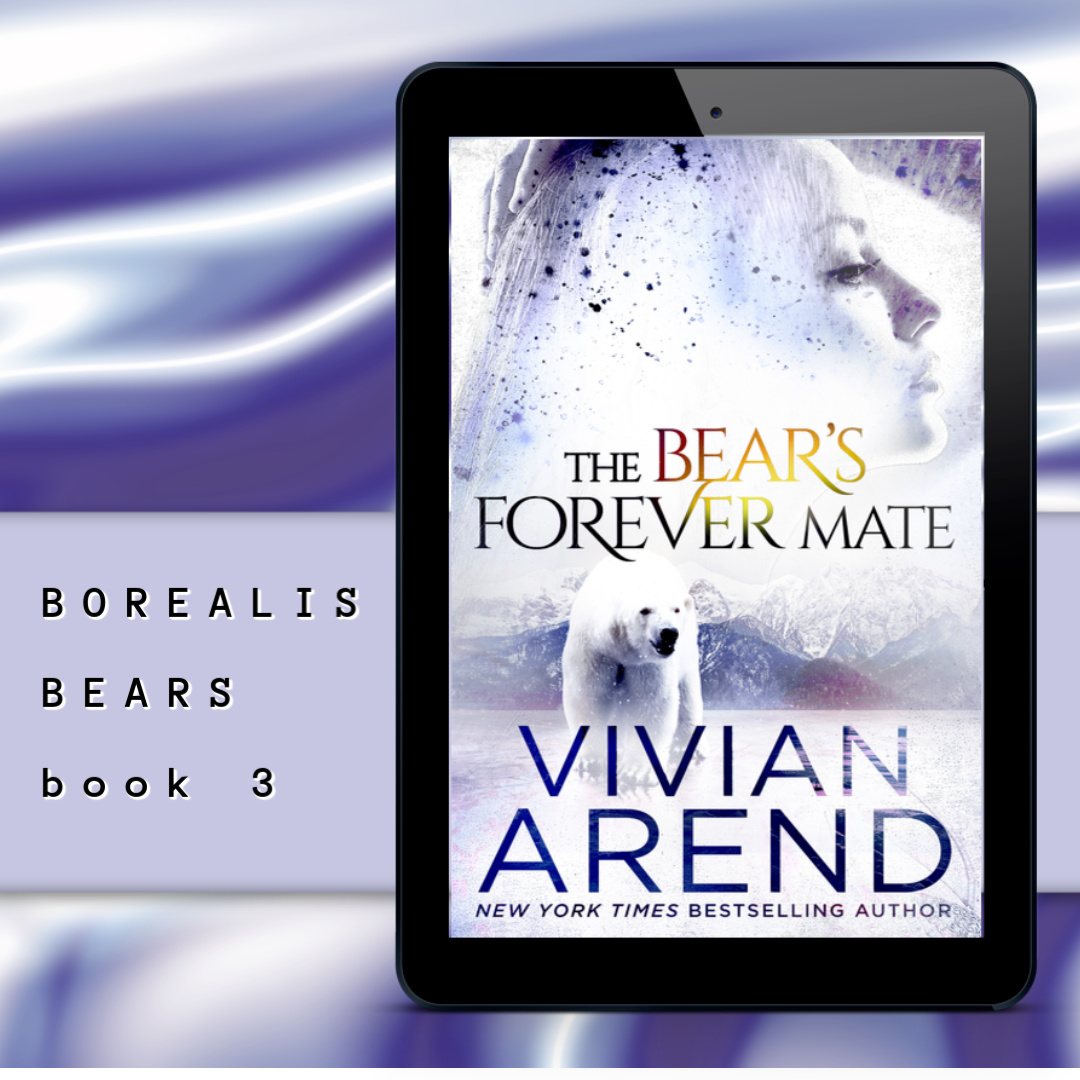 He's got the perfect mate in mind, for five years from now…
The final title in a light-hearted shifter trilogy by New York Times bestselling author Vivian Arend.
Cooper Borealis is fully onboard with the concept of fated mates. Except mating the woman he wants—his tempting, complicated, human secretary—is not an option. Or not yet anyway. So he'll use a loophole to keep the vow he made to his brothers, mating fever be damned.. He'll be with Amber Myawayan at the place and time of his choosing.
Amber has spent the past two years in the north looking for her missing brother—and falling in love with the big, growly polar bear at the helm of Borealis Gems. More than once, she's caught him looking at her with hungry shifter eyes. But getting him to admit it? Ha! Luckily, mating fever is a thing, and she's happy to get involved as nature forces the issue to the forefront.
But when their mating bond is unexpectedly blocked, Amber and Cooper find themselves in a race against time. She needs to track down her brother while somehow proving she's tough enough to be with her favourite bear. Cooper plans to protect her at all costs, even if it means secretly stifling his stubborn shifter side.
Somewhere in the wilderness they'll find the answer…or lose their chance at forever.
Leave A Reply