With the release of A RANCHER'S HEART right around the corner, I thought it'd be fun to do a mini re-read of the Six Pack Ranch Series to get ready for Tamara and Caleb. Next up, ROCKY MOUNTAIN FREEDOM. Tamara spends some time helping Jesse out at the beginning of the book.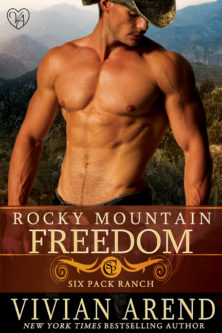 Three hurting hearts. Too many secrets. One chance to conquer their fears.
Over the past year, Travis Coleman lost the two people he allowed closest to his heart. Both gave him ultimatums—then left. Hell if he needs that kind of pain again. Time to move forward without the friends he thought might save him from his dangerous cravings.
When Ashley Sims returns to Rocky Mountain House, her rambling lifestyle isn't all she's hoping to change. Travis snagged a piece of her, and while getting tangled in his issues again might be crazy, she hasn't given up on him.
Nine months ago, Cassidy Jones walked away to stop his best friend from making a huge mistake. Temptation lingers, though, and when Travis shows up on his turf accompanied by a sensually uninhibited woman, the combination tosses fuel on the banked fire.
Passion flares among the three of them, as hot as the summer days. But are they willing to push the limits, and fight for love?
Warning: Dirty fighting, dirty talk, dirtier sex—secrets are coming out. Get ready for ménage a trois and cowboy-on-cowboy action, with ropes and crops and the kind of relentless love strong enough to set a man free.
Purchase
Digital:  Kobo | iBooks US | iBooks UK | iBooks CA | GooglePlay | Scribd | Amazon US | Amazon UK | Amazon CA | Barnes & Noble
Print:  Amazon | CreateSpace
Audio:  Amazon | Audible | iTunes
Prologue
July, Red Deer, Alberta
Pain wrapped around his temples, the rush of blood through his veins echoing in his ears. Travis Coleman whipped his head up to track his attacker and stars danced before his eyes as chastisement for moving too fast after the recent blow to his head.
He raised his hands into a defensive position and waited with anticipation for the next bit of punishment to land. The dim lighting in the back alley wasn't enough to show all the debris underfoot, and he stumbled before finding his footing.
"Stop."
The order rang from Travis's left, and both he and his opponent turned to see a powerfully built blond race toward them.
By the time Travis recognized his friend, there was no time to shout a warning. Cassidy's forward momentum brought him between Travis and the other fighter, an agonized grunt exploding from the man's lips as Cassidy's fist sank deep into his gut. Cassidy slammed his free hand against the stranger's shoulder, toppling him to the ground.
Shit.
Cassidy whirled to grab Travis, his green eyes bright as he examined the damage. "You okay?"
Travis tossed off the assisting arm, lurching around Cassidy's bulk to offer a hand to the man he'd been fighting. His sparring partner had already scrambled crablike into the shadows and escaped.
"Dammit, what'd you go and do that for?" Travis spun toward his friend. The motion was too rapid after the hits he'd taken, and he staggered.
Cassidy caught him, pushing him against the nearest wall for support. "He was beating the shit out of you. I thought interrupting was a good idea." He leaned in closer and grinned momentarily. "I arrived too soon. You've still got a pretty face."
Travis shoved his friend's hands away. "Next time ask before you butt in."
"Too big a man to ask for help? Even to save yourself from being pummeled?" Cassidy pulled out a handkerchief and offered it. "Your nose is bleeding like you're some kind of virgin sacrifice, and we both know how wrong that is."
Travis took the faded blue fabric and held it tight to his nose to stop the flow. His grip covered his entire lower face and stopped him from having to respond. Silence was a fine thing because there wasn't much he could say right now. Not without telling Cassidy more than he wanted to.
"Where the hell you been, anyway?" Cassidy folded his arms over his chest, biceps bulging the denim of his jean jacket. "We were supposed to meet at Traders. When you didn't show up, I figured you'd found someone to fool around with, or you plain forgot."
"I left a message," Travis insisted. Not a very detailed one, true, but he had called.
Cassidy pulled out his phone and cursed, shoving it back into his pocket with a rueful sigh. "Dead."
"Ha, see? I'm surprised you still have that thing. Isn't it time you lost this one?" He needed to change tack—distract Cassidy from asking any more questions that had no answers.
Only his friend ignored the bait and narrowed his gaze, a glitter of brilliant green flashing out. "You called to tell me what? That instead of meeting to shoot some pool, you'd decided to drive an hour to the cheesiest dive we know so you could find some asshole to fight?"
Travis backed away as Cassidy crowded him, suddenly gone fierce with not a trace of humour left on his face.
"Shut up," Travis snapped. "It's not like that."
"Looked a lot like that to me," Cassidy snarled. "You got a death wish, T?"
The lingering rush of adrenaline, the sweet tease of forbidden pleasure that accompanied the pain…
Travis shook his head to rid himself of the sensations. He attempted to muscle past the solid body blocking him. "None of your damn business."
Cassidy caught him by the shirtfront and shoved him into the wall again. He pinned Travis in place with a rock-solid forearm across the chest, leaning in with his full weight to create a trap.
It was all kinds of fucked up that Travis had to clench his teeth together to stop from moaning as lust roared through him.
Cassidy got right in Travis's face. "I'm your friend, and that makes it my bloody business."
Travis wanted to look away. Wanted to hide, but it was impossible. He was caught, mesmerized by the full force of Cassidy's stare.
Purchase
Digital:  Kobo | iBooks US | iBooks UK | iBooks CA | GooglePlay | Scribd | Amazon US | Amazon UK | Amazon CA | Barnes & Noble
Print:  Amazon | CreateSpace
Audio:  Amazon | Audible | iTunes
Leave A Reply