Feature Book: Rocky Mountain Home
With the release of A RANCHER'S HEART right around the corner, I thought it'd be fun to do a mini re-read of the Six Pack Ranch Series to get ready for Tamara and Caleb. Next up, ROCKY MOUNTAIN HOME.  We get to learn so much more about Tamara, and it's the first chance to meet Caleb.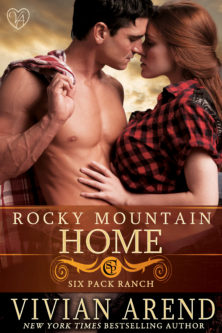 There's no distance you can run to escape the past.
Too stubborn to face his sins, Jesse Coleman bolted from the Six Pack Ranch, only to fall straight into the arms of a beautiful stranger. Twelve hours later, the seductive firebrand is nothing but a whiskey-laced memory—but one powerful enough to convince Jesse tracking down his elusive lover is worth the effort.
Darilyn Hayes figured it was her lucky night when the sexiest cowboy in Alberta interrupted her annual drink-until-I-fall-over wake. At least until four weeks later when she discovers she's pregnant and her one-night-stand is nowhere to be found. Still, as she's shared with her devoted blog readers, Dare has dealt with life's not-so-gentle surprises before. She'll make it on her own.
When an internet picture gone viral leads to their reunion, Jesse's floored by Dare's news. She's very clear she's not looking for a commitment, but screw that. He's going to do the right thing by her and his unborn kid. The fact they lit the sheets on fire is a bonus, but with a baby on the way, both their lives are gonna change.
Jesse's got a ton of family to reconnect with, including his estranged twin. Dare holds family loosely—even though she loves them—because she knows too well how fragile life can be. Between her and Jesse, they've got enough baggage to open a store.
But they still have a shot at forever—if they're willing to fight for it.
This final novel in the series contains the following:
A sexy, dirty, cocky-as-hell prodigal son Coleman with massive bridges to rebuild. A woman able to see to the heart of the matter yet bold enough to speak the truth. A family of extraordinary resolve and endless love. A wedding or two. And babies—oh lordy, the babies…   
Purchase
Digital:  Kobo | iBooks US | iBooks UK | iBooks CA | Amazon US | Amazon UK | Amazon CA | Barnes & Noble
Print: Amazon | CreateSpace
Prologue
February, somewhere in rural Alberta
Jesse Coleman was lost.
He cursed as he spread the old-fashioned road map in front of him on the dash, the dim light from the overhead lamp not helping as he peered at the thin lines representing secondary roads. He'd grown up driving the back roads of rural Alberta, but mostly in the central parts. He was far enough out of familiar territory that with the snow falling like a thick curtain, he could barely find his own ass.
GPS was no help, and he gave up. No way he was making it any farther tonight. He needed a place to get off the road and out of the snow.
He was shoving the map back in the glove box when, miracle of miracles, headlights appeared behind him, coming over the rise. At least it meant he wasn't completely screwed. The truck slowed as it passed him, people with unfamiliar faces offering a friendly wave as they sent a swirl of fresh fallen snow flying skyward.
Jesse threw his truck into gear and hauled ass, horse trailer and all, following the red taillights like a beacon.
Fifteen minutes later the snow slowed enough to let the lights of a motel sign shine the first hope on his miserable evening. It wasn't going to be pretty, but it was better than sleeping in his truck.
A small shelter with a fenced paddock stood behind the main office, so he got his horse settled, then slipped into the room he'd been given at the end of the motel row.
A single glance was enough to confirm what he'd already suspected. "Jeez. End of the fucking world, and I've found it."
Puke-green bedspread. A black velvet painting screwed to the wall over the bed—classy. The wood paneling on the lower half of the walls was so bashed up it looked as if someone had taken a hammer to it. One shelf hung on the wall with a two-foot-long bar under it, a few metal coat hangers tangled in a mess. The carpet—threadbare and stained.
He didn't dare look in the bathroom.
Still, one night was all he needed.
"I've slept in worse," he told Morgan.
His dog didn't seem to believe him as the animal worked his way around the entire room before picking a spot by the door to curl up. As if to say he was ready to leave anytime Jesse came to his senses and said the word.
Jesse patted Morgan on the head, rubbing the golden retriever behind the ears affectionately. "I hear you, but I need a drink. No, I need a couple of drinks," he told the dog. "Stay, and be good. Tomorrow we'll figure out how to get to our new home."
Morgan thumped his tail once then put his head down and closed his eyes.
End of the world, all right, but even in the boonies there was bound to be liquor.
The rooms stretched in a long arm west of the motel office. On the other side was a small café and bar. Jesse paced past the closed sign in the café door, headed for where music was spilling from behind the neon-lit saloon sign.
The words he'd said to his dog haunted him as he pushed through the door. Home. They didn't have one right now, and this bar just made it all the clearer they weren't in familiar territory.
The place was not much more than three stools at a high counter, a couple of tables with hard wooden chairs and a dartboard on the wall. A large-screen TV hung over the bar, a hockey game in progress, but Jesse's attention shot straight to the redhead at the counter, glasses lined up in front of her as if she was settling in for a long, intense bout of drinking.
Sounded like a fucking great idea.
The wind caught the bar door, slamming it shut behind him, and all eyes turned in Jesse's direction. Two old-timers nursing drinks in the corner. The bartender behind the counter.
Her…
The woman's gaze brushed him, lingering on the bruise beside his eye before slipping down his body then back up, her lips twisting into a smile. He offered one in return.
Buxom redheads were his favourite.
Her hair was braided back, the long length of it pulled forward to rest over her plaid-covered breast. Tight faded jeans, working leather belt. Light brown leather half-boots that looked worn and comfy.
She must have felt his gaze lingering because she glanced up to offer him a glimpse into grey-green eyes, a smattering of freckles over her nose and cheeks. Then she ignored him, motioning at the bartender as he brought forward yet another glass.
Jesse was intrigued. He made his way next to her. "Looks like a party in the making. Want a little company?"
"Knock yourself out," she offered.
Purchase
Digital:  Kobo | iBooks US | iBooks UK | iBooks CA | Amazon US | Amazon UK | Amazon CA | Barnes & Noble
Print: Amazon | CreateSpace