Six Pack Ranch
Tag
With the release of A RANCHER'S HEART right around the corner, I thought it'd be fun to do a mini re-read of the Six Pack Ranch Series to get ready for Tamara and Caleb. Next up, ROCKY MOUNTAIN HOME.  We get to learn so much more about Tamara, and it's the first chance to meet Caleb.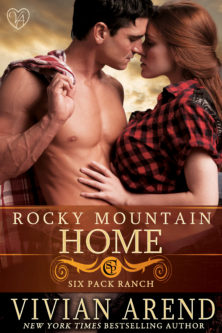 There's no distance you can run to escape the past.
Too stubborn to face his sins, Jesse Coleman bolted from the Six Pack Ranch, only to fall straight into the arms of a beautiful stranger. Twelve hours later, the seductive firebrand is nothing but a whiskey-laced memory—but one powerful enough to convince Jesse tracking down his elusive lover is worth the effort.
Darilyn Hayes figured it was her lucky night when the sexiest cowboy in Alberta interrupted her annual drink-until-I-fall-over wake. At least until four weeks later when she discovers she's pregnant and her one-night-stand is nowhere to be found. Still, as she's shared with her devoted blog readers, Dare has dealt with life's not-so-gentle surprises before. She'll make it on her own.
When an internet picture gone viral leads to their reunion, Jesse's floored by Dare's news. She's very clear she's not looking for a commitment, but screw that. He's going to do the right thing by her and his unborn kid. The fact they lit the sheets on fire is a bonus, but with a baby on the way, both their lives are gonna change.
Jesse's got a ton of family to reconnect with, including his estranged twin. Dare holds family loosely—even though she loves them—because she knows too well how fragile life can be. Between her and Jesse, they've got enough baggage to open a store.
But they still have a shot at forever—if they're willing to fight for it.
This final novel in the series contains the following:
A sexy, dirty, cocky-as-hell prodigal son Coleman with massive bridges to rebuild. A woman able to see to the heart of the matter yet bold enough to speak the truth. A family of extraordinary resolve and endless love. A wedding or two. And babies—oh lordy, the babies…   
Purchase
Digital:  Kobo | iBooks US | iBooks UK | iBooks CA | Amazon US | Amazon UK | Amazon CA | Barnes & Noble
Print: Amazon | CreateSpace
Prologue
February, somewhere in rural Alberta
Jesse Coleman was lost.
He cursed as he spread the old-fashioned road map in front of him on the dash, the dim light from the overhead lamp not helping as he peered at the thin lines representing secondary roads. He'd grown up driving the back roads of rural Alberta, but mostly in the central parts. He was far enough out of familiar territory that with the snow falling like a thick curtain, he could barely find his own ass.
GPS was no help, and he gave up. No way he was making it any farther tonight. He needed a place to get off the road and out of the snow.
He was shoving the map back in the glove box when, miracle of miracles, headlights appeared behind him, coming over the rise. At least it meant he wasn't completely screwed. The truck slowed as it passed him, people with unfamiliar faces offering a friendly wave as they sent a swirl of fresh fallen snow flying skyward.
Jesse threw his truck into gear and hauled ass, horse trailer and all, following the red taillights like a beacon.
Fifteen minutes later the snow slowed enough to let the lights of a motel sign shine the first hope on his miserable evening. It wasn't going to be pretty, but it was better than sleeping in his truck.
A small shelter with a fenced paddock stood behind the main office, so he got his horse settled, then slipped into the room he'd been given at the end of the motel row.
A single glance was enough to confirm what he'd already suspected. "Jeez. End of the fucking world, and I've found it."
Puke-green bedspread. A black velvet painting screwed to the wall over the bed—classy. The wood paneling on the lower half of the walls was so bashed up it looked as if someone had taken a hammer to it. One shelf hung on the wall with a two-foot-long bar under it, a few metal coat hangers tangled in a mess. The carpet—threadbare and stained.
He didn't dare look in the bathroom.
Still, one night was all he needed.
"I've slept in worse," he told Morgan.
His dog didn't seem to believe him as the animal worked his way around the entire room before picking a spot by the door to curl up. As if to say he was ready to leave anytime Jesse came to his senses and said the word.
Jesse patted Morgan on the head, rubbing the golden retriever behind the ears affectionately. "I hear you, but I need a drink. No, I need a couple of drinks," he told the dog. "Stay, and be good. Tomorrow we'll figure out how to get to our new home."
Morgan thumped his tail once then put his head down and closed his eyes.
End of the world, all right, but even in the boonies there was bound to be liquor.
The rooms stretched in a long arm west of the motel office. On the other side was a small café and bar. Jesse paced past the closed sign in the café door, headed for where music was spilling from behind the neon-lit saloon sign.
The words he'd said to his dog haunted him as he pushed through the door. Home. They didn't have one right now, and this bar just made it all the clearer they weren't in familiar territory.
The place was not much more than three stools at a high counter, a couple of tables with hard wooden chairs and a dartboard on the wall. A large-screen TV hung over the bar, a hockey game in progress, but Jesse's attention shot straight to the redhead at the counter, glasses lined up in front of her as if she was settling in for a long, intense bout of drinking.
Sounded like a fucking great idea.
The wind caught the bar door, slamming it shut behind him, and all eyes turned in Jesse's direction. Two old-timers nursing drinks in the corner. The bartender behind the counter.
Her…
The woman's gaze brushed him, lingering on the bruise beside his eye before slipping down his body then back up, her lips twisting into a smile. He offered one in return.
Buxom redheads were his favourite.
Her hair was braided back, the long length of it pulled forward to rest over her plaid-covered breast. Tight faded jeans, working leather belt. Light brown leather half-boots that looked worn and comfy.
She must have felt his gaze lingering because she glanced up to offer him a glimpse into grey-green eyes, a smattering of freckles over her nose and cheeks. Then she ignored him, motioning at the bartender as he brought forward yet another glass.
Jesse was intrigued. He made his way next to her. "Looks like a party in the making. Want a little company?"
"Knock yourself out," she offered.
Purchase
Digital:  Kobo | iBooks US | iBooks UK | iBooks CA | Amazon US | Amazon UK | Amazon CA | Barnes & Noble
Print: Amazon | CreateSpace
With the release of A RANCHER'S HEART right around the corner, I thought it'd be fun to do a mini re-read of the Six Pack Ranch Series to get ready for Tamara and Caleb. Next up, ROCKY MOUNTAIN FREEDOM. Tamara spends some time helping Jesse out at the beginning of the book.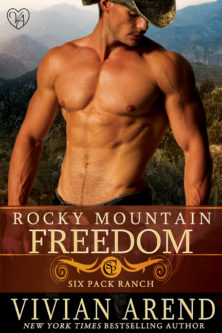 Three hurting hearts. Too many secrets. One chance to conquer their fears.
Over the past year, Travis Coleman lost the two people he allowed closest to his heart. Both gave him ultimatums—then left. Hell if he needs that kind of pain again. Time to move forward without the friends he thought might save him from his dangerous cravings.
When Ashley Sims returns to Rocky Mountain House, her rambling lifestyle isn't all she's hoping to change. Travis snagged a piece of her, and while getting tangled in his issues again might be crazy, she hasn't given up on him.
Nine months ago, Cassidy Jones walked away to stop his best friend from making a huge mistake. Temptation lingers, though, and when Travis shows up on his turf accompanied by a sensually uninhibited woman, the combination tosses fuel on the banked fire.
Passion flares among the three of them, as hot as the summer days. But are they willing to push the limits, and fight for love?
Warning: Dirty fighting, dirty talk, dirtier sex—secrets are coming out. Get ready for ménage a trois and cowboy-on-cowboy action, with ropes and crops and the kind of relentless love strong enough to set a man free.
Purchase
Digital:  Kobo | iBooks US | iBooks UK | iBooks CA | GooglePlay | Scribd | Amazon US | Amazon UK | Amazon CA | Barnes & Noble
Print:  Amazon | CreateSpace
Audio:  Amazon | Audible | iTunes
Prologue
July, Red Deer, Alberta
Pain wrapped around his temples, the rush of blood through his veins echoing in his ears. Travis Coleman whipped his head up to track his attacker and stars danced before his eyes as chastisement for moving too fast after the recent blow to his head.
He raised his hands into a defensive position and waited with anticipation for the next bit of punishment to land. The dim lighting in the back alley wasn't enough to show all the debris underfoot, and he stumbled before finding his footing.
"Stop."
The order rang from Travis's left, and both he and his opponent turned to see a powerfully built blond race toward them.
By the time Travis recognized his friend, there was no time to shout a warning. Cassidy's forward momentum brought him between Travis and the other fighter, an agonized grunt exploding from the man's lips as Cassidy's fist sank deep into his gut. Cassidy slammed his free hand against the stranger's shoulder, toppling him to the ground.
Shit.
Cassidy whirled to grab Travis, his green eyes bright as he examined the damage. "You okay?"
Travis tossed off the assisting arm, lurching around Cassidy's bulk to offer a hand to the man he'd been fighting. His sparring partner had already scrambled crablike into the shadows and escaped.
"Dammit, what'd you go and do that for?" Travis spun toward his friend. The motion was too rapid after the hits he'd taken, and he staggered.
Cassidy caught him, pushing him against the nearest wall for support. "He was beating the shit out of you. I thought interrupting was a good idea." He leaned in closer and grinned momentarily. "I arrived too soon. You've still got a pretty face."
Travis shoved his friend's hands away. "Next time ask before you butt in."
"Too big a man to ask for help? Even to save yourself from being pummeled?" Cassidy pulled out a handkerchief and offered it. "Your nose is bleeding like you're some kind of virgin sacrifice, and we both know how wrong that is."
Travis took the faded blue fabric and held it tight to his nose to stop the flow. His grip covered his entire lower face and stopped him from having to respond. Silence was a fine thing because there wasn't much he could say right now. Not without telling Cassidy more than he wanted to.
"Where the hell you been, anyway?" Cassidy folded his arms over his chest, biceps bulging the denim of his jean jacket. "We were supposed to meet at Traders. When you didn't show up, I figured you'd found someone to fool around with, or you plain forgot."
"I left a message," Travis insisted. Not a very detailed one, true, but he had called.
Cassidy pulled out his phone and cursed, shoving it back into his pocket with a rueful sigh. "Dead."
"Ha, see? I'm surprised you still have that thing. Isn't it time you lost this one?" He needed to change tack—distract Cassidy from asking any more questions that had no answers.
Only his friend ignored the bait and narrowed his gaze, a glitter of brilliant green flashing out. "You called to tell me what? That instead of meeting to shoot some pool, you'd decided to drive an hour to the cheesiest dive we know so you could find some asshole to fight?"
Travis backed away as Cassidy crowded him, suddenly gone fierce with not a trace of humour left on his face.
"Shut up," Travis snapped. "It's not like that."
"Looked a lot like that to me," Cassidy snarled. "You got a death wish, T?"
The lingering rush of adrenaline, the sweet tease of forbidden pleasure that accompanied the pain…
Travis shook his head to rid himself of the sensations. He attempted to muscle past the solid body blocking him. "None of your damn business."
Cassidy caught him by the shirtfront and shoved him into the wall again. He pinned Travis in place with a rock-solid forearm across the chest, leaning in with his full weight to create a trap.
It was all kinds of fucked up that Travis had to clench his teeth together to stop from moaning as lust roared through him.
Cassidy got right in Travis's face. "I'm your friend, and that makes it my bloody business."
Travis wanted to look away. Wanted to hide, but it was impossible. He was caught, mesmerized by the full force of Cassidy's stare.
Purchase
Digital:  Kobo | iBooks US | iBooks UK | iBooks CA | GooglePlay | Scribd | Amazon US | Amazon UK | Amazon CA | Barnes & Noble
Print:  Amazon | CreateSpace
Audio:  Amazon | Audible | iTunes
With the release of A RANCHER'S HEART right around the corner, I thought it'd be fun to do a mini re-read of the Six Pack Ranch Series to get ready for Tamara and Caleb. Next up, ROCKY MOUNTAIN REBEL. Tamara has a small cameo in this book, but we get a deeper glimpse into her and her life.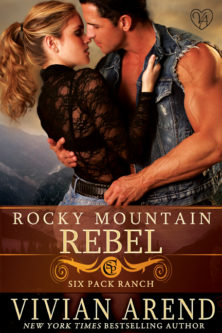 The best type of growing up involves getting down and dirty
Vicki Hansol made different choices than her less-than-reputable mom and sister, yet her fiery temper has left her branded with the same town-bad-girl label. When she desperately needs a change of scenery, her get-out-of-town-free ticket arrives—and requires she face down one of her deepest fears.
Easygoing Joel Coleman has nothing to complain about, but he's never really done anything to brag about either. The youngest member of the Six Pack Ranch is looking to make some changes in his life that include stepping out from under his twin brother's shadow.
So when the bold beauty with the smart mouth approaches him with a proposition, Joel is intrigued. Her request for him to teach her to ride soon takes on a whole new meaning. All that passion in his arms, his bed, in the barn…hell, anywhere he can get it? Bring it on.
But tangling the sheets leads to unanticipated complications, and by the time the dust settles, everything family means is going to be challenged.
Caution: Saddle up for some youthful vigor applied with great enthusiasm. Ropes, rails and raunchy sex—there's more places to get dirty around the ranch than first meets the eye.
Purchase
Digital: Kobo | iBooks US | iBooks UK | iBooks CA | GooglePlay | Scribd | Amazon US | Amazon UK | Amazon CA | Barnes & Noble
Print:
Audio: Amazon | Barnes & Noble | Tantor | iTunes
Chapter One
Playing connect the dots was his newest obsession.
Joel Coleman took another drink, the tepid coffee left in the bottom of his cup barely registering. He was too fascinated with the smooth, exposed line of Victoria Hansol's neck as she stood one table over taking down an order. With her shining brown hair pulled into a ponytail, his contemplation lingered on the freckle he wanted to nibble. Leading up to the one on her jawline. Right before he tasted the one hovering to the side of her luscious-looking mouth.
He could play this game all day if his estimate of how far her freckles extended was accurate.
"You're drooling."
Joel dragged his gaze off the woman he'd been ogling, and focused across the table. His brother's grin was familiar enough. Joel saw pretty much the same face every time he glanced in a mirror. Dark hair, square jaw. As identical twins, he and Jesse had their share of mistaken-for-each-other stories.
Jesse peeked over his shoulder, turning back with a laugh.
"Vicki Hansol? You're not serious." Jesse leaned forward and lowered his voice. "I mean, yeah, she's hot. But—"
"Whoa, hold it." Joel shook his head in denial. "Just because she's built doesn't mean I want to get involved with her. I'm admiring the view, that's all."
"View is rather tasty." Jesse's brow rose, and he hummed for a moment. "How come we've never gone out with her?"
Damn it. Joel's stomach clenched. "We? Jesse, will you fucking stop that? There is no 'we' when it comes to dating, okay? There are girls you date, and girls I date."
"Fine. No need to bite my head off." Jesse flopped back in his seat, hands raised in mock surrender.
Joel fixed his twin with a firm glare until Jesse laughed and returned to his plate. This was not a matter Joel was willing to bend on. Not anymore. They'd gotten a reputation over the years, him and Jesse. Not as wild as the Hansol family, but that was probably because the oldest of their immediate Coleman kin were squeaky clean and respectable. As the youngest of the Six Pack clan—literally the youngest by all of thirty minutes after Jesse's arrival—Joel was ready to move on.
He stared at Vicki's legs as she stood at the far end of the café, topping up a customer's coffee. He'd seen the woman around town for years. Gone to school with her, in fact, although he and Jesse had been a couple grades above her. He knew about the Hansol girls, or what the community gossiped about them. The rotating door on her oldest sister's bedroom had been discussed during many a late-night drunken boast-session among the less-than-courteous males who'd taken Sarah up on her willingness to share.
The short skirt that was part of the waitress uniform swirled around Vicki's limbs as she moved, and Joel fought to find something else to concentrate on. Because there was no way, no matter how attracted he was, no way was he going to get involved with one of the town's bad girls.
This was the year he made some changes. He was done with college, back on the ranch, and ready to move forward. Didn't mean he wasn't going to have any fun, but he planned to watch his step a little more.
Which put Vicki Hansol on the drool over at a distance, but avoid list.
Suddenly, there she was, a polite smile that didn't quite reach her eyes pasted on her lips. "Either of you boys want dessert?"
Jesse shook his head. "Not for me, thanks."
He pulled out his cellphone to answer it, talking quietly toward the window.
Joel gazed up at Vicki, working hard to focus on her face and not the amazing rack pushing the front of her uniform. "You bake today? Because, frankly, no one else here can beat your pies."
Her smile came alive, brightening her entire face and making her brown eyes sparkle. "Made a dozen this morning. You want cherry or lemon meringue?"
Something inside twisted. Her obvious pleasure at the simple bit of praise struck him as odd. As if she didn't receive many compliments. "A piece of each, please."
Vicki nodded, reaching for the empty plates in front of them before retreating without a word, her skirt swaying over the rounds of her ass as she vanished into the back of the café.
Purchase
Digital: Kobo | iBooks US | iBooks UK | iBooks CA | GooglePlay | Scribd | Amazon US | Amazon UK | Amazon CA | Barnes & Noble
Print:
Audio: Amazon | Barnes & Noble | Tantor | iTunes
With the release of A RANCHER'S HEART right around the corner, I thought it'd be fun to do a mini re-read of the Six Pack Ranch Series to get ready for Tamara and Caleb. First up, ROCKY MOUNTAIN ANGEL. Tamara's first major introduction into the series is through her friend Alison, heroine of ROCKY MOUNTAIN ANGEL.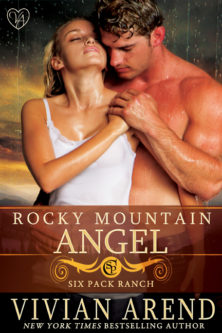 Sometimes even Angels must learn to fly…
Allison Parker needs a convincing excuse to come home to Rocky Mountain House. A hopelessly romantic reason that won't let her mother suspect the truth—that Allison has discovered Mom is keeping a terrible secret from the family.
Gabe Coleman is struggling with two of the roughest parts of ranching: dealing with his bull-headed mule of a father, and making enough to pay the bills. When his old friend Allison offers to help him develop his ideas for organic ranching—in trade for pretending to be her fiancé—it sounds like the perfect set-up.
Yet the deception leads them in an unexpected direction, where their shared daily hells are erased by nights of heavenly distraction. It's not supposed to be real, but once the gates are opened, there's no denying they've found in each other a little bit of Paradise.
To break free of the past and face the future, though, will take more than temporary pleasures. It'll take putting their hearts on the line.
Warning: Tortured hero with a guardian-angel complex, grief-stricken heroine willing to sacrifice everything for family. Break out the tissues, this trip to the ranch is a heartbreaker on the way to the HEA.
Purchase
Digital: Kobo | iBooks US | iBooks UK | iBooks CA | GooglePlay | Scribd | Amazon US | Amazon UK | Amazon CA | Barnes & Noble
Print: Amazon | CreateSpace
Audio: Amazon | Barnes & Noble | Tantor | iTunes
Chapter One
Neither of them blinked.
Dust motes hovered in the sun streaming through the open barn door. Gabe Coleman leaned back on a wall and took a deep breath. The heavy scent of farm animals filled his nostrils. Familiar as it was pungent, the aroma that had been a part of his entire thirty-one years calmed his nerves.
The conversation was going about as well as he'd expected, but damn if he'd give up yet. He resisted muttering stubborn jackass and scrambled for a new tack. "Look, I showed you the receipts for the past year. Expenses went up, our projected revenues are still far less than they need to be."
The face before him remained motionless. Shit. Definitely not working.
Another idea struck. "I read an article in the Calgary Herald last week. Rancher down by Pincher Creek was ready to go bankrupt…"
Gabe trailed off. Suggesting their section of the Coleman ranch was getting closer to that same situation was not the way to make his father listen to reason.
Three feet across from him, broad nostrils twitched for a second then the ancient donkey reached down to grab a mouthful of grain before turning his back on Gabe.
Even the animals seemed tired of listening to him try to come up with a way to save their lives.
He pushed himself up and headed toward the tack room. If nothing else, the ranch itself provided a million distractions. The reality of working the land sucked—enough damn property to make a man look rich, and not enough money coming in to keep putting food on the table throughout the year.
Giving up wasn't an option, but hell if he knew what was at this point.
The saddle had barely landed on Hurricane's back before his mother's voice carried from the house side of the yard.
"You got any spare time today?"
Gabe tossed her a smile even as he wondered why she hadn't made her request to his father. "Was going to go check the creek and fence lines, but there's no rush. You need a hand with something?"
She nodded. "I want to plant the garden this week and need more room. Can you turn over another few rows?"
Shit. Now he knew why she'd waited until Ben had headed into town after breakfast. "Ma, you already have enough garden you can barely keep up. You sure you want more to deal with?"
Dana Coleman looked her age that day, but the determined jut of her chin warned him he'd be breaking sod before long. They came by stubbornness honestly in their family, from both his parents' sides.
"Every bit we grow is less we buy, Gabriel. And I figured a little extra wouldn't go amiss—there are always people who want fresh produce."
They stared at each other for a minute. Gabe hated the entire situation with a red-hot passion. He had ideas he thought could improve their circumstances, but beyond ideas were only half-started and hidden projects, none of which were going to bail them out of trouble. Using the donkey to practice talking about finances was supposed to make talking to his family easier, but hell if he wanted his ma to be the one worrying. "You can't save the ranch by growing more carrots."
"Well, I can't save it sitting and complaining that the cost of feed keeps going up either, can I?" She snapped her mouth shut and glanced out over the fields as Gabe hid his surprise. She never, ever complained about the way Ben ran things, and the small slip stunned him.
Dana shook her head then made deliberate eye contact. "I ain't saying another word, and neither will you. About me growing things to sell, you understand?"
Argue with her when she used that tone of voice? Hell no. He laughed inside. Well out of his teens, and still under his mama's control. At least he understood her reasoning. "I'll figure out a way to make things work. I promise."
She sighed. "You'll do your best, just like we all will, but there're no guarantees, Gabriel. Ranching's a dirty, hard and often thankless task. Something's got to give, and this time it might be us."
Purchase
Digital: Kobo | iBooks US | iBooks UK | iBooks CA | GooglePlay | Scribd | Amazon US | Amazon UK | Amazon CA | Barnes & Noble
Print: Amazon | CreateSpace
Audio: Amazon | Barnes & Noble | Tantor | iTunes
Today is the release of ROCKY MOUNTAIN HOME. Jesse is finally coming home.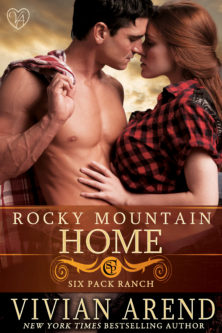 Excerpt:
Jesse rose with her, and the nurse looked puzzled for a moment before her face lit with understanding. "Oh, you can stay there. I'm just weighing her."
Dare pointed a finger at Jesse and back at the seat. "Sit."
He grinned. "I already know how much you weigh."
Her eyes narrowed. "Stay."
An idea popped into his head that was too good to resist. Besides, from the looks of things, she needed the distraction. Jesse pulled out his wallet and found a piece of scrap paper before settling in place, jotting down a number and leaving the folded note on her seat. He crossed his arms and leaned back in his chair, eyes closed.
She was back in under thirty seconds.
He waited.
Something bumped softly into his biceps, and he peeked one eye open to discover Dare's face inches away.
She fluttered the paper scrap. "Ha, ha. Funny man. How'd you do that?"
"Was I right?"
Dare narrowed her gaze. "Plus or minus five pounds. Do you have a side gig at the Stampede fairgrounds guessing people's weights?"
"Nope, but I've picked you up more than once." He let his grin widen as he thought back to one of those times, holding her against the wall as they screwed themselves silly.
His dirty thoughts must have shown because her cheeks darkened. "Stop it. Answer the question."
"I did. I picked you up. I pick up animals all the time, and it's easy to estimate weight after you've—"
He stopped. Maybe continuing with —after you've hauled a few heifers around wasn't the right thing to say to a woman he hoped to get into bed with again in the near future.
Dare raised a brow, goading him to continue.
"—after you've gained enough experience." Jesse pointed behind her. "The nurse is waving at you."
Purchase:
Digital: Amazon US | Amazon UK | Amazon CA | Barnes & Noble | Kobo | iBooks US | iBooks UK | iBooks CA
Print: Amazon US | CreateSpace