Feature
Tag
Have you read Rafe and Laurel yet? These childhood best friends get a second chance.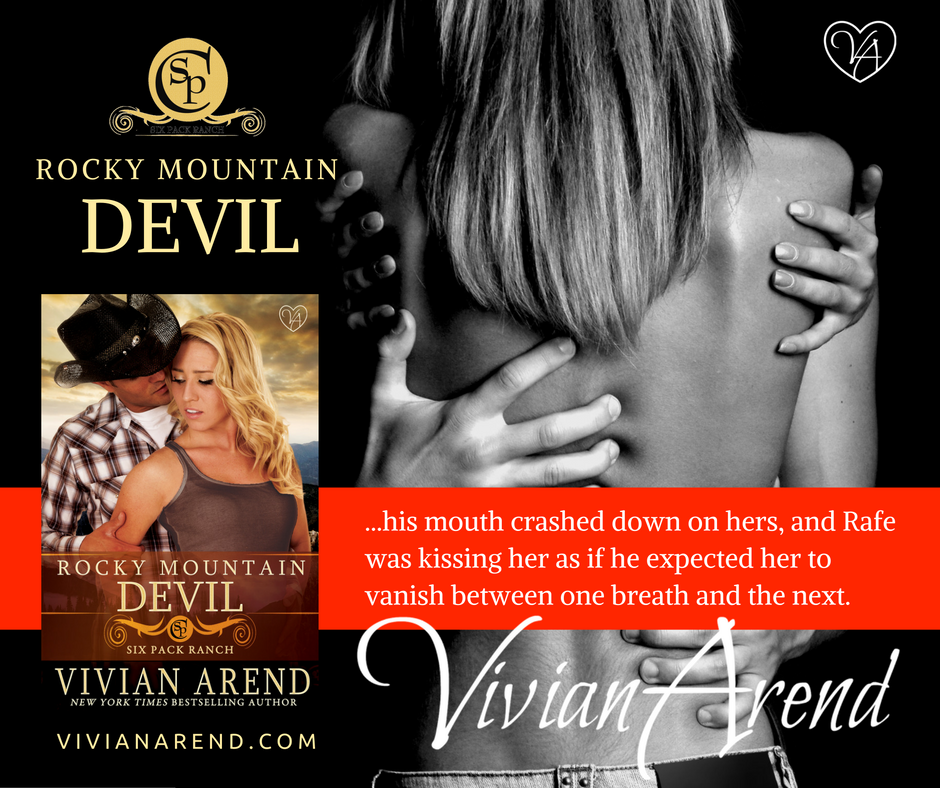 The sweetest part of temptation is giving in…

Raphael (Angel) Coleman and Laurel Sitko were thick as thieves throughout their school years. The unlikely friendship between the rancher's son and the preacher's daughter might have gone unnoticed by most, but their shared laughter and connection were the best parts of Rafe's life growing up. Now that she's returned to Rocky, he's eager to move from friend to something far more intimate.

After three years away, Laurel's ready to start over with the gorgeous cowboy who's always owned a piece of her heart. But when her college ex shows up in town, she's got a lot more to deal with than expected, including one suddenly possessive cowboy determined to protect her even as he tutors her through every sexual lesson in the book.

Desire flares hotter and hotter through stolen moments and willing seduction. But when tragedy strikes, Rafe's left on shaky ground, his biggest fear now a reality that could tear them apart and rip forever from their grasp.

Will the connection forged by time be strong enough to see them through to the other side?

Warning: Friends to lovers equals sweet kisses heating to earth-shaking passion, mixed with laughter and tears. Get ready for hellos, farewells and goodbyes…some forever. Because everyone knows the only real secrets in a small town are the ones you're willing to take to the grave.
Pre-Order your copy today!
#FeatureFriday for ROCKY MOUNTAIN HAVEN. If you don't have a copy of Beth and Daniel, not only can you get it for free, but you can fall in love with the calm, quiet cowboy and the single mom!
"What do you mean I can't get keys to the apartment? I've got one week to settle in before school starts. I need the key."

The owner of her rental complex leaned back on his beat-up truck and shrugged in slow motion. Beth wanted to scream. She wanted to kick something. Most of all she wanted to start unloading the boxes she'd brought with her from Calgary before she completely ran out of steam. Her boys had crawled into the front seat of the moving van, three sets of eyes gazing down as they waited in silence.

"Sorry, ma'am, but see, that's what I'm trying to tell you. There was a fire a couple of nights ago. Far end of the complex, but the fire marshal shut down the whole place until the wiring can be inspected."

She tapped her good foot. If he would talk a little faster, the conversation might be done by the end of the weekend. "Are there any other apartments for rent in town?"

A slow shift of the shoulders. "There were. Until yesterday. All the other occupants of the apartment house had to find alternative arrangements too. I think just about everything available got snapped up."

The throbbing in her temples couldn't be good. She rubbed her fingers against her forehead. Now what? Head back to Calgary and beg her parents to let her stay with them again? Drive three hours twice every day to get to school once her teaching position began?

"I'll have to check into a hotel or motel." She couldn't afford it, but… "Do you know which one would be the cheapest for a long-term stay?"

The old codger raised a brow. "Well, you could try the motel, but if you give me a minute, I bet we can do you one better. Since it's partly my fault you're in this mess." He gestured at the U-Haul. "You need a place to dump all that anyway. Won't fit at a motel, I'm guessing."

He hauled out a cell phone, and she turned her back to stop the hysterical giggles that wanted to rise up and overtake her. The incongruity of his worn overalls and the shiny new phone was too much to handle when she stood on the verge of a breakdown.

"Mommy. Are we lost?"

She smiled at Nathan, his blond head poking out from the window of the truck. "No, we're in the right spot, only there's a mix-up. We'll get it figured out."

Lance popped up beside him. "Are we still going to live here? It smells."

Oh Lord. "Yes, we're moving here. You're going to school here. I'm teaching here. Nothing has changed since the last time you asked, twenty minutes ago. And it doesn't smell any worse than your bedroom before we cleaned it up to get ready to move."

Nathan laughed at him and Lance stuck out his tongue. Robbie forced his way between his brothers, all three of them hanging precariously from the window. "I have to go pee."

Beth sighed. She glanced at her erstwhile landlord who was still talking on the phone. He laughed at something then motioned at her, flashing a thumbs-up while he continued to yatter. A 7-Eleven across the street caught her eye, and she motioned for the boys to back up.

"Bathroom break for everyone. I'll buy you a Slurpee, then I expect you to stay quiet until I get this little issue solved. We'll hit a park as soon as we can, okay?"

They clambered down, and she pulled them in tight for a hug. Life had been hellishly tough at times lately, but these dirty, smiling faces made it all worthwhile. She waved a hand at Mr. Jordon then pointed across the street. He never broke stride in his discussion, which now seemed to be about feeding tomato plants with fish fertilizer to get the best yield. She really hoped somewhere in the conversation he had managed to find them a temporary home.

They recrossed the street ten minutes later, three contented boys clinging to sweet frosty drinks. Didn't take much to make her crew happy.

Mr. Jordon grinned, pride filling his face. "I talked to my friend, Mike. He said there were no troubles with you taking possession of Grampa Peter's homestead for a bit. His oldest sons have been living in it, but there's plenty of room at home for them temporarily like. You're even welcome to rent the place with the furniture if you need it. Six months sound good? I'll promise you space back here at the end of that time since we weren't ready when we promised."

"A house?" Hope brightened her weary load. What she wouldn't give for a house to live in, instead of an apartment. It would be so much better for the boys, but she knew exactly what her expenses were going to be, and the cost for a house was probably out of reach. "How much does he want for rent?"

Mr. Jordon snorted. "He didn't want a damn thing, but since I figured you'd have issues with that, he said to tell you he'd take what you were going to pay me. No first and last. Just get him the money when you can. Any furniture you want to use, you use. Anything you don't want, there's an outbuilding to store things in." He eyed her leg brace. "Who's helping you unload the truck?"

"We are." Lance spoke up. He'd been hanging back politely but marched forward to stand wide-legged in front of her, his fists resting on his hips. Her heart ached at the sight. Only eight, and he was already trying to take care of her. "We're Mommy's helpers."

Mr. Jordon nodded sagely. "And mighty fine ones too, I bet. But you see, I know a few other young men, strapping strong fellows like yourself. Perhaps I can get them to help as well. You know, so you can show them how it's done."

Lance's face lit up and Beth breathed out slowly. It looked as if her insane idea to take her family to a place with a quieter pace of life might work after all.

She smiled at the older man. "I'd like to see the house before I make any commitments, but I really do appreciate your help."

He laughed, peeling himself off his truck and yanking the door open. "Didn't do nothing. Tell you what, you follow me. We'll take a spin out to the Peter's place. The Colemans are all working right now, so we won't be disturbing anyone. If you're happy with the place, we'll come back and get you put up for the night at the hotel. That'll give the boys time to clear out their things, and tomorrow I'll get my grandsons to help your fine moving team get you settled."
Buy Today
This week we are featuring the Pacific Passion Box Set, which includes all three novellas in the series: STORMCHILD, STORMY SEDUCTION, and SILENT STORM.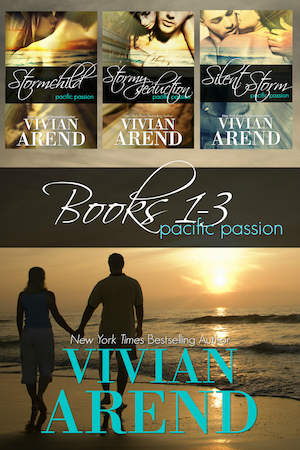 Somewhere between the ocean depths and the mountaintops, there's a love strong enough to call them both home.

Stormchild: Traveling doctor and shaman Matthew Jentry has his hands full curing for his water-shifter clan. There's something far too enticing, though, about mysterious Laurin Marshall. Laurin thought leaving her next teaching assignment would keep her identity as an air shifter a secret. Until she finds Matt is on the same boat, and their sexual fireworks ignite…

Stormy Seduction: Before Laurin and Matt can begin to explore their mystical bond, the People of the Air challenge her right to choose a water shifter as her mate. Fending off Laurin's would-be suitors is easy for Matt. But what will happen when she encounters his playful, lusty Otter clan? Especially since they'll be the main attraction at the solstice fertility ritual.

Silent Storm: Despite their deepening emotional connection, Laurin still wonders how she and Matt can find permanent common ground. Matt waits patiently for Laurin. He has no desire to change her sky-borne nature. Until a giant golden eagle touches down on the Stormchild and tips the delicate balance of more than just the boat.
Purchase:
#FeatureFriday
is for the first book in the Takhini Wolves series, BLACK GOLD.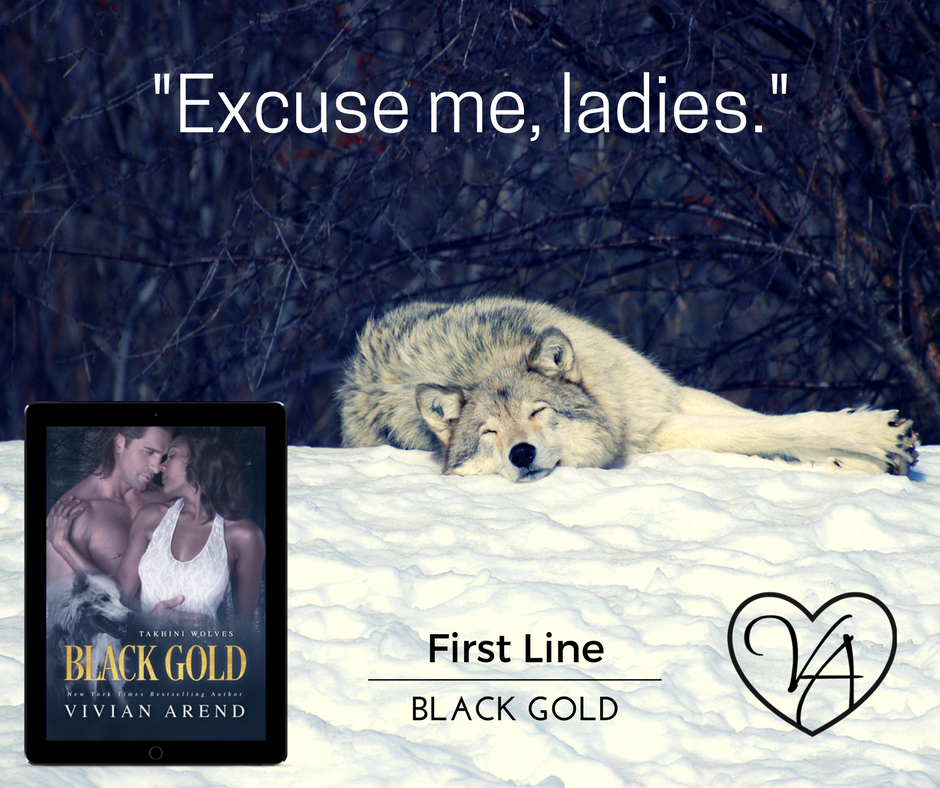 Their wolves are howling at the moon. Their human halves are on different planets.

Lone wolf Shaun Stevens's automatic response to the words "happily ever after"? Kill me now. Yet with all his friends settling down he's begun to think there may actually be something to this love-and-roses crap.

One thing's for sure: his dream mate will have to out-cuss, out-spit and out-hike him. So he never expected the one to push his forever button would be a blue-blooded Southern debutante with a voice as dark and velvety as her skin.

When Gemmita Jacobs steps off the plane in Whitehorse, Yukon, it's about more than her caribou research project. It's her declaration of independence from an overprotected upbringing. Except there's something in the air she can't quite define—something that unexpectedly rouses her mating instincts.

Moments after their eyes lock, the deed is done—and done thoroughly. When the pheromone dust settles, though, all the reasons they don't belong together become painfully clear.

It's enough to make a wolf learn a whole new set of cuss words…
Buy Today
This Friday I'm featuring the first book in the DreamMakers series, ALL FIRED UP. For a limited time, you can get each book in the DreamMakers series for only $0.99 each!