About the Book
Three hurting hearts. Too many secrets. One chance to conquer their fears.
Over the past year, Travis Coleman lost the two people he allowed closest to his heart. Both gave him ultimatums—then left. Hell if he needs that kind of pain again. Time to move forward without the friends he thought might save him from his dangerous cravings.
When Ashley Sims returns to Rocky Mountain House, her rambling lifestyle isn't all she's hoping to change. Travis snagged a piece of her, and while getting tangled in his issues again might be crazy, she hasn't given up on him.
Nine months ago, Cassidy Jones walked away to stop his best friend from making a huge mistake. Temptation lingers, though, and when Travis shows up on his turf accompanied by a sensually uninhibited woman, the combination tosses fuel on the banked fire.
Passion flares among the three of them, as hot as the summer days. But are they willing to push the limits, and fight for love?
Warning: Dirty fighting, dirty talk, dirtier sex—secrets are coming out. Get ready for ménage a trois and cowboy-on-cowboy action, with ropes and crops and the kind of relentless love strong enough to set a man free.
Previously published in 2013
Buy the Book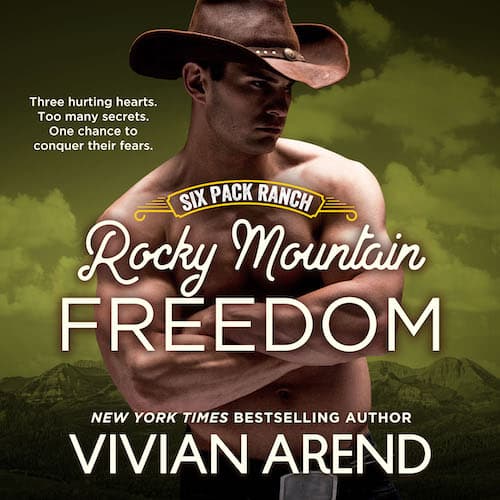 Audiobook
This book is also available on audiobook from the following online booksellers:
United States

United Kingdom

Canada
Narrator: Tatiana Sokolov
Format: Unabridged
Runtime: 10h 19m
Reviews
"In Rocky Mountain Freedom, we not only get the answers to our questions, but we are given a beautiful story filled with the ups and downs of a romance between two men and a woman who each have something to overcome and are able to do so with the love that builds between the three of them."
"I absolutely loved this book!! To be honest I was expecting it to make me into an emotional basket case, but that wasn't the case. Although it did get me by the heart quite a few times. This is one of those series where each book is just truly amazing, and I so can't wait for the next one!! I can't recommend this book and series enough!!"
– Guilty Pleasures Book Reviews
"The chemistry between all the characters in this book had steam coming off the pages from the very beginning."
The Details
Published: November 19, 2013
Publisher: Arend Publishing Inc.
Formats:

Ebook

Paperback

Audiobook



ISBN-10: 1544129998
ISBN-13: 978-1-941456-23-1 / 9781544129990
ASIN: B06VXRJR4V
Genres & Tropes
Western Romance, Cowboy Romance, Contemporary Romance, Ranch Life, Cowboys