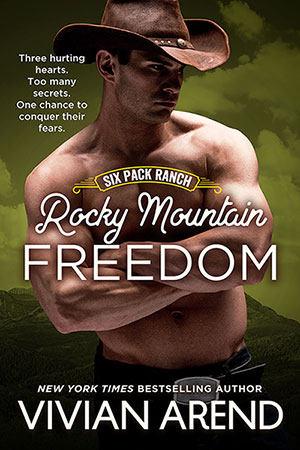 Book 6: Six Pack Ranch Series
Travis's familiar truck pulled into the yard, parking right next to Cassidy's. Cassidy frowned as he noted there was another vehicle still on the road, only a little ways back, but then distraction hit in the form of one long, lean cowboy dropping smoothly to the ground and stretching his back as he looked around.
At this distance Cassidy figured he was safe, so he indulged in checking Travis over hungrily. Nothing had changed. The dark-haired devil still drove him crazy. Travis reached into the back of the truck and pulled out a pack, slinging it easily over his shoulder.
Time to face the music. Cassidy stepped from the shadows and made his way toward the lot. Travis turned toward him, his welcoming smile fading rapidly to dismay.
"Cassidy? What—?"
He snapped his mouth shut and glanced away. Lips tight, obviously fighting a rush of anger.
Shit. "That answers my first question. I wondered if you knew I was working the camp for the summer."
Travis took a deep breath before stepping forward. "You bastard."
Cassidy laughed. "Nice to see you again too, T."
"Screw that noise." Travis abandoned his bag to the ground at their side and got right in Cassidy's face. "What the fuck?"
"I'm head wrangler. Your cousin hired me."
Travis shook his head. "I meant what the fuck were you thinking? You were there and then you were gone. Not a trace, not a note. I had no idea what had happened. You could have been dead in some ditch for all I knew."
"I told you I was going."
Hands slammed onto his shoulders, fingers closing into fists as Travis grabbed his jean jacket. He leaned in, their faces only inches from each other. "You said I couldn't have what I wanted. You didn't tell me you were going to fucking pack up your life and never come back. Asshole."
Cassidy stiffened his spine and refused to give in to the urge to wrap his arms around his friend and hold on tight. Focused on the job—on what he'd have to do to make it through the summer in one piece without giving in to what Travis had demanded.
Focused on what he'd have to do to avoid falling for him hard.
There was one question to ask straight out. "You want me to quit working for Trailblazers?"
"Not my damn choice." Travis released his grasp so quickly Cassidy rocked on his feet.
He probably deserved a little of this bullshit. "I'm sorry I didn't give you a warning. I only got the news you were coming in Karen's place two days ago."
"It was a last-minute decision."
"I figured." Time to change tack. Maybe if they pretended they were meeting for the first time, they would survive at least a few days without blowing up. Cassidy pointed over his shoulder. "You've got a place of your own here to set up. I can show you around, introduce you to the crew tonight. Tomorrow we can ride to Second Camp."
Travis picked up his bag and settled it on his shoulder again. "Fine. Only let's wait until Ashley arrives. She was only a few minutes behind me."
Ashley?
"Oh, the photographer. Right—Karen sent word about her as well." Good, Travis seemed to be game for changing the topic. "We won't have many guests for the first while, so I figured she could bunk in one of the guest tents."
Travis flashed his grin, all cocky and bright again. Warning signals instantly went off in Cassidy's brain.
"Oh, you don't need to find her another space. She'll be bunking with me."
A dart of jealousy slammed him in the gut. Cassidy beat the sensation down with a firm fist as quick as possible. He pasted on a smile. "Single cot in your cabin."
Travis raised a brow. "We'll figure something out."
Bastard.
Cassidy turned toward the parking lot, deliberately ignoring Travis's gloating expression. The sinking sensation in his stomach was stupid. This was great news. If Travis was fooling around with some woman, Cassidy had nothing to worry about. Simple.
So why do I feel as if I've been kicked?
He shoved his confusion aside and instead focused on the throwback-to-the-hippy-generation van rolling into the parking lot. The ancient vehicle with the artsy paint job was like something out of a sixties magazine. The blonde who stepped from the driver door twirled, her bright gypsy skirt flaring around her as she raised her arms to the sky and squealed happily.
She was wearing beaded sandals, and Cassidy laughed. "Damn, Travis, did you use a time machine to pick her up?"
Cassidy's taunts fell away as she continued to pivot, the sunlight shining through her thin garments. Fabric pressed against her soft curves highlighting her feminine form with its high breasts and smooth upper arms. She faced them and another jolt hit hard. The woman wasn't the most beautiful he'd ever seen, but she wore a smile full of mischief, her lively gaze darting around the area to take in everything. Full, sensual lips combined with high cheekbones. He could imagine digging his fingers into the thick mass of her blonde hair and fisting it tight, tugging to expose her long neck for kisses all along the smooth column down to the soft skin bared by the V neckline of her top.
He was staring, he knew he was, but Cassidy was too caught up in admiration to care.
Until Travis cleared his throat.
Fuck it. Cassidy tore his gaze off the woman's curved waistline, off the hips he was already imagining catching hold of and—
"Ash, come meet the head wrangler." Travis's grin taunted Cassidy. "Cassidy, this is Ashley Sims."
The wild gypsy woman lifted her eyes, and Cassidy was tossed into a cloudless Alberta sky. In her gaze the full heat of a summer day blazed down on him as she checked him over far more blatantly than his examination a moment earlier.
She hummed happily and held out a hand. "Well, well. You feel the urge to round anything up, give me a shout. I'd love to see you in action with a rope."
Cassidy jerked to a stop, her fingers already in his, not quite sure how to respond to that comment as he accepted her firm handshake.
Travis rolled his eyes. "You want him to strip so you can look him over a little closer?"
Instead of blushing or getting embarrassed, Ashley's eyes lit brighter. "You're a genius, Travis."
She stepped forward and closed the space between them, and Cassidy found his chin captured by a set of strong feminine fingers as she examined him up close and personal. "You've got an amazing jawline," Ashley noted. "And the two-day stubble? Rawr. Totally perfect. I could easily snap a dozen shots of you."
Cassidy stood like a statue as she traced fingers over his face, her gaze tightening in focus as a tickle moved over his skin.
He wasn't sure what the protocol was for being checked out by an artist. "Umm, well, I don't have a problem with photos. Karen told me you were going to give Trailblazers help with next year's brochures."
Ashley touched the corner of his temple, brushing her fingers up and into his hair as she traced the scar she'd discovered. His hat fell to the ground behind him, but she had him trapped, unable to move away from her captivating touch. "I like that you're not perfect. You've got a few bumps and bruises to go with the pretty blond hair and those gorgeous green eyes." She peered in closer, tugging on his neck to get him to bend. "You're not wearing coloured contacts, are you?"
Cassidy felt a smile breaking out in spite of the crazy situation. "Nope, ma'am, just me."
Ashley patted his cheek then let him go. "You're nice. I like you."
"He's an ass," Travis cut in. "But you can still like him."
Ashley blew a raspberry at Travis. Before Cassidy could bend to recover his hat, she'd swooped in and knelt at his feet, reaching up to pass it back. "Sorry. I get a little enthusiastic at times."
Cassidy fought to stop from peering down the front of her blouse, the creamy scoop of her breasts right there and exposed. He cleared his throat and willed his body to stop reacting like some bloody teenage boy. "No problem. I like people who get into their work."
Ashley glanced between the two men as she regained her feet. "Hmm. Travis, come here."
She tugged him forward, and Cassidy found himself standing inches away from Travis as Ashley looked them over intently.
Travis sighed. "You want to get unpacked before you start making mischief, sweetheart?"
Ashley shook her head. "Mischief first, last and always. You know that."
Being this close to Travis made Cassidy nervous, and he shifted his feet to ease away slightly. "If you're ready, I can show you where you'll be staying."
She didn't seem to hear, she was too busy examining him and Travis. "I definitely need you two in shots together. God, you've got that angel/devil thing going on. Darkness and light, sinner and saint—"
"And we both know who the sinner is," Travis drawled.
Her smile bloomed again, gaze darting between their faces. "I don't know. Maybe Cassidy is one of the fallen-angel types. Looks like heaven and knows exactly how to get you to paradise."
Travis laughed, the sound breaking over them like a waterfall. Encompassing them, ready to sweep them away. He'd shifted position, and now stood close enough his body heat brushed Cassidy.
Between Ashley's provocative words and Travis being…Travis, Cassidy was walking a thin line of control. He took a couple of deliberate steps away and adjusted his hat. "I really need to get back to work."
Travis's cocky expression screamed an accusation. "We don't want to keep you from anything important."
Cassidy bit back the urge to call him an asshole.
A shadow crossed Ashley's face as she stepped closer to Travis's side, her intuitive gaze not missing anything. "Do you guys know each other?"