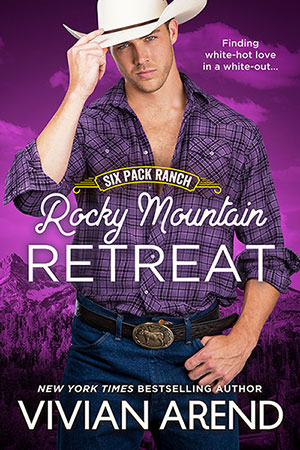 Book 8: Six Pack Ranch Series
Finding white-hot love in a white-out…
Eight months ago, Lee Coleman met the woman of his dreams…then lost her to another man. He buried his disappointment by throwing himself into work on the family ranch, but when a winter storm leaves him stranded, Lee finds more than shelter in the rustic safety of a hunter's cabin—he finds a second shot at love.
Rachel Malone's heart has been broken and stomped on by her cheating ex, and she's determined to never fall in love again. But a rebound fling? Doesn't sound like such a bad idea, especially when she's snowed-in with a gorgeous, sweet-talking Coleman.
Despite their off-the-charts chemistry, Lee makes it clear he wants more than a temporary romp. In fact, he's made it his mission to put a smile back on her face, even if it means taking it slow and resisting the scorching heat between them. This time around, he wants forever, while Rachel is positive that forever is a fool's dream.
Lee can't wait to prove her wrong…