About the Book
 The sweetest part of temptation is giving in…
Raphael (Angel) Coleman and Laurel Sitko were thick as thieves throughout their school years. The unlikely friendship between the rancher's son and the preacher's daughter might have gone unnoticed by most, but their shared laughter and connection were the best parts of Rafe's life growing up. Now that she's returned to Rocky, he's eager to move from friend to something far more intimate.
After three years away, Laurel's ready to start over with the gorgeous cowboy who's always owned a piece of her heart. But when her college ex shows up in town, she's got a lot more to deal with than expected, including one suddenly possessive cowboy determined to protect her even as he tutors her through every sexual lesson in the book.
Desire flares hotter and hotter through stolen moments and willing seduction. But when tragedy strikes, Rafe's left on shaky ground, his biggest fear now a reality that could tear them apart and rip forever from their grasp.
Will the connection forged by time be strong enough to see them through to the other side?
Warning: Friends to lovers equals sweet kisses heating to earth-shaking passion, mixed with laughter and tears. Get ready for hellos, farewells and goodbyes…some forever. Because everyone knows the only real secrets in a small town are the ones you're willing to take to the grave.
Buy the Book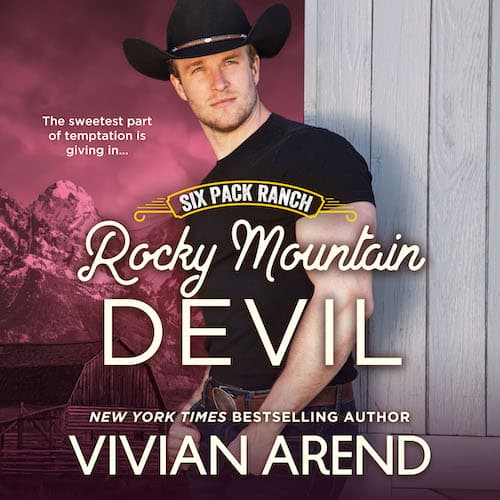 Audiobook
This book is also available on audiobook from the following online booksellers:
United States

United Kingdom

Canada
Narrator: Tatiana Sokolov
Format: Unabridged
Runtime: 9h 45m
Reviews
"The story was engaging and previous characters interspersed throughout, satisfying my craving for details on past successful couples. There were some tear jerking moments as well as laugh-out-loud moments. A good read from a reliable author who just keeps writing the magic of the Coleman family."
– Chris, Night Owl Reviews
"The tenth volume in the 'Six Pack Ranch' series (after Rocky Mountain Shelter) is as good as the first. Many characters from earlier stories help Laurel and Rafe as they navigate their relationship. … Readers who love a man in cowboy boots and a Stetson hat won't want to miss any of the 'Six Pack Ranch' novels."
– Lisa Jordan, Library Journal
"Rafe and Laurel's journey was well worth my time, albeit a little heavier than I had been expecting and it is always nice to catch up with the wider cast of the series."
– Kaetrin, Dear Author
The Details
Published: September 20, 2016
Publisher: Arend Publishing Inc.
Formats:

Ebook

Paperback

Audiobook



ISBN-10: 1535405481
ISBN-13: 978-1-941456-12-5 / 978-1535405485
ASIN: B01IFYIIVA
Genres & Tropes
Western Romance, Cowboy Romance, Contemporary Western, Contemporary Romance, Ranch Life