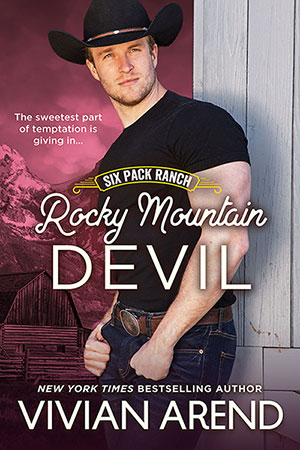 Book 10: Six Pack Ranch Series
Prologue
February, Rocky Mountain House
Rafe Coleman sat on the tailgate of his truck and stared into the slate-grey winter sky. He had a six-pack of beer beside him, a borrowed suit on his back, and a shit-ton of guilt raging inside.
Right then organ music was probably playing softly in the church. Background noise as everyone in Rocky shuffled in to settle on the hard wooden pews, awaiting the main event.
If they wanted him there, they'd damn well have to wait a little longer.
Made sense this day would be cold as hell and colourless—washed out and empty. The bitter void fit his mood very nicely, and he was pretty much ready to sit there for as long as he could, thank you very much.
Except it seemed the world, meaning his Coleman family, wasn't going to allow that option. His cousin Trevor's truck rolled down the snowy driveway, big tires sliding through the deep snowfall of the previous night.
Rafe eyed the truck with suspicion. Trevor alone wouldn't be strong enough to move his ass, but if he'd brought Joel, or a few of the other cousins, Rafe's rebellion could be over fast.
Only it wasn't Trevor, or Joel, or even his brother Gabe.
It was Laurel Sitko, fire flashing in her eyes as she glared out the window, fishtailing to a stop beside him. She dropped from the cab, her petite body freefalling for a foot before she hit the snow. Her feet slipped on the traitorous groundcover, and Rafe stiffened his spine to keep from leaping to her rescue.
She marched right up to him then planted her fists on her hips. Her pale blonde hair was pinned up neatly, and a warm but stylish winter coat covered most of her dress. The only thing about her that didn't look as if she should be prancing around in a castle like a princess were the oversized work boots on her feet—she'd probably found them in the truck when she'd borrowed it. Her breaths turned to a cloud of steam on every sharp exhale into the frigid winter air.
Rafe picked up the beer beside him and lifted it toward his lips.
She snatched the bottle from his fingers. "Don't you have somewhere to be, Coleman?"
"Yup." He grabbed the bottle back, taking a good long drink before looking into ice-blue eyes filled with sorrow and frustration. "Right here."
Laurel's gaze narrowed, and before he could stop her, she'd nabbed the bottle again, twisting on the spot to fling it against the narrow strip of fencing beside them. The glass shattered, the explosion echoing like the lake during spring breakup. Shotgun sharp, cutting like a razor.
She moved like a whirlwind, stealing away the rest of the six-pack. She sent it flying into the deepest snowdrift within tossing distance before turning back to face him. Cheeks red, body shaking.
"You're going to that church, right now," she informed him.
Didn't look so angelic when she got pushed too hard. She looked fiery, and passionate, and Rafe hopped off the tailgate and stepped into her personal space.
She tilted her head so she could keep glaring. "You don't scare me," Laurel snapped. "Get your ass in gear."
He raised a brow at her curse, but her sheer determination and vibrancy just made that icy blade of fear in his gut stab harder. He was one second away from losing her, and there was nothing he could do about it.
Rafe closed the distance between them, dragging their bodies together. He lifted her until their heads were in line so he could stare into her eyes.
If this was goodbye, he was going to take everything one last time.
He caught her by the back of the neck and brought their lips together in a searing hot kiss—