About the Book
It's never too late for love.
Years ago, Mark Coleman made the only possible choice and left Rocky Mountain House before he tore his family apart. When he hears the four clans—Six Pack, Whiskey Creek, Moonshine and Angel—are working together to create a memory book, Mark also discovers the one detail that finally triggers his return.
Because he's not just coming back to the family. Now that Dana is free and ready to move on, Mark plans to give the only woman he's ever loved all the devotion and happiness she deserves, no matter how much sweet-talking, or dirty talk,  it takes.
Meanwhile, when a shocking truth is shared with the oldest of the Six Pack sons, Blake Coleman begins a journey of assessment. Can he really fill his father's boots and be the leader his generation turns to for guidance?
With lots of visits with all your favourite Colemans, this is a celebration of love and the lessons learned along the way.
Warning: this book is full of happily-ever-afters. Lots of I love yous, lots of babies, lots of laughter and happy tears. Pretty much, readers familiar with the series have a ton of feel-good hours of reading ahead. If you want angst—this isn't it.
Buy the Book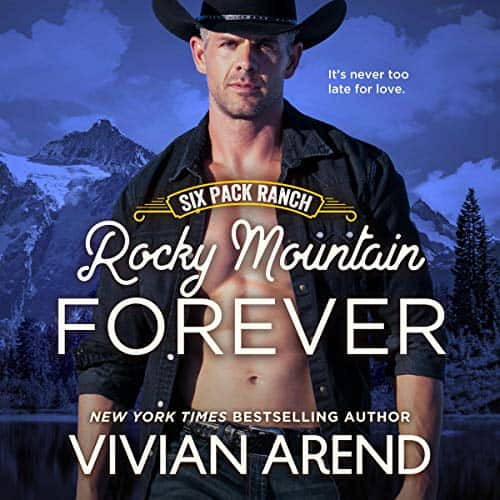 Audiobook
This book is also available on audiobook from the following online booksellers:
Narrator: Tatiana Sokolov
Format: Unabridged
Runtime: 6h 40m
Reviews
The Six Pack Ranch is a terrific series, and Rocky Mountain Forever is a wonderful wrapup to this series. If you are looking for contemporary romance built around the themes of family, working together and love of the land, you might like this series too.
 I loved every moment, the babies, the changes in the ranch, the family connections and how they have evolved and become so much stronger with each new addition to the Clan.
A beautiful tribute to a beloved family, Rocky Mountain Forever, seamlessly blends the past with the present and looks at what the future of the Six Pack Ranch might become. I loved it!
~ Slick – Guilty Pleasures Book Reviews 
The Details
Published: February 16, 2021
Publisher: Arend Publishing Inc.
Formats:

Ebook

Paperback

Audiobook



ISBN-10: 1941456146
ISBN-13: 9781941456149
ASIN: B08FRV7RJR
Genres & Tropes
Western Romance, Cowboy Romance, Contemporary Western, Contemporary Romance, Cowboys, Ranch Life