ROCKY MOUNTAIN DEVIL Release
Today is the release day of ROCKY MOUNTAIN DEVIL, book 10 in the Six Pack Ranch Series.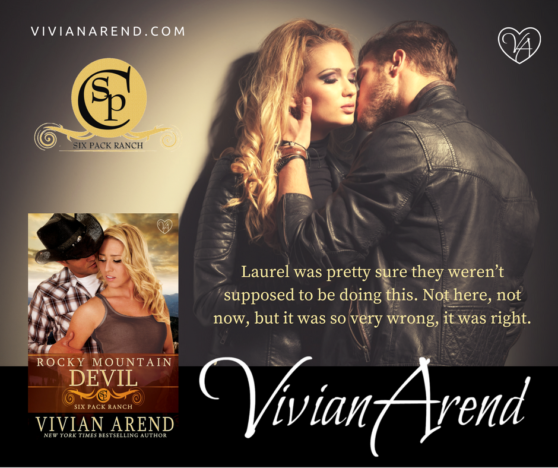 Digital: Kindle US | Kindle UK | Kindle CA | Nook | Kobo | iBooks US | iBooks UK | iBooks CA
Print: Amazon
~~**~~
The sweetest part of temptation is giving in…

Raphael (Angel) Coleman and Laurel Sitko were thick as thieves throughout their school years. The unlikely friendship between the rancher's son and the preacher's daughter might have gone unnoticed by most, but their shared laughter and connection were the best parts of Rafe's life growing up. Now that she's returned to Rocky, he's eager to move from friend to something far more intimate.

After three years away, Laurel's ready to start over with the gorgeous cowboy who's always owned a piece of her heart. But when her college ex shows up in town, she's got a lot more to deal with than expected, including one suddenly possessive cowboy determined to protect her even as he tutors her through every sexual lesson in the book.

Desire flares hotter and hotter through stolen moments and willing seduction. But when tragedy strikes, Rafe's left on shaky ground, his biggest fear now a reality that could tear them apart and rip forever from their grasp.

Will the connection forged by time be strong enough to see them through to the other side?

Warning: Friends to lovers equals sweet kisses heating to earth-shaking passion, mixed with laughter and tears. Get ready for hellos, farewells and goodbyes…some forever. Because everyone knows the only real secrets in a small town are the ones you're willing to take to the grave.
~~**~~
Excerpt:
It was wrong. Completely and utterly wrong, but everything right between them until now had led to this moment.
"I'm going to kiss you," Rafe warned.
Laurel opened her mouth slightly, and the soft sound of longing that escaped ricocheted through his system, hitting all his on buttons and shoving them to high.
They both leaned in, and their lips met.
Sweet.
Brief.
A brush together, then apart. Yet with one taste, he was lost. He curled his fingers into the hair at the back of her neck and gripped tighter.
He went in for another kiss, this one deeper. Longer. Totally and utterly blown away by the fact that everything they'd ever joked about while watching their friends fall in love—like seeing stars and feeling the earth shake—all of those hokey clichés were true.
They fumbled in the dark, kissing harder, moving together until she was straddling his lap and he had his hands sliding up her bare legs, under her skirt. He cupped the soft fabric covering her butt and dragged her closer, putting heat and pressure over his fully engaged cock.
She'd untucked his dress shirt and was frantically undoing the buttons, her bare palms bumping his abdomen as she worked, and he was going to die because they couldn't do this—
And there was nothing he wanted more.
He caught her wrists, trapping them beside their hips. It forced him to stop groping her as well, and they shifted their torsos far enough apart they could catch their breaths. Chests heaving as they struggled for control.
"We shouldn't," he whispered, "but I have never wanted anyone the way I want you right now."
"Me too." She took a deep breath and blew it out in a long, steady stream. "So, what do we do?"
For some stupid reason his brother Gabe's words rolled in. "Sometimes what we want to do and what we need to do are two different things."
Laurel wiggled her wrists and he released her. She caught the front of his open shirt, tugging until she could smooth the fabric over his chest.
Even with a layer of material between them, her touch scalded him.
"I bet what we need to do is cool off with a walk by the river before you take me home," she offered.
"Cool off with a jump in the river, you mean."
Rafe groaned as she lifted herself up and settled on the seat beside him, their hands brushing lightly. His body was a burning mass of need and guilt.
Walking together beside the water in the moonlight was all kinds of perfect and terrible. Rafe held her hand and wished for a way to go back to what he'd felt before, even as he never wanted to give up what was churning inside.
They turned in unison toward the old tree hanging over the water, the surface of the curved trunk worn smooth by time. Laurel crawled up and sat demurely, arranging her skirt carefully before lifting her face toward him.
"When you leave, you live every day to the fullest. Don't wait for me, you hear?" Rafe ordered.
Laurel's eyes were shining pools of moonlight, a thin line folding between them as confusion drifted in.
"I mean it. You're going away, and you get to date for the first time—heck, you might fall in love. If that's what's waiting out there for you, you've got to take the chance. Life's too short to be put on hold, but…" he caught her by the chin and poured every bit of himself into the words, "…but if you come back, and we're both single, I'm warning you right now, you will never get away from me again."
"What if I want to wait?" she asked.
~~**~~
Digital: Kindle US | Kindle UK | Kindle CA | Nook | Kobo | iBooks US | iBooks UK | iBooks CA
Print: Amazon
Nowadays there is lot of unforeseen circumstance which force men to take remedies. You can order medicines directly your office. In these latter days the stock you can find in online pharmacy is actually high. Some medications are as a rule used to treat many types of bacteria, such as tonsillitis and infections of the throat. Other ones are used to treat diabetes. Cialis is a remedy used to treat divers afflictions. What do you have to know about cialis order online? Presently many families search for the exact keyword ordering cialis online on the Internet. Perhaps you already read something about it. Having erectile disfunction can beyond doubt complicate romance. What can cause erectile dysfunction? A row of psychological issues can produce erectile malfunction. What should you discuss with a physician before taking Cialis? Any medication may cause dangerous side effects. Sometimes side effects can be actually dangerous. Talk to your pharmacist about the proper disposal of your drug.