I have news!!
ROCKY MOUNTAIN FOREVER (SIX PACK RANCH BOOK 12)
*cheers along with you* Yes, it's coming. For those of you constantly haunting my inbox for updates, my assistant Nic will no longer tell you "when the time is right, we'll let you know!"
The time is right.
I've finally written the book that takes us back to Rocky Mountain House to revisit the entire Coleman clan. You'll catch up on what's been happening with your favourite characters, and who's up to what mischief in the community.
We won't be the only ones returning. It's time for Mark Coleman (Uncle Mark) to find a way back to the family, and to his happily-ever-after.
The cover? Hmmmmmmm!!
Timeline for the story: a slight overlap with the end of The Cowgirl's Chosen Love, and with Lisa and Josiah's short story, covering nearly a year and ending just before Canadian Thanksgiving. The book will be available in ebook, audio and the print version will include the vignettes found in the ebook ROCKY MOUNTAIN VIGNETTES.
I hope you're ready to celebrate this story with me. Be sure to let your fellow Six Pack reading friends know that ROCKY MOUNTAIN FOREVER is on the way!
Release date: February 16, 2021
---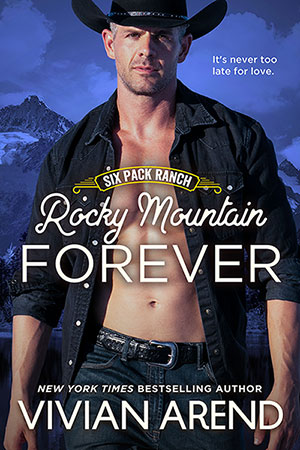 A return to the bestselling SIX PACK RANCH series by New York Times Bestselling Author Vivian Arend. While this book contains a stand-alone romance, it's best read as a part of the series.
——-
It's never too late for love.
Years ago, Mark Coleman made the only possible choice and left Rocky Mountain House before he tore his family apart. When he hears the four clans—Six Pack, Whiskey Creek, Moonshine and Angel—are working together to create a memory book, Mark also discovers the one detail that finally triggers his return.
Because he's not just coming back to the family. Now that Dana is free and ready to move on, Mark plans to give the only woman he's ever loved all the devotion and happiness she deserves, no matter how much sweet-talking, or dirty talk, it takes.
Meanwhile, when a shocking truth is shared with the oldest of the Six Pack sons, Blake Coleman begins a journey of assessment. Can he really fill his father's boots and be the leader his generation turns to for guidance?
With lots of visits with all your favourite Colemans, this is a celebration of love and the lessons learned along the way.
Warning: this book is full of happily-ever-afters. Lots of I love yous, lots of babies, lots of laughter and happy tears. Pretty much, readers familiar with the series have a ton of feel-good hours of reading ahead. If you want angst—this isn't it.
Leave A Reply