Release Day for A Hero's Christmas Hope
It's here!
Since it's the start of December, I'm sure your world is currently full to the brim with plans and preparation and a whirlwind of activity (safely done!)
Somewhere in the midst of the busy, take a moment for yourself. I hope you fall in love with Ryan and Madison as they introduce Heart Falls to a Not-So-Traditional Nutcracker, as well as the gaudiest sweater in Alberta.
Happy reading!
---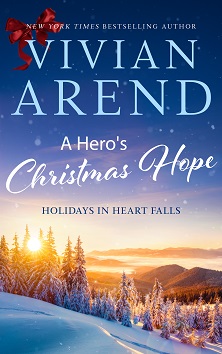 This hero needs a holiday miracle or two—and she's just the one to deliver.
Single father Ryan Zhao didn't expect a ghost from his past to literally slide back into his life. His longtime friendship with Madison Joy is a pure, sweet memory, and with the holidays fast approaching, her surprise visit is perfect. Maddy's a breath of fresh air, full of ideas and enthusiasm—and far too attractive to a lonely man like him. Best friends to lovers might be tempting, but it's also dangerous since she's leaving after Christmas.
Madison thrives on fixing things. If Ryan insists she stick around and bother him and his adorable daughter for all of December, she'll do what she can to make his life brighter. Which means reviving their ugly sweater tradition, organizing a not-so-traditional Nutcracker—and fighting to keep from falling in love with her former best friend and his motherless child.
She's already given up her dreams once to help take care of her family. No matter how much he wants her to stay, Ryan refuses to ask her to do it again for him and his little girl.  Can holiday magic find a way to take these two lonely hearts from friends to forever?