New Release! Silent Storm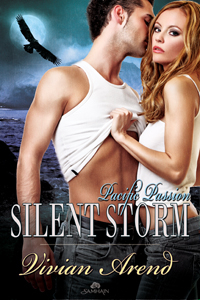 The final book of the three book Pacific Passion series arc is now out! Find out the final solution to Matt and Lauren's HEA… because you know I write them happy, but the trip there is going to be a rough one.
Thanks to everyone who's contacted me to let me know that you've enjoyed this series. I simply loved writing it. Oh, and a head's up. The print anthology of the three books will be out in 2012. Look for Storm Swept in the spring.
—
Love speaks volumes without a single word.
Pacific Passion, Book 3
In the months they've traveled together, Laurin Marshall and Matt Jentry's attraction has grown beyond spectacular sexual passion to into a deeper emotional connection. Still, Laurin wrestles with one last question: how a water shifter and an air shifter can possibly find permanent common ground.
Matt is content to wait patiently for Laurin to realize he has no desire to change her sky-borne nature. Until a giant golden eagle touches down on the Stormchild and tips the delicate balance of more than just the boat.
Laurin's obvious affection for the newcomer comes as a shock. And so does the flash of jealousy that interferes with his shamanic ability to heal the man's malady. While Matt struggles to balance his conflicted responsibilities, Laurin attempts to reconcile her undeniable feelings for one of her kind with her desire for Matt.
Somewhere between the ocean depths and the mountaintops, they need to find a love strong enough to call them both home to the Stormchild.
Warning: Familiar lovers (hot) with old rivals (hotter) and a wild curse-melting ménage (hottest yet). Get ready for one exotic paranormal that will make you look to the skies and sea with longing.
~BUY LINKS~
Available from: Samhain | Amazon | Barnes & Noble
Chapter One
All around her, towering mountains descended sharply into the sparkling waters of the Pacific. Their ragged surfaces were torn as if a giant hand had grabbed desperate snatches from the earth, leaving behind nothing but thin air and harsh ridges of granite exposed to the brilliant August sun. Along the waterline, where the tide's highest marks had ripped and torn the land, sun-bleached logs lay in tangled heaps, the exposed roots of massive cedars now tormented remains of once majestic trees.
The world kept changing. It was inevitable.
Laurin Marshall guided her kayak along the inlet, letting the crisp morning air fill her lungs, seeking a moment's respite from her internal turmoil. Her mind was filled with images, emotions, and uncertain longings. Two years had passed since she'd deserted her mountain clan to find a place among the water shifters known as the People of the Sea. Only a couple months ago her life had been radically transformed again.
She dipped one side of the double paddle, then the other, moving her arms in a smooth, even rhythm. Trying to let the pace of her heart and the motion of the routine soothe her aching soul.
There were so many things she loved about this life. The water, the proximity to the coastal mountain ranges. The way the water reflected the emotion of the seasons in the colors filling the seemingly endless sky.
She couldn't get enough of the beauty before her. So different, and in some ways raw and stark, compared to the Rockies where she'd grown up. Oh, the mountains of her home reached even higher to the sky, and when she flew, shifted into one of the forms of the People of the Air, it seemed there was nothing between her and the stars. But here, the ocean spoke to her. It had a voice and a song—poles apart from the wind in the pine trees or the flutter of a breeze against a mountain lake.
The sea was vibrant and alive, and she'd fallen totally in love with it.
Laurin paused in her paddling, letting the kayak drift as she rested out of the wind in a small bay. Around her a pod of dolphins surfaced, a couple of the younger ones sliding cheekily alongside her craft, their pectoral fins slapping the water beside the gunwales and splashing her. She laughed aloud and held up a hand to ward off the worst of the attack.
The matriarch of the group surfaced and sang out, and Laurin wished again she could understand what she was saying. The female, with her beautiful smile, dipped her head then submerged, the rest of the pod following. An immature male rose one final time into the air, twisting and landing beside the kayak. Laurin was instantly drenched.
She had to smile. The sea and her people were amazing, even though she'd never been so waterlogged in her life. Part of the downside of being partner to the shaman of the Pacific Inside Passage. Laurin picked up her paddle and headed for the thin strip of sand visible just ahead of her. There were dry clothes in the aft compartment, and if she'd read Matt's note correctly, there should be a relaxing break waiting ahead.
He joined her on the beach. Six feet of brown skin, firm muscles and a grin that was all for her. The neat khaki shorts he wore did nothing but draw her attention to his bare chest and the ridge of his abdominal muscles carving down under the beltline.
"Did you have a good paddle?" Matt pulled the prow of the kayak far up on the sand so she could step out onto solid ground. His thoughtfulness warmed her, even though she scarcely needed to worry about staying dry. He guided her with a steady hand as he helped her from the cockpit. "Laurin, why are you soaked?"
Because your people gave me homage? "Enthusiastic teenager, I think."
Matt Jentry wrapped his arms around her and held her tight, his even heartbeat under her ear now so familiar and so right, she could barely imagine not having him close by. Somewhere near, to touch, to talk to. She glanced up at his beautiful face, firm cheekbones, strong jawline. She couldn't imagine never getting to taste him again.
"Well, that's an intriguing look. You going to share what's on your mind to go with that enticing expression?" His voice was husky and low, and her need for him blossomed into full desire.
She couldn't imagine life without his lovemaking either. She reached up and brought their mouths together.
He kissed her softly, placing a series of light bites along her lower lip, dragging the surface into his mouth and letting it go. She explored with her tongue, teasing his lips, his teeth, his tongue. All the while his hands were busy at her buttons, her waistband. Stripping off her clothes, baring her to the elements. She willingly did the same for him, thrilling at the encounter of her fingers against his torso. The slight breeze brushed her skin, and she wondered again at the remote locations he always managed to find. There were no clans close to this inlet, no human eyes to see them naked and entwined.
Matt lifted her in his arms without taking his lips from hers. She closed her eyes and simply soaked in the experience. The warmth of his touch versus the cool of the blanket he lowered her to. The heat of his kisses, now descending to worship her breasts and tease her nipples to tight peaks. The breeze stroked a cold finger over the wet tip and it tightened even more.
He hummed in admiration. "I did have a picnic lunch arranged, but I'm not sure if I have the strength to wait. Are you hungry?"
Laurin stared up at her lover of two months, the man with whom she had a mystical connection they were still trying to figure out. A mental and emotional connection beyond the ordinary—that only grew stronger the longer they were together. "I'm always hungry for you."
~BUY LINKS~
Available from: Samhain | Amazon | Barnes & Noble
Nowadays there is lot of unforeseen circumstance which force men to take remedies. You can order medicines directly your office. In these latter days the stock you can find in online pharmacy is actually high. Some medications are as a rule used to treat many types of bacteria, such as tonsillitis and infections of the throat. Other ones are used to treat diabetes. Cialis is a remedy used to treat divers afflictions. What do you have to know about cialis order online? Presently many families search for the exact keyword ordering cialis online on the Internet. Perhaps you already read something about it. Having erectile disfunction can beyond doubt complicate romance. What can cause erectile dysfunction? A row of psychological issues can produce erectile disfunction. What should you discuss with a physician before taking Cialis? Any therapy may cause dangerous side effects. Sometimes side effects can be actually dangerous. Talk to your pharmacist about the proper disposal of your drug.