Snippet Saturday- Unusual settings

I guess unusal settings is going to mean far different things to different people. Most of my stories are set in the wilderness, but how about a sailing boat's deck for something unusual? From Silent Storm, releasing this coming Tuesday.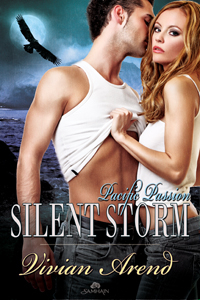 Love speaks volumes without a single word.
Pacific Passion, Book 3
In the months they've traveled together, Laurin Marshall and Matt Jentry's attraction has grown beyond spectacular sexual passion to into a deeper emotional connection. Still, Laurin wrestles with one last question: how a water shifter and an air shifter can possibly find permanent common ground.
Matt is content to wait patiently for Laurin to realize he has no desire to change her sky-borne nature. Until a giant golden eagle touches down on the Stormchild and tips the delicate balance of more than just the boat.
Laurin's obvious affection for the newcomer comes as a shock. And so does the flash of jealousy that interferes with his shamanic ability to heal the man's malady. While Matt struggles to balance his conflicted responsibilities, Laurin attempts to reconcile her undeniable feelings for one of her kind with her desire for Matt.
Somewhere between the ocean depths and the mountaintops, they need to find a love strong enough to call them both home to the Stormchild.
Warning: Familiar lovers (hot) with old rivals (hotter) and a wild curse-melting ménage (hottest yet). Get ready for one exotic paranormal that will make you look to the skies and sea with longing.
~~~
Out on the deck she fled, looking for privacy in a space that allowed none. Laurin lay on the deck and closed her eyes, her bikini an attempt at modesty when usually she would have lain in the nude.
The heat of the afternoon sun faded in comparison to the reaction in her body when she heard their footfalls approach. Two sets, walking slowly around her. Pausing at her head and feet.
She opened her eyes slowly, looking up into a stormy ocean of blue as Matt squatted at her head, leaning over. His dark hair fell across his forehead is a smooth wave.
"Do you want to go for a swim with us?"
Laurin sat up quickly. "With both of you?" She turned to stare at Kallen in shock. "You swim?"
He tilted his head politely.
"You've gotten good enough—and it's a warm day. Come on, lazybones, time for a little exercise." Matt reached down a hand to her, and she slipped her fingers into his, wondering why she tingled so hard all over.
Of course, the fact two virile men were staring intently at her nearly naked body had nothing to do with it. No, nor the fact she knew they both wanted to make love with her. Needed to make love with her.
Laurin stepped toward the ladder. She still hadn't worked her way up to throwing herself over the side of the ship like Matt enjoyed. Only her movement was blocked by a rather large, warm body. Her entire front made contact with Kallen's chest, the heat of his bare skin searing hers. She retreated and found herself up against Matt's solid frame, his hands catching her upper arms to steady her shaky body. Wet need bloomed between her legs, instant desire for her lover spreading like a flame over the water's surface.
She leaned back into Matt's support. Maybe if she hid in the forward berth… "Do I have to swim now? The water looks cold."
One of his thighs slipped between hers as his arms surrounded her. A blanket of heat covered her, spilling from his torso. "We'll keep you warm."
We'll? Oh my God. She looked forward into Kallen's face and a shiver rolled down her spine at the expression she found there. Need, desire, admiration. She was so intent on finding a reason for the emotions she almost missed when he bent slightly, bowing before her.
Only a second later she realized he wasn't being polite, but removing his borrowed shorts. The muscles of his upper body tapered in at the waist, the bold cuts of his abdomen clear and firm. She tried to keep her gaze from dropping lower, but there was no way to ignore his groin, the way his cock rose from his body, fully aroused.
She'd seen his naked torso when he arrived, but now…she couldn't breathe. Couldn't swallow. Couldn't think.
The air that had been trapped in her lungs escaped as she realized not only was she staring, she was rubbing against Matt in the most provocative manner. Her hands pressed to his thighs as she leaned back, her own body on display for Kallen as she reveled in the heat of her lover's body.
How could she look at one man while in another's arms and want to touch? To taste?
Embarrassed, overwrought and excited, she twirled and buried her face in Matt's neck. Laurin clung to him tightly, looking for a little balance in the midst of the shaking her heart had experienced.
"Shhh, it's okay, love. I'm here." He stroked his fingers over her shoulders, light, easy. She took long, slow breaths and let his peace roll over her like the smoothest of seas.
Laurin pulled away and stared into his eyes. "Are we going swimming?"
She wasn't going to let fear overtake her. She'd come so far, she'd been so strong. This situation was highly unusual, but nothing she couldn't handle. Not with Matt at her side.
His smile lit her inside. "We swim, and show your friend from the mountains how much fun the water can be."
He stepped back and she gasped in shock. He'd untied her bikini top without her knowledge, and the tiny triangles fell to the deck like tired flags in the calm of a storm. Her hands shot up involuntarily to cover herself, but he shook his head slowly, eyes wide with desire and admiration.
"You don't need to cover yourself. I want to enjoy watching you. I want you to feel the water's caress on your bare skin. As if I have a million fingers, each one dedicated to your pleasure."
Oh God, the images. She closed her eyes and the reaction of her body to his words filled her senses until there was nothing but the two of them. Her nipples tightened, breasts suddenly gone heavy. She sensed him move closer, felt his mouth approach her own. His kiss was gentle. Lip to lip, tongues only meeting with the fleetest of touches. In her mind she saw them standing on the deck, suddenly aware of Kallen at their back. His arousal growing as he witnessed them body-to-body.
Embarrassment morphed into something else. Into a new kind of pleasure. Having Kallen watch was—beyond good. It added richness and a depth to her commitment to Matt. She threaded her fingers through Matt's hair and gave back more. Offered herself with enthusiasm.
His hands roamed her body, rubbing and touching and stroking her higher. She was going to need to jump overboard soon to put out the flames licking over her entire torso from his touch. His magic swirled around them. Not for healing, but simply there—a part of him, and a part of her now as well.
When another large hands grasped her hips, she froze in mid-kiss. Matt held her face, cupping her cheeks as he pressed their lips harder together. It was Kallen who grabbed the edges of her bikini bottoms and slipped them from her body, the thin fabric stroking slowly down her legs like an erotic tease.
Her heartbeat raced. Heat from the air shifter's body brushed her from behind while Matt paused his adoration of her lips for long enough to stare at her.
She found herself lost in the depths of his blue eyes. Uncertain how she could want another when the man before her held her heart. Held her soul in a way that she never wanted to be freed.
A single finger stroked her skin. Kallen, smoothing his way up from the sensitive area on the back of her knee, up her thigh. Over her butt, pausing in the small of her back. Red-hot connection jolted through her as he flattened his palm over her lower back. He moved closer, and she felt his breath against her neck.
All the while Matt caressed her inside and out with his gaze. Held her tight with his love and longing.
Confusion, passion, wild desire and complete chaos tangled together in her mind, and it was suddenly too much. She broke free, chest heaving as she struggled to pull air into her lungs.
Matt's face grew unreadable. Kallen watched, silent because of the curse, but she doubted he would have spoke if he could. Two sets of eyes, waiting for her to say what she wanted. Two men whose bodies clearly showed they wanted her.
~~~
Ebook Presales: Samhain | Amazon | Barnes & Noble
More Snippets to enjoy at:
Emma Petersen, Mari Carr, McKenna Jeffries, Taige Crenshaw, Delilah Devlin, Eliza Gayle, T.J. Michaels, Jody Wallace, Shelli Stevens
Nowadays there is lot of unforeseen circumstance which force men to take remedies. You can order medicines directly your office. In these latter days the stock you can find in online pharmacy is actually high. Some medications are as a rule used to treat many types of bacteria, such as tonsillitis and infections of the throat. Other ones are used to treat diabetes. Cialis is a remedy used to treat divers afflictions. What do you have to know about cialis order online? Presently many families search for the exact keyword ordering cialis online on the Internet. Perhaps you already read something about it. Having erectile disfunction can beyond doubt complicate romance. What can cause erectile disfunction? A row of psychological issues can produce erectile malfunction. What should you discuss with a physician before taking Cialis? Any medication may cause dangerous side effects. Sometimes side effects can be actually dangerous. Talk to your pharmacist about the proper disposal of your remedy.