Today is the release day for book 8 in the Six Pack Ranch series, ROCKY MOUNTAIN SHELTER. I'm so excited for you to met Becky, and see Trevor become the hero he's always meant to be.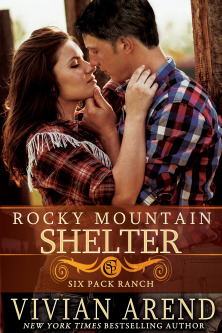 Innocence and passion are an addictive mix…

The dark-haired stranger next door triggers every protective instinct Trevor Coleman never knew he had. From the moment Becky Hall literally falls into his arms, the last man standing of the Moonshine clan doesn't even attempt to resist sweet temptation. Becky is beautiful, mysterious and heartbreakingly vulnerable…and he's a goner.

To escape the hell she was trapped in, Becky left everything behind but her courage. And for once in her life, good people step up to make a difference. A helping hand, a new job…a very attentive and libido-stroking neighbour. Now a new future awaits, one that shockingly includes sexual pleasure instead of icy pain, and a sexy cowboy who's more than eager to show her the ropes.

Becky's sweet smiles and seductive innocence draw him in like nectar, and Trevor knows one taste will never be enough. But with secrets thicker than a bumper crop, changing a life will take more than a new ID and a cowboy's good intentions.

It's gonna take sacrifice to break these chains.

Warning: boy meets girl, boy falls in love with girl–all hell breaks loose. We've got a hero whose hands are tied in more ways than one. A heroine who wants to experience everything she's ever missed, and a family that needs to discover if its roots go deep enough to weather any storm.
Purchase Links:
Excerpt:
They were in the eye of the storm. Everything she'd shared in the past moments had turned their relationship upside down and sideways, and they still had more to talk about in the days to come. It wasn't as if her world had been swept clean in under thirty minutes.

But right now there was only them. Only this intimate, strangely peaceful togetherness.

And like she'd been doing for the past couple months, she ignored the past and looked to the future. Taking life by both hands and riding it as hard as she could.

Although not quite riding it. More like barely containing it. Molding power and strength and iron-will under her fingertips like she was harnessing a wild stallion.

Trevor stood stock still while she touched him, and slowly the tension in his body changed. Sliding from fury to raw passion. His eyes no longer held the urge to kill, but desire and arousal.

She trailed her fingertips down the faint trail of hair leading towards the open button on his jeans. Under her caress his muscles formed a grid, and she laughed.

It came out rather breathlessly.

"Six pack, right?"

He curled his hand around the back of her neck and tugged her close again, his hot breath pressing over her cheek. "Kiss me," he demanded.

She was more than willing to oblige. His mouth settled over hers like a benediction—a blessing for what was about to happen between them. Like her history was scrubbed clean and this was all that remained. Passionate need. Fierce want.

Heat dragged up her spine, melting it rapidly as his tongue stroked into her mouth and he owned her completely.
Purchase Links:
Nowadays there is lot of unforeseen circumstance which force men to take remedies. You can order medicines directly your office. In these latter days the stock you can find in online pharmacy is actually high. Some medications are as a rule used to treat many types of bacteria, such as tonsillitis and infections of the throat. Other ones are used to treat diabetes. Cialis is a remedy used to treat divers afflictions. What do you have to know about cialis order online? Presently many families search for the exact keyword ordering cialis online on the Internet. Perhaps you already read something about it. Having erectile disfunction can beyond doubt complicate romance. What can cause erectile dysfunction? A row of psychological issues can produce erectile malfunction. What should you discuss with a physician before taking Cialis? Any treatment may cause dangerous side effects. Sometimes side effects can be actually dangerous. Talk to your pharmacist about the proper disposal of your drug.
Leave A Reply