Viv and Elle have combined forces with six other authors to release the LIGHT ME UP box set. It includes Viv and Elle's first book in the DreamMaker series, ALL FIRED UP.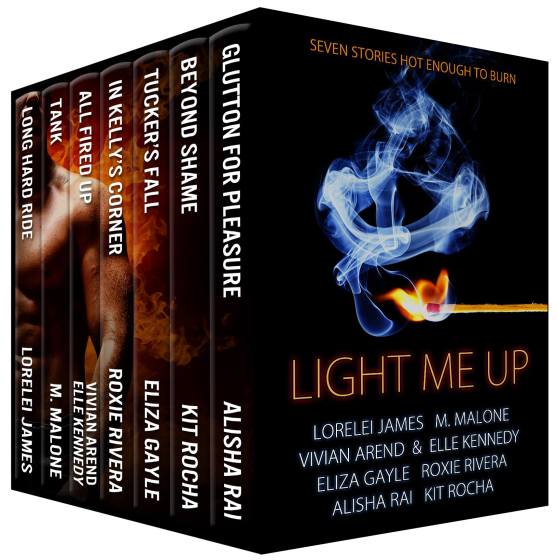 Buy Links:
Amazon | Barnes & Noble | Kobo |iBooks
Surprise Release!
I had so much fun in my last box set  (Alphas After Dark) that I decided to get involved in another one. One of the things I like best about box sets? For one low price, readers get a chance to check out new authors. (That includes me, because I'm a reader too!)
And in this case, what you'll find are seven first in the series books. If you bought ALL FIRED UP last April when it came out, you'll have already met Parker and Lynn (My and Elle Kennedy's contribution) But there are six more stories here for you to try, with a wide range of themes, including some that I'm sure are your favourites.
For $0.99, there's not much wrong in discovering even one story you've previously missed, and who knows? You might fall in love with another author along the way!
Falling in love with the heroes–that's a given!
When the lights go out, bad boys burn even hotter…
Join eight NYT bestselling and award-winning authors as they introduce you to their red-hot series in this explosive collection.  Whether you like cowboys or criminals, bootleggers or Army Rangers, Masters or MMA fighters, there's a hero—or two—for you.
Light Me Up includes seven complete stories and zero cliffhangers, each book the first in its series:
Long Hard Ride (Rough Riders #1) by Lorelei James
Channing jumps at the chance to shed her inhibitions and join a real chaps-and-spurs wearing rodeo cowboy for a wild summer on the circuit. Having his two traveling partners join in? Might be more than she bargained for. Can Colby McKay and his sweet-talking ways burrow into her heart and lead them to true love?
Tank (Blue Collar Billionaires #1) by M. Malone
Tank swore years ago to leave his anger behind, but after his mother is diagnosed with cancer and his deadbeat dad makes an appearance, sweet Emma Shaw might be the only one keeping him from exploding. But when billions are at stake, there's no such thing as innocent. Money. Changes. Everything.
All Fired Up (DreamMakers #1) by Vivian Arend & Elle Kennedy
Parker Wilson unexpectedly went from battle-hardened soldier to romance expert, but when a routine date recon turns into an unexpected night of passion, his mission becomes personal. Lynn Davidson is thrilled to walk on the wild side, but when their red-hot affair is threatened, it'll take a united DreamMakers effort to make their dreams come true.
In Kelly's Corner (Fighting Connellys #1) by Roxie Rivera
After a stalker threatens her, internet entrepreneur Bee Langston turns to Kelly Connolly to be her bodyguard. Up until now, Kelly had desperately tried to deny his feelings for his best friend's sister, but he can't turn her away. Only family troubles of his own interfere—ones that just might cost Bee her life.
Tucker's Fall (Purgatory Masters #1) by Eliza Gayle
Maggie Cisco returns to her hometown to lick her wounds and reconsider her future when a snowstorm puts her in the path of the handsome, rich and intense Tucker Lewis. No stranger to personal gossip, he looks past her recent scandal to the submissive craving a master's touch—he's going after Maggie and her heart's kinkiest desires.
Beyond Shame (Beyond #1) by Kit Rocha
All Noelle Cunningham ever wanted was a life beyond–beyond the walls of puritan, controlled Eden. Jasper McCray, bootlegger and cage fighter, has clawed his way up from nothing to stand at the right hand of Sector Four's ruthless leader. Together, they'll need to find a way in a world where passion is power.
Glutton for Pleasure (Pleasure #1) by Alisha Rai
As head chef in an Indian restaurant Devi Malik knows how to heat up everything—except her love life. Offered a chance to fulfill a secret fantasy involving her long-time crush and his brother, Devi puts her desire on the front two burners. It'll take more than explosive sex, however, to light up the shadows surrounding Marcus and Jace Callahan's secrets.
Buy Links:
Amazon | Barnes & Noble | Kobo |iBooks
Nowadays there is lot of unforeseen circumstance which force people to take remedies. You can order medicines directly your office. In these latter days the stock you can find in online pharmacy is actually high. Some medications are as a rule used to treat many types of bacteria, such as tonsillitis and infections of the throat. Other ones are used to treat diabetes. Cialis is a remedy used to treat divers afflictions. What do you have to know about cialis order online? Presently many families search for the exact keyword ordering cialis online on the Internet. Perhaps you already read something about it. Having erectile disfunction can beyond doubt complicate romance. What can cause erectile disfunction? A row of psychological issues can produce erectile dysfunction. What should you discuss with a physician before taking Cialis? Any treatment may cause dangerous side effects. Sometimes side effects can be actually dangerous. Talk to your pharmacist about the proper disposal of your drug.
Leave A Reply