New Release: Copper King
Today is the day that Copper King releases solo! If you've already bought ALPHAS AFTER DARK, this is the same story that's in there, so don't buy it again until you really want to.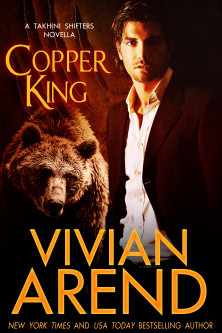 If you haven't already had a chance to go out and get Alpha After Dark,  now's your chance to get Jim, Lillie, (and Damon) all by themselves! OR…if you love print, I will have print versions of COPPER KING (SO CUTE!!) ready very soon for a good price!
Buy Links:
Amazon | Barnes & Noble | Kobo | iTunes | All Romance eBooks
Excerpt:
Lillie shoved her phone back in her pocket and lifted her chin, scenting the air for the best direction to head. She'd grab some supper…maybe even take in a show.
Finding someone to have a final fling with was also on her bucket list, but low. Really low. The concept sounded like fun, but she wasn't very good at flings, at least not in real life.
In her imagination? That was a different story. In her fantasy life, she was the queen of dirty interludes.
She glanced around the casino floor, taking in the flashing lights and loud noises as she mentally scrolled through some of the amazing romps she'd conjured up without a lick of trouble. Her perfect man flashed to mind. Dark and mysterious, sexy enough to set her heart pounding, but kind and understanding…
Actually in the fling-planning department, she'd focus on the sexy and he knows what to do with it instead of the bit about remembering birthdays and bringing her flowers. She wanted someone to sweep her off her feet and rock her world all night long.
Like that was ever going to happen.
Her gaze stuttered to a stop at the approach of one of the finest masculine specimens she'd seen in her life, as if her fantasy man had come to life. Maybe this was like Disneyland, where all her dreams could come true.
When you wish upon a star…
Dream or not, watching the dark-haired man stalk down the casino aisle was an exercise in sheer pleasure.
He didn't simply walk, or stroll from side to side like any of the other people in the area. It was as if each stride he took was deliberate. Not an inch to the left or right he didn't intend. And at every step, his tailored suit shifted casually on his broad shoulders, the crisp white shirt underneath open at the collar.
Hmm, that was extra nice. If he'd worn a tie, he would have looked more businesslike. Solemn and stately. Hunky as ever, in the sharply cut suit, but…
Something about the missing tie turned the yummy eye candy up to eleven. As if he'd unknotted the black silk, pulling it off slowly. Drawing it through his hand in a sensual tease before wrapping the still warm from his body fabric around his willing partner's wrists, then calmly tying her to the headboard of his bed.
Or maybe he'd begun undressing in anticipation of ravishing someone, which turned the rest of his outfit into a dress code be damned attitude.
The predator visible in every inch of his body was attempting to camouflage itself, hiding until the moment when the polished veneer would slide away, and he'd explode into a furious, hungry animal, possessiveness in his grasp…
Whoa, nelly.
Lillie blinked hard, hand pressed to her chest as she fought to slow her breathing. It had gotten a touch out of control as she'd slipped into her fantasy world. Damn, she needed to take up writing fanfic or something, she was making herself sweat with her daydreams.
Still, with the scruff on his chin, his aristocratic nose, his firm lips pressed together determinedly—she wasn't imagining the kind of deliciousness he would be in starring in one of her daydreams. Not to mention the intense gaze in his dark eyes as he stared at her as if she were his prey and—
That's when she finally clued in that all those deliberate steps were bringing Mr. Dark and Dangerous straight toward her.
The thump of her guilty heart was hard enough to rock her entire body. Phooey, had she been discovered already?
There was no reason to assume the little slip-away she'd pulled from her scheduled agenda would continue to be successful, but this was far too soon to give up the adventure. It had taken an incredible amount of luck to get to Vegas in the first place.
Only, as the drool-worthy dark-eyed man narrowed the distance between them, it grew clearer he wasn't some security guard who'd figured out she wasn't where she was supposed to be.
And the closer he got, the more she realized whether or not he was a security guard, coming face-to-face with that intense of a man was not on her current wish list.
Lillie twirled on the spot and made a rapid retreat, damn near jogging down the open center of the aisle before darting sideways between rows of penny slots. She took five paces forward and cut to the left, five more then to the right, moving as rapidly as possible, zigzagging her way through the casino.
Thank goodness she had on runners instead of high heels. It didn't matter that she must look totally undignified, as long as she didn't get caught.
Slipping between crowds of people, ducking around machines. Whatever it took to get her away from the man who had eyed her as if she were the only thing on his agenda for the next twenty-four hours.
The only thing on the menu.
Nowadays there is lot of unforeseen circumstance which force folk to take remedies. You can order medicines directly your office. In these latter days the stock you can find in online pharmacy is actually high. Some medications are as a rule used to treat many types of bacteria, such as tonsillitis and infections of the throat. Other ones are used to treat diabetes. Cialis is a remedy used to treat divers afflictions. What do you have to know about cialis order online? Presently many families search for the exact keyword ordering cialis online on the Internet. Perhaps you already read something about it. Having erectile malfunction can beyond doubt complicate romance. What can cause erectile disfunction? A row of psychological issues can produce erectile dysfunction. What should you discuss with a physician before taking Cialis? Any treatment may cause dangerous side effects. Sometimes side effects can be actually dangerous. Talk to your pharmacist about the proper disposal of your medicine.