More Polar Bears are Coming Soon!
The time is drawing near for book two in the Borealis Bears!
It's been so much fun to return to the paranormal realm and play with a world that runs off imaginary rules. Which still means having characters that I'd like to be friends with, or who I admire for what they accomplish. Our hero Alex is determined and outwardly gruff, yet hides a sweet marshmallow core. Lara is kick-ass strong, yet tender-hearted as she cares for her wolf pack and the rough-hewn man who's destined to be her mate.
Grandfather Giles, though…I'm not sure if I admire him or if he scares me. He's one determined old shifter, and definitely up to mischief! Here's a peek at his very own thoughts as THE BEAR'S FATED MATE begins…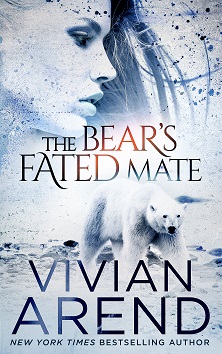 Personal Journal, Giles Borealis, Sr.
I'm not sending my grandsons another note, because I already warned their stubborn bear asses what the rules were, and I don't repeat myself.
I do, however, find as I get older that it's necessary to jot down a few notes to make sure I keep track of all the threads I've got in play. Growing old is a privilege, and a pain—I don't like the alternative one bit, but that's neither here nor there.
For now, I'm going to gloat for a moment, although at my age it's called pride and we'll leave it at that. Tonight was a delight. Never dreamed young James would be the first to get his act together and step up to the plate. Mated at twenty-six! That's the same age I was when I met my Laureen, and it's been fifty-eight years of mated bliss ever since.
James's mate—Kaylee—is a perfect match to his enthusiasm with her quiet, resourceful ways. Knew those two belonged to each other the first time I saw them gravitate toward each other years ago. Friends-first make for the best lovers, or so Laureen has told me over and over again. Who am I to argue with my heart of hearts?
I also know there's another type of partnership that blooms fast and grows strong. If you can't start out friends, good solid enemies are an acceptable alternative.
Alex might disagree with me—
Who am I kidding? Of course, he'd disagree with me because he's a Borealis bear. But I know best. He's not the type to accept a woman who's less than he is. She needs to have brains, brawn, and superior bullshitting abilities.
He needs a woman who's a challenge, and the one I've got in mind fits the bill perfectly…
**
To find out the rest of the story, pick up your copy of THE BEAR'S FATED MATE, coming November 19th!
Purchase US Retailers:
Purchase UK Retailers:
Purchase CA Retailers: