With the release of ROCKY MOUNTAIN HOME about a month away, it's time to start getting ready for Jesse's story! Every week or so, I'll be featuring a past Six Pack Ranch book that featured Jesse that you might want to read before the release of ROCKY MOUNTAIN HOME. Today, ROCKY MOUNTAIN REBEL, the story of Jesse's twin, Joel.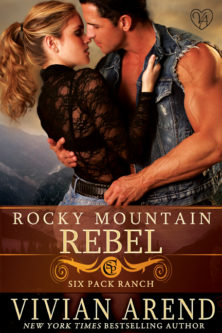 The best type of growing up involves getting down and dirty

Vicki Hansol made different choices than her less-than-reputable mom and sister, yet her fiery temper has left her branded with the same town-bad-girl label. When she desperately needs a change of scenery, her get-out-of-town-free ticket arrives—and requires she face down one of her deepest fears.

Easygoing Joel Coleman has nothing to complain about, but he's never really done anything to brag about either. The youngest member of the Six Pack Ranch is looking to make some changes in his life that include stepping out from under his twin brother's shadow.

So when the bold beauty with the smart mouth approaches him with a proposition, Joel is intrigued. Her request for him to teach her to ride soon takes on a whole new meaning. All that passion in his arms, his bed, in the barn…hell, anywhere he can get it? Bring it on.

But tangling the sheets leads to unanticipated complications, and by the time the dust settles, everything family means is going to be challenged.

Caution: Saddle up for some youthful vigor applied with great enthusiasm. Ropes, rails and raunchy sex—there's more places to get dirty around the ranch than first meets the eye.
Purchase
Digital: Amazon US | Amazon UK | Amazon CA | Barnes & Noble | Kobo | iBooks US | iBooks UK | iBooks CA | GooglePlay | Scribd
Print: Amazon
Audio: Amazon | Barnes & Noble | Tantor | iTunes
Excerpt:
Jesse sprawled on the couch in front of the television, the screen turned on, the volume at zero. It only took a moment for Joel to put two and two together. Jesse was hungover. Which, since it was past noon, meant he was royally hungover.

The temptation to make loud noises was childish, instantaneous and nearly impossible to fight.

Joel dropped into the recliner and grinned, speaking louder than normal. "Had a good time?"

Jesse narrowed his eyes. "Don't make me come over there and kill you."

"Moments like this I wish I'd taken trumpet in band class. Or drums. Or—"

"Fuck off and die."

Joel waited for Jesse to relax back on the couch, his head cradled on the cushions, blood-shot eyes watching the screen without focusing. "It was a good party, I take it."

"Brutally fun. I don't think Travis is ever coming home."

"Right."

"No shit. He and Ashley were all over each other the entire weekend. I swear I couldn't see daylight between them most of the time."

After years of Travis constantly going with someone new, the feisty Ashley was the first in a long time to last more than a week. "I thought Travis said she couldn't go. Had to hit the States for some meetings."

"Got moved to next weekend. Trust me, she and Travis were a definite item."

"He'll be back." Joel was more concerned about how to explain what he'd been doing all weekend. Maybe if Jesse had found someone interesting… "You have fun with anyone in particular?"

Jesse shook his head then cringed. "Fuck. No one I'd want to see again, but I had a great time. You should have come, jackass."

"I enjoyed staying here, thanks. Also, don't make plans for next weekend. Or not for Sunday. Family dinner, remember?"

Joel breathed out slowly. "Oh, yeah. I can handle Thanksgiving with all the trimmings. Mom's and Jaxi's cooking? Damn, I can totally go for that."

"We have to bring something to contribute. You remember that part as well?"

Jesse waved a hand. "I'll pick up more chicken wings."

Joel laughed. "You would too. That could get you killed."

His twin wiggled to a more vertical position and stared across the room. "What's up?"

"What?"

Jesse frowned. "You're not telling me something."

Damn twin connection.
Purchase
Digital: Amazon US | Amazon UK | Amazon CA | Barnes & Noble | Kobo | iBooks US | iBooks UK | iBooks CA | GooglePlay | Scribd
Print: Amazon
Audio: Amazon | Barnes & Noble | Tantor | iTunes
Leave A Reply