With the release of ROCKY MOUNTAIN HOME about a month away, it's time to start getting ready for Jesse's story! Every week or so, I'll be featuring a past Six Pack Ranch book that featured Jesse that you might want to read before the release of ROCKY MOUNTAIN HOME. Today, ROCKY MOUNTAIN FREEDOM, Travis, Ashley, and Cassidy's story.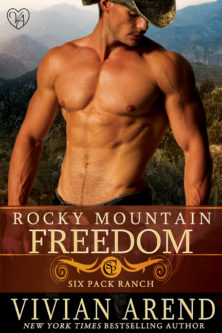 Three hurting hearts. Too many secrets. One chance to conquer their fears.

Over the past year, Travis Coleman lost the two people he allowed closest to his heart. Both gave him ultimatums—then left. Hell if he needs that kind of pain again. Time to move forward without the friends he thought might save him from his dangerous cravings.

When Ashley Sims returns to Rocky Mountain House, her rambling lifestyle isn't all she's hoping to change. Travis snagged a piece of her, and while getting tangled in his issues again might be crazy, she hasn't given up on him.

Nine months ago, Cassidy Jones walked away to stop his best friend from making a huge mistake. Temptation lingers, though, and when Travis shows up on his turf accompanied by a sensually uninhibited woman, the combination tosses fuel on the banked fire.

Passion flares among the three of them, as hot as the summer days. But are they willing to push the limits, and fight for love?

Warning: Dirty fighting, dirty talk, dirtier sex—secrets are coming out. Get ready for ménage a trois and cowboy-on-cowboy action, with ropes and crops and the kind of relentless love strong enough to set a man free.
Purchase
Digital: Amazon US | Amazon UK | Amazon CA | Barnes & Noble | Kobo | iBooks US | iBooks UK | iBooks CA | GooglePlay | Scribd
Audio: Amazon | Audible | iTunes
Excerpt:
Travis got off the phone with Ashley and immediately called home.

His younger brother Jesse answered. "Joe's Pizza parlour."

"Give it a rest. It's Travis, is Dad there?"

"Aren't you a dick?" Jesse snapped back. "Whatever happened to talking to me? 'Hi, Jesse, haven't seen you in months. How are you doing?' That sort of thing."

Travis backed down because this time Jesse was right. "I'm sorry. How have things been?"

"Busy. Had the devil of a time getting things done around here all summer with you gone—hope you enjoyed your holiday."

"It was a good break, but I'm looking forward to being home in a couple weeks." It wasn't the time to point out that Travis had been working damn hard himself, and that there had been extra bodies around the ranch to help. "Hey, I don't mean to rush, but we'll catch up when I'm back. I wanted to know if Dad got my message. Ashley is back already, and she's in my trailer, so no one needs to worry about seeing smoke from the fireplace or lights or that kind of thing, okay?"

"Fuck." There were rattling noises in the background, and the sound of something falling to the floor. "You should call him."

"I left a message. I wanted to know if he got it."

"Leave him a message then."

Travis was tempted to shake the phone, if that would also shake his brother. "Jesse, are you feeling okay? That's what I just said!"

Jesse laughed, full-out explosive laughter. "You're not making any sense, bro. But we'll talk when you get home."

Then he hung up. Hung up the damn phone.

This time Travis did stare at the phone in his hand in shock. What the hell?
Purchase
Digital: Amazon US | Amazon UK | Amazon CA | Barnes & Noble | Kobo | iBooks US | iBooks UK | iBooks CA | GooglePlay | Scribd
Audio: Amazon | Audible | iTunes
Leave A Reply