It's amazing how quickly this book has arrived—at least for me! Stepping into the new setting of Heart Falls after so many years of writing stories for Rocky Mountain House has been…
An adventure?
A challenge?
It's a little like going to a new town and having to learn where everything is. Not just at the grocery store, but in town, period! You need to find out who everyone is, where the thrift shop is, the hours at the library (very important!), and in the midst of that chaos, settle into a routine of school and work and family and chores.
After four books in the place, though, I'm feeling a lot like Heart Falls is home. I'm glad.
There are good people here, and I'm looking forward to finding out all their stories, but in the interest of making my life (and yours!) easier, we'll be working through the tales in trilogies and quartets. Long enough to dig in and get deep, and short enough to finish story arcs in a timely manner where we don't have to memorize a list of characters as long as the phone book.
So, yes, this is the final book in The Stones of Heart Falls—for now. The other Stone siblings, Ginny and Dustin, will get their happily-ever-afters eventually, but Ginny needs to finish her apprenticeship in Europe, and Dustin needs some years to grow up.
Now about our upcoming release— A Rancher's Bride.
I'm so delighted for you to watch Luke and Kelli's love story unfold. This wasn't where I expected things to go when I first envisioned the series, but it's pretty perfect for them. This friends-to-lovers romance reveals secrets from both their pasts, and we'll also find an answer to the Silver Stone financial crisis. Most importantly, though, we'll learn about family by choice and how important it is to stay true to ourselves even as we step into new roles.
As Luke and Kelli find themselves pretending to be more than they are, it's clear that stepping into a fake relationship isn't tough on either of their parts. The path isn't smooth, and there are surprises along the way that could have lasting repercussions, but if Kelli and Luke face what trouble comes together, they have a shot at forever.
Plus, I have to tell you about two new friends you'll meet in this story. When they stepped onto the page, I tossed out the first names that came to mind—Diane, and then Jack.
*pauses so you can repeat their names a few times and hear the song start to play*
Annoying? Yes, I know that NOW, but at the moment, it seemed a good idea. I tried to change their names, but they were having none of it. So I apologize for the permanent earworm you're going to get while reading this book. Did I mention that I feel as if I MUST write a short story for Jack and Diane, as well? To make sure we all get to see their HEA unfold?
Beyond our two "about to be abruptly shocked because we didn't see THIS coming" hero and heroine, aka Luke and Kelli, and their new friends, there's the whole cast of family at Heart Falls to catch up with, including Eeny, Meany and Miney. Because what's a happily-ever-after without the family goats' approval?
I hope you enjoy A Rancher's Bride; the conclusion to the first trilogy: The Stones of Heart Falls.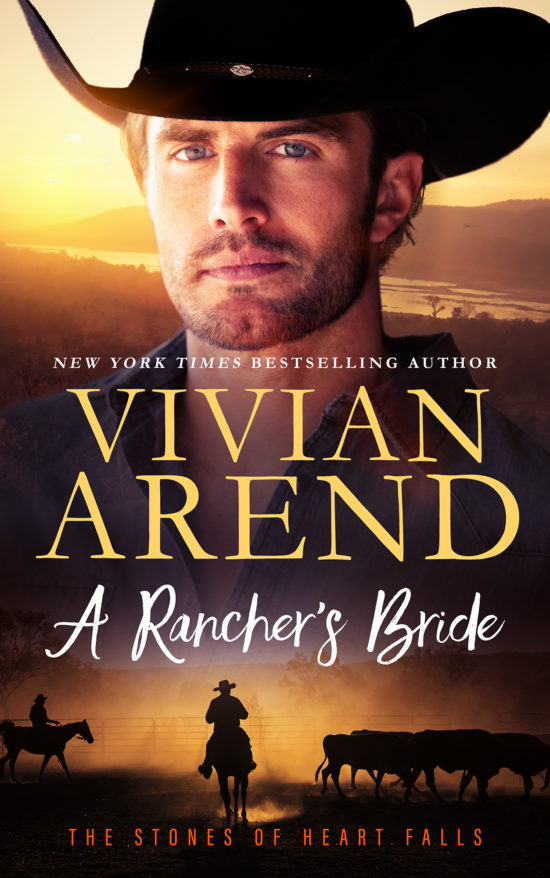 Preorder Today
US
UK
Canada
Leave A Reply