Who is ready for more Holidays in Heart Falls?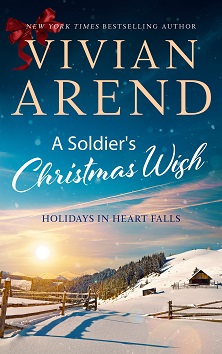 When A Firefighter's Christmas Gift released last year, I was so excited. It was the chance to do something I'd looked forward to for a long time—start a series of sweet and sexy feel-good stories for my readers to enjoy over the holiday season and beyond.
Hanna and Brad's book was not only a delight to write, but people enjoyed it, and it was a chance to have something special happening in Heart Falls outside the main trilogy that was currently unfolding for the Stone family. It was perfect!
…until it wasn't.
See, getting to tell all sorts of stories in Heart Falls is something I'm enjoying. And I like being able to step into the lives of people in town who might be less mentioned in the main trilogies.
But I forgot that Holidays in Heart Falls is a series on its own, not just a random bunch of stories that take place between the other trilogies.
Long opening to reach this point: I'm about to tangle things up two ways.
First tangle:
If you read A Cowgirl's Forever Love that came out in May (book 1 in the new Colemans of Heart Falls trilogy), you're probably waiting for Karen and Julia's stories. I didn't write fast enough to get their books out before this holiday book. It's not a huge thing because it will all make sense down the road. Those two books will be out in 2020 and everything will fall into place.
All you really need to know for now is that A Soldier's Christmas Wish takes place in December, a year after Hanna and Brad's story.
Second Tangle:
Here's the tangled part—I didn't let you know last year who the heroine and hero would be! In this story, you'll follow Brooke Silver (Hanna's friend and a local mechanic) and Mack Klassen (a retired soldier/firefighter who works with Brad at the fire station) in their search for the perfect old-fashioned Christmas, and incidentally, their happily-ever-after. Neither have huge unsurmountable pasts to fight. Their problems are pretty ordinary, which means they're familiar to most of us—things like dealing with limited finances and trying to impress the people important to the ones they love. Pushing past the emotional limits they were taught while growing up to learn what's right for them…
Surviving the snowstorm of the decade. You know, the usual.
I'm delighted for you to read A Soldier's Christmas Wish and find forever along with them.
 Pre-Order your copy today!
US Booksellers: