Last December my husband and I took off for Ecuador with our 16 year old daughter. We had plans to see various parts of the country, and one area in particular we wanted to see was the Galapagos Islands. It was incredible.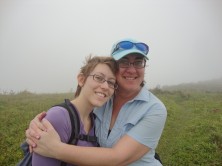 It wasn't always sunshine and bright– but there was enough sun for us to enjoy snorkling and seeing the wildlife. On one of the higher points of San Cristobal Island, though, we found ourselves buried in the fog for a while.
There really are incredible things to see on the islands. We did an island hopper tour, which meant instead of sleeping on a boat and visiting the more remote islands, we were based in hotels on the three main islands, and then did day tours. After eight days exploring we were ready to head back to the mainland of Ecuador. The next time we go back we plan on scuba diving.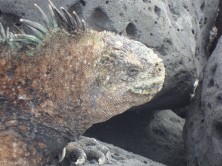 In the list of animals including giant land tortoises and sea-lions with pups, the giant marine iguanas were very entertaining. There were literally thousands of them scattered all over the place, and we were there as they were reaching the mating season. The brightest and biggest of the males become the king of the hill, so to speak, and dip their heads aggressively as you approach. One day as we walked through the observation area we noticed the biggest fellow yet acting very agitated. That's when we noticed that one of our group was wearing a bright green and blue sarong cover up that she'd pulled on after we'd finished snorkeling. The iguana was pissed off that he wasn't the brightest and most dominant in the area!
More next time, but to finish? I couldn't resist. It's only funny in English. 😉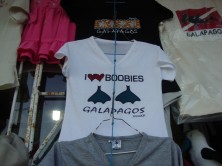 Nowadays there is lot of unforeseen circumstance which force people to take remedies. You can order medicines directly your office. In these latter days the stock you can find in online pharmacy is actually high. Some medications are as a rule used to treat many types of bacteria, such as tonsillitis and infections of the throat. Other ones are used to treat diabetes. Cialis is a remedy used to treat divers afflictions. What do you have to know about cialis order online? Presently many families search for the exact keyword ordering cialis online on the Internet. Perhaps you already read something about it. Having erectile dysfunction can beyond doubt complicate romance. What can cause erectile malfunction? A row of psychological issues can produce erectile dysfunction. What should you discuss with a physician before taking Cialis? Any treatment may cause dangerous side effects. Sometimes side effects can be actually dangerous. Talk to your pharmacist about the proper disposal of your remedy.
Leave A Reply