Three Weddings and a Baby are Coming Soon!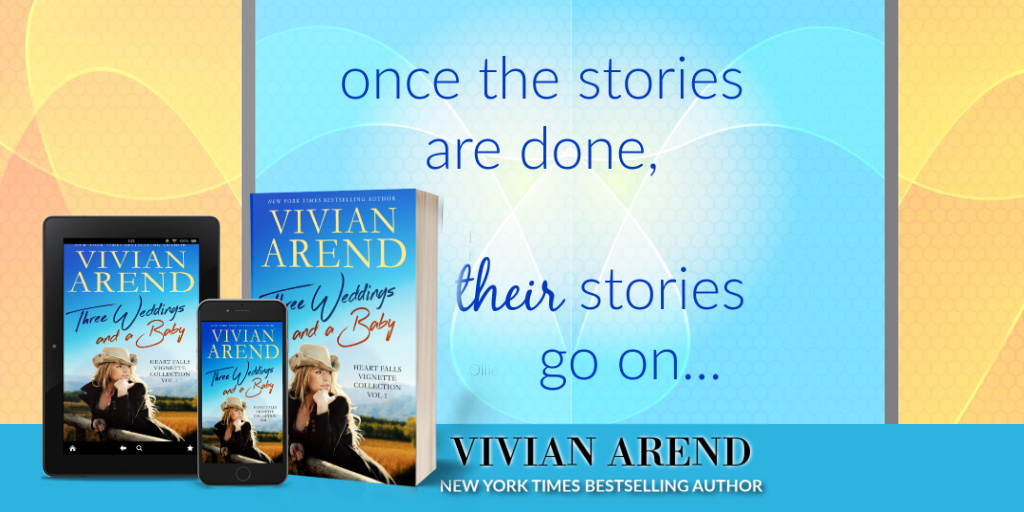 I've mentioned this once, but figured another update wouldn't be terrible. If your brain is working as well as mine is currently, then this might be brand new to some of you! Lol.
I'm excited to share that I've written a short story with the title of Oh Baby!
I've written vignettes to follow up with couples before, but with the way that the books have worked out timing wise, I had a fun story for Lisa and Josiah that didn't fit into the background of the next Heart Falls title. So, short story it is! Somewhere around novella length…
I've put OH BABY! plus three vignettes into Three Weddings and a Baby, Heart Falls Vignette Collection #1. This will be the ONLY way to get the short story.
That's the baby part!!!
The three vignettes are:
Surprised at Bootstomp Point: Caleb & Tamara
Heartfelt at Heart Falls: Walker & Ivy
A Wild Horse Wedding: Luke & Kelli.
It's ready for preorder now!
(Anyone really alert will notice this is a month later than I originally said, but we're good to go now!)
Here's a fun little tidbit with Ollie…and her people.
Release date: Sept 8, 2020
**
The group of them rang in the New Year, cheers rising skyward as the clock ticked past midnight. Everyone turned to their partner for a good-luck kiss, and as Josiah pulled her close, Lisa was definitely counting her blessings.
His lips against hers were warm and yet demanding. There was no getting distracted when he wanted her full attention. Except for—
An excited yip sounded by their ankles, and Josiah's mouth curled into a smile before he'd even finished the kiss.
Their foreheads touched briefly. "Somebody else wants to say happy New Year."
Lisa swooped down and grabbed Ollie, cuddling the pup between her and Josiah. "Yes, you need to be part of the celebration as well," she told the little terrier seriously. "Happy New Year, Ollie."
She pressed a kiss to the dog's head then lifted her gaze to meet Josiah's.
"Don't let your sisters see you do that," Josiah warned in a whisper.
"Too late," Julia whispered in return as she walked past, tugging Zach with her.
It wasn't much later that everyone left, headed back to their own homes. Tamara to a nine-month-old baby boy and the rest of her and Caleb's family she cared for as a full-time mom. Karen was off to the big ranch house she and Finn were renovating while getting the ranch up and running. Julia and Zach were the last to go, discussing ideas for building a place of their own as well dealing with their tasks for Red Boot ranch.
Lisa and Josiah put away a few things before leaving the rest for the morning.
"What do you think about starting the new year right?" Josiah asked the question with a voice that had gone deep as he crowded her down the hallway toward their bedroom cautiously, to avoid kicking Ollie, who kept pacing underfoot.
"That's a wonderful idea," Lisa said with great enthusiasm. She wrapped her fingers around his collar and smiled up demurely. "It's very important to get at least eight hours of shut-eye, so we should probably hit the sack right now and go straight to sleep."
He slipped their bodies into alignment and let her know exactly what kind of activity he had in mind. "Tease."
"Never." Lisa said softly. "I love you. Last year, this year, and every moment into the future."
Ollie was sent to her bed in the corner with a firm directive to stay. The agenda after that faded into loving. The night had been as close to perfect as possible from beginning to end.
Only when Lisa woke, sun shining across the bed and turning the first day of the new year into something shiny and bright, the problem that had been itching the back of her brain revealed itself crystal clear.
Everyone in her family had goals set for the coming year. Everyone had a job to do. Everyone.
Except her.
---
After the stories are done, their stories go on.
One of the great parts of writing a long, family saga is that I get to revisit characters who have already hit their happily-ever-after. Over the past couple of years I've written short vignettes revisiting characters from the HEART FALLS series. They're written specifically for readers who have already enjoyed the main stories. These visits with favourite friends were sent out in newsletters, and are available for FREE ON MY WEBSITE. 
But, for readers who want the stories on their ereader, I've made them available digitally for your convenience. Check first to see where each vignette fits into the full series if you want to avoid spoilers for books you haven't yet read!
AS WELL, this collection contains a BRAND NEW story for Josiah Ryder and Lisa Coleman. This collection is the ONLY place to read this story!
THIS COLLECTION CONTAINS:
1. Reading Order for the HEART FALLS series
The following wedding vignettes:
2. Surprised at Bootstomp Point (Caleb & Tamara)
3. Heartfelt at Heart Falls (Walker & Ivy) 
4. A Wild Horse Wedding (Luke & Kelli) 
And the novella:
5. Oh Baby! (Josiah & Lisa) 
A cute puppy, a wedding, and a baby. ← that's it. That's the blurb. Lol.
Longer cheater version:
Lisa and Josiah are thoroughly enjoying each other's company. He's got his veterinarian work; she's been busy stepping in to help her sisters and friends whenever and wherever they need. And they have Ollie, the sweet little terrier that can't get enough of either of her favourite humans.
But as one year ends, and a new one begins, Lisa can't help but wonder if there's something she's missing. What exactly is she supposed to focus on now that her extended family is settled and all her sisters are happy?
Ollie knows…
And a sneak peek:
6. Chapter One of ROCKY MOUNTAIN FOREVER
I hope you enjoy these visits to Heart Falls!