Flashback Friday
Tag
Today's Feature Friday book is the first in the Six Pack Ranch series, ROCKY MOUNTAIN HEAT.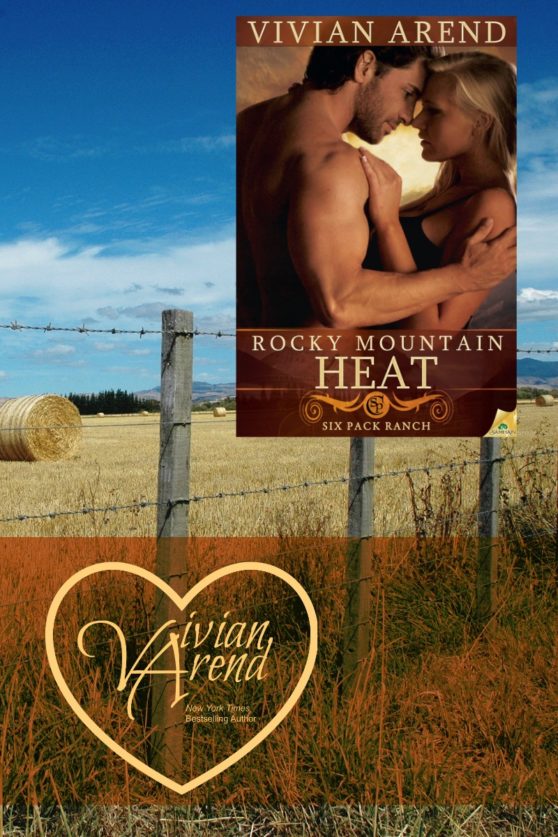 He's the one who taught her to ride. Now all he wants is to ride her.
Blake Coleman is old enough to know that acting on impulse causes nothing but trouble. But when trouble's a western-hat-wearing blonde with slim legs that go on forever, what's a man to do? Wanting the sweet girl next door is just wrong. The responsible thing to do is keep his hands off.

Jaxi has other plans for Blake's hands, and his heart. She may have once considered him a big brother, but that was a long time ago. She's all grown up now and ready to convince him that she's perfect for him. Except he can't seem to see past the big "don't touch" sign that's apparently still hanging around her neck.

When Jaxi ends up living right under Blake's nose, the undeniable heat between them slides off simmer and leaps up to barn-burning levels. However, a few of the younger six-pack Colemans have decided Jaxi's brand of trouble is worth risking a few busted bones.

That is, if Blake's finally ready to let go the reins and fight for what he wants…
FEATURE FRIDAY: WOLF SIGNS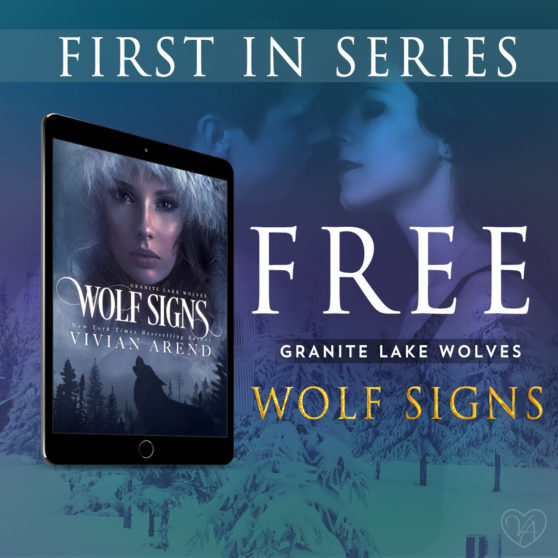 WOLF SIGNS has been discounted to FREE for an extended time. Try the first in the Granite Lake Wolves series now for FREE!
Talk about getting your signals crossed…
When her brother cancels their backcountry ski trip, Robyn Maxwell takes it in stride. The fact she's deaf doesn't make her survival skills any weaker, and she's been craving the chance to escape into the Yukon wilderness. Only the sexy beast of a man she bumps into at the cabin starts cravings of another kind, setting her hormones raging as well as raising strange questions about wolves, and mates, and pack challenges.
All wilderness guide Keil Lynus wanted was a nice quiet retreat before challenging for the Alpha position of his Alaskan pack. He wasn't planning on meeting his destined mate, or finding out she's not aware she has the genes of a wolf. Between dealing with his accident-prone younger brother, a deaf mate with an attitude and an impending duel to the death, his week—and his bed—is suddenly full.
Far from the relaxing getaway any of them had in mind…
Warning: Gives a whole new meaning to the phrase "talking with your hands". Includes dangerous use of sarcasm and hot nookie in a remote wilderness sauna.
PURCHASE:
Kobo | iBooks US | iBooks UK | iBooks CA | GooglePlay |  Amazon US | Amazon UK | Amazon CA| Barnes & Noble
Three things make billionaire Jim Halcyon's to-do list: women, work…and more women. It's a perfect agenda for a rich shifter who has no problem letting his inner grizzly out to play. From the bright lights of Vegas, to the sophisticated action of New York—he's got the money and the power to do anything he wants.
Anything, except resist the lure of Lady Luck, an ancient copper coin he gambles yearly to possess. Jim is determined to regain control of the pretty penny, and damn if he'll let any bit of eye candy distract him from his goal. Not even the mesmerizing woman in the middle of the casino floor with the shimmering hair and enormous green eyes.
With a life-changing move ahead of her, Lillie's finagled a temporary layover en route to her future. She's got five days to soak in new experiences, and while Vegas is too big and shiny and loud for her shy bear self, she's eager to do this up right. It's the last chance she's got to let her hair down.
Until his challenge begins, Jim is more than willing to oblige Lillie's wish for a final fling. Only Lady Luck has some twists of fate planned for them both…
Purchase:
Digital: Kobo | iBooks US | iBooks UK | iBooks CA | Amazon US | Amazon UK | Amazon CA | Barnes & Noble
Print: Amazon | CreateSpace
Audio: Audible | iTunes | Amazon
Get started with the bestselling Six Pack Ranch series with ROCKY MOUNTAIN HEAT.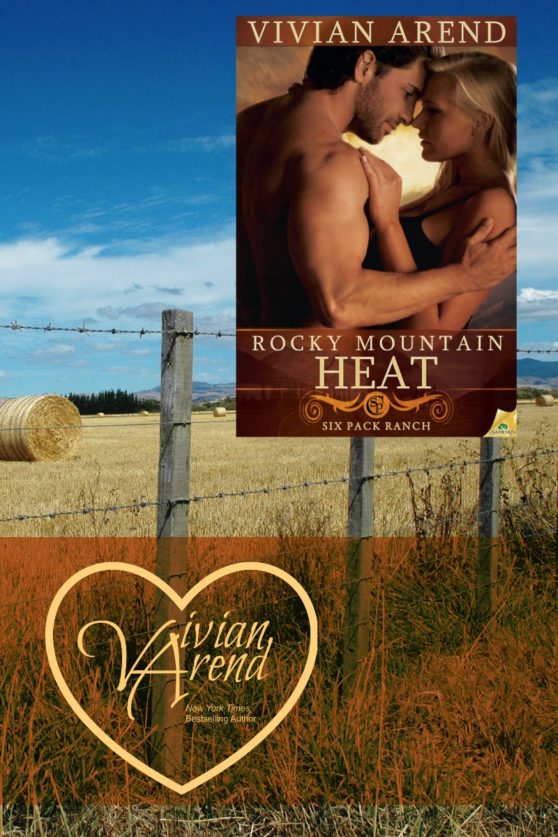 Chapter One

"I'm fine, boys, stop your fussing." Marion Coleman shook her good hand at the twins as they hovered nearby. "I didn't need the wheelchair. It's a silly hospital policy." She shot to her feet, batting Jesse and Joel away.

Blake offered his help, and she smiled, the edges of her mouth remaining tight and the lines at the corner of her eyes deep. She might make light of the situation but it was clear her arm hurt. A lot. She tucked her fingers around his elbow and dragged him across the hospital parking lot, her rapid pace unhampered by the heavy cast covering her right arm from wrist to shoulder.

They stopped beside one of the huge crew-cab ranch trucks, the twins scrambling into the backseat. Marion stared in disgust at the hand pull she couldn't reach.

"Why did you boys all have to grow to over six feet? None of you own a nice little Jetta or Mustang for me to be able to slide into. Just these monster trucks. I have to use a ladder to reach the seat."

"You fed us too well." Blake worked at remaining gentle as he lifted her to the bench, careful not to jar her arm. He'd closed the door and stepped around to the driver's side before he realized it was impossible for her to buckle her seat belt with the cast in the way. He slid behind the wheel and reached to help her. "Let me get it, Ma. You're going to find things a bit awkward for a spell."

"I hate this." Marion stared past him out the window, a touch of fury in her eyes.

"Maybe you should have waited for help picking the apples," Joel piped up from the backseat.

"She did ask, you jerk, remember?" Jesse said. "First we had to finish the back field before the weekend, then Dad asked us to—"

"This is no one's fault. You boys are all busy, with the hay ready to be cut and the animals to care for. I wanted to get the apples before you had time to help me and, well, I've never fallen out of a tree before in my life. Been climbing that one for years." His mom wiggled around in her seat to shake a finger at her youngest sons. "It was an accident. I don't blame either of you, so don't you think you did something wrong. But now I'm going to need some help. Not only do I have a bushel of apples to deal with, there's the garden that needs to be put up, laundry for the family and the cookin' and…" She returned her gaze to the window. "I've caused a mess, boys, and that's the plain truth."

Blake touched her hand softly. His ma was a hard-working woman and not just at the ranch. She'd toiled beside his father for over thirty years, doing everything inside the house, plus caring for and raising six boys, gardening and dealing with the livestock. In addition to her chores at home, she'd always been there for the community, for newcomers and new babies, and whenever a person needed a helping hand.

Having a broken arm was going to bother her a lot—the pain of it mending, and the annoyance of everything she'd be unable to do for a while. Sitting and watching others work was not her style.

"Well, I guess it's time the neighbours get a chance to show a little lovin' your way and come to give you a hand." Blake hoped she'd actually allow people to step forward.

"Blake Coleman, I've never done anything in my life in the hopes to be repaid."

He backpedaled. "That's not what I meant. We know you do things because you want to help others, Ma, but you've got to accept the friends who come to chip in. I'll do what I can—we all will. Even though we're temporarily back under your roof doesn't mean you have to feed us and tend to our needs. It's not as if we haven't all cared for ourselves before. We're big boys. In fact, you need to let us know what we have to take over for you."

Marion shook her head. "You say you want to help, but when are you going to manage that right now? The fall is the busiest time of year between the animals, the fields and the furniture orders. You can't add my chores to your list. Everyone else in town is just as busy."

She lifted the cast in the air tentatively. "I'll figure out how to work around this. I'll get by."

Blake looked in the rearview mirror and exchanged worried glances with his brothers. Something had to happen. He didn't know who was available, but sooner than later, his ma was right. They were going to need help.
Purchase
iBooks US | iBooks UK | iBooks CA  | Barnes & Noble | Kobo |  GooglePlay | Scribd  |  Amazon US | Amazon UK | Amazon CA
For a limited time, get LOVE IS A BATTLEFIELD on sale for $0.99.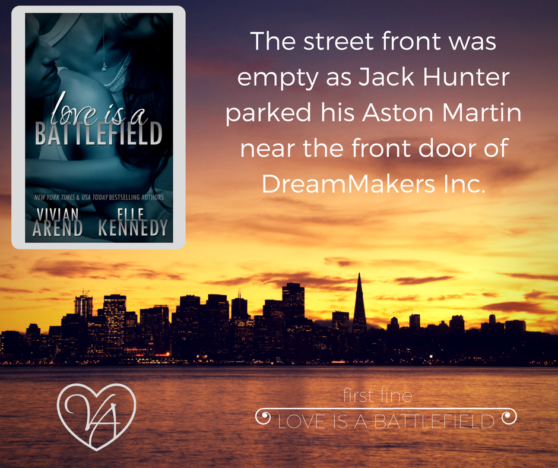 The street front was empty as Jack Hunter parked his Aston Martin near the front door of DreamMakers Inc. The music from the party he'd just left still pulsed in his veins, and he hummed along with the tune stuck on repeat in his brain, clicking open his trunk to pull out the enormous box filled with mostly full bottles of leftover booze.

Normally at the end of a party, remaining stock belonged to the clients who'd purchased it. In this case the party had been for one of their own, which meant the leftovers were going to refill the office liquor cabinet.

Jack grinned. When he and his best friend, Parker Wilson, had established DreamMakers it had been gamble. They'd wanted to capitalize on the skills they'd gained as soldiers while enjoying life to the max. The fact the company had become wildly successful didn't suck.

He put his shoulder to the door, balancing the heavy box with one arm as he coded in the security key. After years of serving overseas as a Ranger, it felt strange to be home. Still watching his back, and the backs of his partners, only no longer against a foreign danger.

The security system flickered from armed to standby, and he moved quickly to get under shelter as rain began to fall.

Inside the office, he moved rapidly through the darkness, familiar with every inch of space. To his right their secretary's desk stood vigil near the front door, a half-dozen comfortable waiting chairs lining the wall across from it. Didi had left her radio on low—no matter how many times he and the guys teased her, they couldn't convince the older woman to shut things off at night. And considering how much work she did, none of the three partners was prepared to call her up on the carpet for something as minor as leaving her music playing night and day.

He shut off the radio, then headed to the staff area at the back of the building, past the center corridor where they each had an office. He and Dean Colter pretended to work in theirs. Parker Wilson actually had a desk and chairs in his office space, his open door revealing impeccable military neatness in every organized inch.

Jack wasn't so much into the office furniture and filing cabinets. He had a couch. It worked fine for the rare times he was in the building.

DreamMakers organized dates for the people who couldn't coordinate enthusiastic enough romantic gestures on their own. In the beginning, their work had been one hundred percent reaching out to confused and desperate friends. The guys who needed some major groveling to get themselves off their ladies' shit-lists, but over the past three years the company's reputation had grown.

It wasn't just about getting their fellow man out of trouble anymore. Now they helped anyone who needed some direction in planning a romantic date or kickass celebration.

Jack paced the hallway, the sneakers he'd changed into after leaving the party landing silently on the laminate flooring. He made it all the way to the staff room/kitchen area and froze.

A light shone by the sink. That in itself wasn't enough to make him blink. No, it was the light and the dusty backpack lying on the counter that shoved his suspicions into high gear.

He set the box in his hands on the floor, checking around carefully as he reached for the corner cupboard and silently pulled out the gun stashed there. Didi constantly teased the men about the strategically placed weapons in the office, and their reply was always the same—Rangers for life. You could take the man outta the army, but you couldn't take the army outta the man.

Gun in hand, Jack eased into the corner to prepare himself for anything.A quick peek behind the freestanding barrier by the back exit revealed a worn pair of shoes left outside the bathroom door.

Someone appeared to have entered the building, and unless they were currently strolling the streets of San Francisco in bare feet, they had to still be around. And from the size of the shoes, his mystery person was a whole lot smaller than him.

He'd already seen into all but three of the rooms, and one of those was rapidly eliminated as Jack cautiously poked his head around the corner to discover an empty bathroom.

The towel hanging on the rack was still damp, but other than that there was no sign of his intruder. Which left one of two places.

He paced silently down the hall to stand outside Dean's office, cocking his head toward the door. Nothing. Nothing but silence so thick it made his ears buzz. He was reaching for the doorknob when a low murmur jerked him from his task.

Someone in the building, less than ten feet away. Somewhere behind the door that led to Jack's domain.
Purchase
Digital: Kobo | iBooks US | iBooks UK | iBooks CA | GooglePlay | Scribd | Oyster | Amazon US | Amazon UK | Amazon CA | Barnes & Noble
Print: Amazon | CreateSpace