Get started with the bestselling Six Pack Ranch series with ROCKY MOUNTAIN HEAT.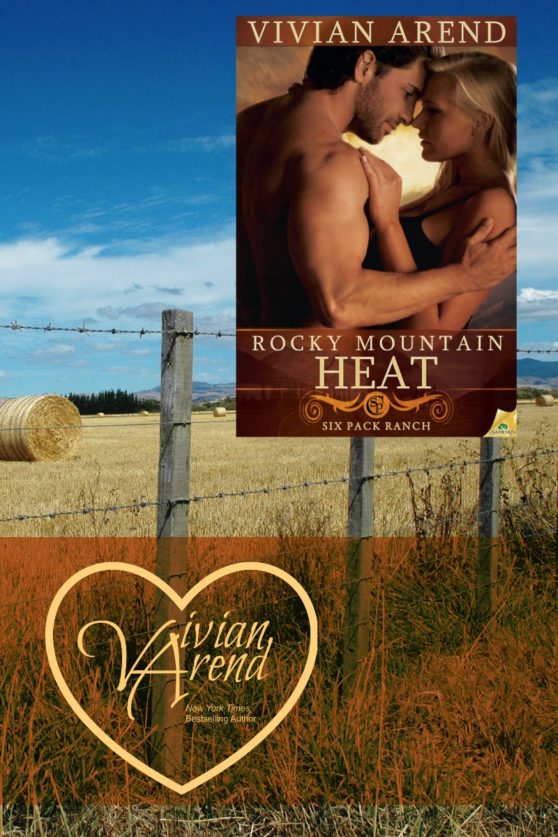 Chapter One

"I'm fine, boys, stop your fussing." Marion Coleman shook her good hand at the twins as they hovered nearby. "I didn't need the wheelchair. It's a silly hospital policy." She shot to her feet, batting Jesse and Joel away.

Blake offered his help, and she smiled, the edges of her mouth remaining tight and the lines at the corner of her eyes deep. She might make light of the situation but it was clear her arm hurt. A lot. She tucked her fingers around his elbow and dragged him across the hospital parking lot, her rapid pace unhampered by the heavy cast covering her right arm from wrist to shoulder.

They stopped beside one of the huge crew-cab ranch trucks, the twins scrambling into the backseat. Marion stared in disgust at the hand pull she couldn't reach.

"Why did you boys all have to grow to over six feet? None of you own a nice little Jetta or Mustang for me to be able to slide into. Just these monster trucks. I have to use a ladder to reach the seat."

"You fed us too well." Blake worked at remaining gentle as he lifted her to the bench, careful not to jar her arm. He'd closed the door and stepped around to the driver's side before he realized it was impossible for her to buckle her seat belt with the cast in the way. He slid behind the wheel and reached to help her. "Let me get it, Ma. You're going to find things a bit awkward for a spell."

"I hate this." Marion stared past him out the window, a touch of fury in her eyes.

"Maybe you should have waited for help picking the apples," Joel piped up from the backseat.

"She did ask, you jerk, remember?" Jesse said. "First we had to finish the back field before the weekend, then Dad asked us to—"

"This is no one's fault. You boys are all busy, with the hay ready to be cut and the animals to care for. I wanted to get the apples before you had time to help me and, well, I've never fallen out of a tree before in my life. Been climbing that one for years." His mom wiggled around in her seat to shake a finger at her youngest sons. "It was an accident. I don't blame either of you, so don't you think you did something wrong. But now I'm going to need some help. Not only do I have a bushel of apples to deal with, there's the garden that needs to be put up, laundry for the family and the cookin' and…" She returned her gaze to the window. "I've caused a mess, boys, and that's the plain truth."

Blake touched her hand softly. His ma was a hard-working woman and not just at the ranch. She'd toiled beside his father for over thirty years, doing everything inside the house, plus caring for and raising six boys, gardening and dealing with the livestock. In addition to her chores at home, she'd always been there for the community, for newcomers and new babies, and whenever a person needed a helping hand.

Having a broken arm was going to bother her a lot—the pain of it mending, and the annoyance of everything she'd be unable to do for a while. Sitting and watching others work was not her style.

"Well, I guess it's time the neighbours get a chance to show a little lovin' your way and come to give you a hand." Blake hoped she'd actually allow people to step forward.

"Blake Coleman, I've never done anything in my life in the hopes to be repaid."

He backpedaled. "That's not what I meant. We know you do things because you want to help others, Ma, but you've got to accept the friends who come to chip in. I'll do what I can—we all will. Even though we're temporarily back under your roof doesn't mean you have to feed us and tend to our needs. It's not as if we haven't all cared for ourselves before. We're big boys. In fact, you need to let us know what we have to take over for you."

Marion shook her head. "You say you want to help, but when are you going to manage that right now? The fall is the busiest time of year between the animals, the fields and the furniture orders. You can't add my chores to your list. Everyone else in town is just as busy."

She lifted the cast in the air tentatively. "I'll figure out how to work around this. I'll get by."

Blake looked in the rearview mirror and exchanged worried glances with his brothers. Something had to happen. He didn't know who was available, but sooner than later, his ma was right. They were going to need help.
Purchase
iBooks US | iBooks UK | iBooks CA  | Barnes & Noble | Kobo |  GooglePlay | Scribd  |  Amazon US | Amazon UK | Amazon CA
Leave A Reply