**twirls mustache** Ah, yes. It's time for the bad guys to come out of the woodwork. The reason for the story to head into a black moment, or to chase the hero/heroine into each others arms. In Wolf Flight, the villian is the reason for Missy to flee…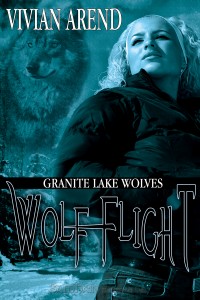 An untriggered werewolf. A runaway Omega. It's not easy fighting destiny.
Granite Lake Wolves, Book 2
Tad Maxwell's workaholism serves to keep his bush pilot company in the air, and his inner werewolf in check. In the two years since he discovered his heritage, he's resisted the longing to test the power of his wolf side. It would mean compromising his human principals.
Then Missy Leason re-enters his life. Ten years ago, their teenage attraction never went beyond hand-holding. Now their chemistry is off the charts, pushing him closer to the step he's not sure it's safe to take, especially with a human.
But Missy is more like Tad than he realizes. She's wolf too, and a wolf pack is a dangerous place to have secrets. Missy's alpha has sniffed out her carefully hidden Omega powers. Her first response: run from the corrupt alpha's plan to make her his mate. Step two: get to Tad, and hope like hell his untapped powers are strong enough to negate her own.
Every touch with Missy is hot, hot, hot, but even finding out she's pure wolf doesn't solve Tad's dilemma. Is she using him, or are they truly destined mates? Only one thing is certain. He will defend her to his last breath—on his terms. Even if it means losing his life.
~~~
September, Whistler, British Columbia
The Whistler pack house was crowded after dinner, with small groups gathered around the room talking amongst themselves. Conversations quieted for a moment as laughter burst out from where the Alpha and his cronies sat in the prime seats before the huge stone fireplace. An icy warning trickled up Missy's spine, and she gave up on the discussion in front of her. She rose from her chair and headed quietly toward the exit, weaving between the couches and recliners that filled the meeting and relaxation area for the pack.
Missy had no illusions about the precariousness of her position. As the widow of a high-ranking wolf, even one whose position had come from his family relationship instead of his power, she was an obvious target for any of the wolves looking to improve their standing in the pack.
Which would be, oh, pretty much everyone. Only she wasn't worried about all of them, just one very dangerous individual.
It could have been worse. It would have been worse if she hadn't managed to keep her secret. Hidden her developing skills away not only from her late husband but the rest of them.
Even now her Alpha's gaze burned as she walked with her head down, attempting to remain small and unnoticeable as she slipped through the common area toward her apartment at the back of the complex.
"Missy," Doug called. "Come here."
She turned toward him, the hair on the back of her neck standing upright as a shiver of disgust raced over her skin. She had hoped to avoid this summons for far longer. Stopping a polite distance away to stand before the massive fireplace, Missy clutched her fingers together and averted her eyes at the last second.
"Jeff has been gone for a month now," he noted, his long well-groomed fingers tapping on the arm of the overstuffed leather chair. His stylish business suit, clean-shaven chin and immaculately groomed hair sharply contrasted with what she knew of his personality. She'd seen his wolf kill more often than necessary, even for an Alpha trying to maintain order in a large pack.
Missy rocked on her feet uneasily. Doug rose from his seat to tower over her petite frame, the heat from his body close enough to overwhelm the fire's warmth. She stared away from him, looking over the heads of the wolves sprawled on the couch immediately in front of them. Don't let him know how much you loathe him. Don't show any sign of disrespect. Others in the room looked on with curiosity for a minute before turning back to their own conversations. Only the wolf enforcers she spotted scattered inconspicuously throughout the room tensed, ready to spring into action if needed.
The level of paranoia her Alpha encouraged among his warriors shocked her. Did they really think she would challenge Doug? It seemed few pack members were aware he was less than the honourable businessman he pretended to be. Missy wondered how much the Alpha shared with his closest allies, how many of his wrongdoings the other leaders of the pack approved. Or were the Beta and the rest ignorant victims as well?
"Does it bother you to hear me talk about my brother? Do you miss him that much?" Doug's refined voice prickled in her ears. "I didn't think you pined for his conversation or longed for his arms to hold you at night."
He laughed softly and the sound grated on her nerves like nails on a blackboard. Over the past couple years Missy had become aware of slow changes in her abilities, including an increased sense of others' motivations. The evil Doug delved into permeated every fiber of his being, and Missy turned her head away to avoid showing her disgust. She swallowed hard and forced down the emotions that threatened to engulf her. Her anger, her fear. The almost overwhelming desire to turn and flee from his presence.
She couldn't run, not yet. She needed more time. Time to find an escape from the trap she knew closed around her as each day passed.
Doug ran a finger down her cheek, plucking at a blonde curl, and her gorge rose. Missy concentrated on presenting a calm façade, forcing her eyes to blink naturally as she slowed her pulse, her breathing. Calming all the telltale signs that could alert this powerful werewolf of her intentions.
He was her brother-in-law, her Alpha, but she refused to let him control her. The finger continued a slow path down her body as she stood stock-still.
"Jeff never did know what a treasure he had, did he?" Doug asked, his dark voice dirty like an oily slick over her skin. He leaned close to whisper in her ear. "My sweet Omega."
~~~
~~~
More villianish rotters to visit–I mean, their featured characters are evil… 😉
Shelli Stevens, TJ Michaels, Lauren Dane, Ashley Ladd, Taige Crenshaw, Shelley Munro, McKenna Jeffries, Mandy M Roth,  Mari Carr, HelenKay Dimon, Jody Wallace
Nowadays there is lot of unforeseen circumstance which force humanity to take remedies. You can order medicines directly your office. In these latter days the stock you can find in online pharmacy is actually high. Some medications are as a rule used to treat many types of bacteria, such as tonsillitis and infections of the throat. Other ones are used to treat diabetes. Cialis is a remedy used to treat divers afflictions. What do you have to know about cialis order online? Presently many families search for the exact keyword ordering cialis online on the Internet. Perhaps you already read something about it. Having erectile disfunction can beyond doubt complicate romance. What can cause erectile dysfunction? A row of psychological issues can produce erectile dysfunction. What should you discuss with a physician before taking Cialis? Any treatment may cause dangerous side effects. Sometimes side effects can be actually dangerous. Talk to your pharmacist about the proper disposal of your medicine.
Leave A Reply