We're closing in on the final book in the Thompson & Sons series, and to make sure you're caught up, we're going to go through the books that lead up to the new story. A WILD RIDE can be read alone, but it's better for being a part of the whole!
This week: ROCKY RIDE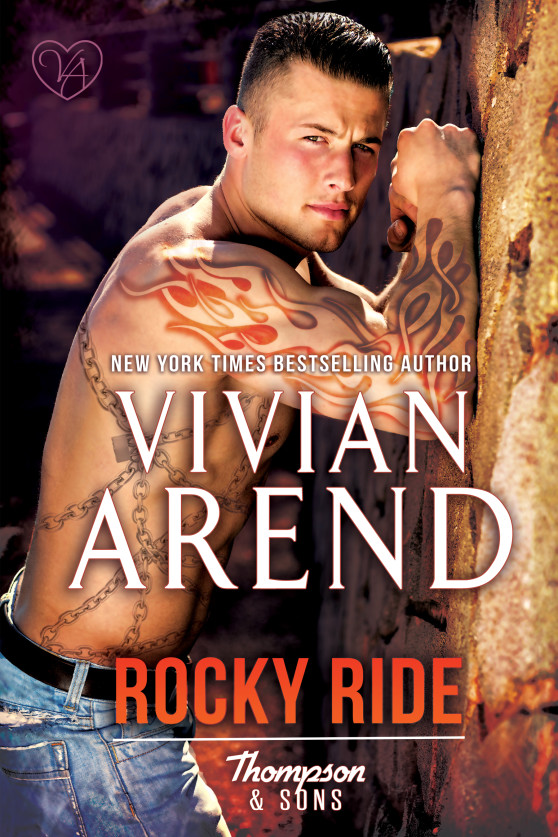 He's hotter than hot

Bad boy Mitch Thompson finally convinced straight-laced Constable Anna Coleman to take him for a ride. It only took a few—okay, a lot of speeding tickets and some smooth talking—but now that Anna's loosened off her stiff RCMP uniform, it's not nearly enough for Mitch. Their secret escapades are steamy and mind-blowing, but he wants more than her body—he wants her heart.

She's afraid of getting burned

Anna doesn't know how far she can safely go before she crosses the line. Sinfully sexy Mitch may have lured her wild side out to play, but giving in to more and more illicit desires could endanger her very civilized career on the police force. There has to be a point between yearning and obsession. Or is there?

Will giving in mean giving up everything she's worked for, or will they gain everything they've ever wanted?
Excerpt:

Mitch skimmed his fingers over her neck then sank them into her hair. "Do you trust me?" he asked, tugging lightly to lift her face toward him.

There was no other answer she could give. "I wouldn't have started this if I didn't."

That gorgeous square-cut jaw with the heavy stubble moved closer, until he was brushing her cheek with his. Every word became a sensual tease. "Give it a try, Constable. Walk on the wild side with me. We'll go as slow as you feel comfortable, but you know I'm not the big bad wolf everyone makes me out to be."

"You still have enormous teeth," she teased, involuntarily trying to shift away as he nibbled on her neck. "Mitch. How could this possibly work between us? I'm a cop."

"And I'm a decent, upright citizen living in your community," he insisted. "Who drives a little fast at times."

She shivered under his touch. The temptation was there, honesty made her admit that. For all his tattoos and fast bike and beefed-up truck—Mitch had never been proven connected with anything more scandalous than a speeding ticket.

Tickets she'd given him while he'd flirted unmercifully until she agreed to meet with him.

And now? Was she really going to get involved even more? What would her family say? What would—

Her job.

Fear rose like a barricade, and she tangled her fingers in his hair, tugging him away to stop him from tormenting her body. "I don't want to do anything to risk my position, Mitch. That's all on me—on the expectations the organization has for their officers."

"Not going to mess with your career, babe. I swear."

Anna leaned her head on his chest and fought to draw strength from him. She let out an aggravated growl. "How can I want to say yes so badly, yet want to run out the door at the same time?"

He held her close, strong fingers rubbing over her back. "Tell me what you want, and I'll do what I can to make it happen," he promised. "Take a chance, Anna. Take a step into the unknown and see how it feels."

She glanced at his list. The page lay face-up on the coffee table by their legs. Dancing at Traders. A movie at the theater. A starlight walk. Some of the things he'd written down weren't too frightening to imagine. "You'll go at my speed?"

He laughed softly. "You're as heavy on the gas as I am. I promise to go slower than your speed if we have to."

Temptation hung before her. All she had to do was reach out and take it. "What are we going to do? One item off your list, one item off mine? Mine are a hell of a lot…"

"Filthier than mine? Oh, babe, I noticed." Mitch lifted her chin. "I'm looking forward to making every one of them come true."

Anna hesitated then gave in and took what she wanted. "Okay. We can try it, see how things work. What's the first thing on your list, then? And remember you promised me crazy excitement."

His dark eyes snapped with enthusiasm as a satisfied smile stretched across his face. "Tonight? We're going dirt biking."
Purchase Digital: Amazon US | Amazon UK |Amazon CA | Barnes & Noble| Kobo | iBooks US | iBooks UK |iBooks CA | All Romance eBooks |GooglePlay | Scribd | Oyster
Purchase Print: Amazon | Barnes & Noble | Book Depository | Booksamillion |CreateSpace
Purchase Audio: Amazon | Audible | iTunes
Nowadays there is lot of unforeseen circumstance which force humanity to take remedies. You can order medicines directly your office. In these latter days the stock you can find in online pharmacy is actually high. Some medications are as a rule used to treat many types of bacteria, such as tonsillitis and infections of the throat. Other ones are used to treat diabetes. Cialis is a remedy used to treat divers afflictions. What do you have to know about cialis order online? Presently many families search for the exact keyword ordering cialis online on the Internet. Perhaps you already read something about it. Having erectile malfunction can beyond doubt complicate romance. What can cause erectile dysfunction? A row of psychological issues can produce erectile malfunction. What should you discuss with a physician before taking Cialis? Any treatment may cause dangerous side effects. Sometimes side effects can be actually dangerous. Talk to your pharmacist about the proper disposal of your drug.
Leave A Reply