ROCKY MOUNTAIN FREEDOM Feature
We're closing in on the next book in the Six Pack Ranch series, and to make sure you're caught up, we're going to go through the books that lead up to the new story. Rocky Mountain Shelter can be read alone, but it's better for being a part of the whole!
This week: ROCKY MOUNTAIN FREEDOM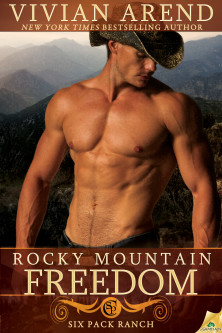 Three hurting hearts. Too many secrets. One chance to conquer their fears.

Over the past year, Travis Coleman lost the two people he allowed closest to his heart. Both gave him ultimatums—then left. Hell if he needs that kind of pain again. Time to move forward without the friends he thought might save him from his dangerous cravings.

When Ashley Sims returns to Rocky Mountain House, her rambling lifestyle isn't all she's hoping to change. Travis snagged a piece of her, and while getting tangled in his issues again might be crazy, she hasn't given up on him.

Nine months ago, Cassidy Jones walked away to stop his best friend from making a huge mistake. Temptation lingers, though, and when Travis shows up on his turf accompanied by a sensually uninhibited woman, the combination tosses fuel on the banked fire.

Passion flares among the three of them, as hot as the summer days. But are they willing to push the limits, and fight for love?

Warning: Dirty fighting, dirty talk, dirtier sex—secrets are coming out. Get ready for ménage a trois and cowboy-on-cowboy action, with ropes and crops and the kind of relentless love strong enough to set a man free.
Excerpt
Travis's familiar truck pulled into the yard, parking right next to Cassidy's. Cassidy frowned as he noted there was another vehicle still on the road, only a little ways back, but then distraction hit in the form of one long, lean cowboy dropping smoothly to the ground and stretching his back as he looked around.
At this distance Cassidy figured he was safe, so he indulged in checking Travis over hungrily. Nothing had changed. The dark-haired devil still drove him crazy. Travis reached into the back of the truck and pulled out a pack, slinging it easily over his shoulder.
Time to face the music. Cassidy stepped from the shadows and made his way toward the lot. Travis turned toward him, his welcoming smile fading rapidly to dismay.
"Cassidy? What—?"
He snapped his mouth shut and glanced away. Lips tight, obviously fighting a rush of anger.
Shit. "That answers my first question. I wondered if you knew I was working the camp for the summer."
Travis took a deep breath before stepping forward. "You bastard."
Cassidy laughed. "Nice to see you again too, T."
"Screw that noise." Travis abandoned his bag to the ground at their side and got right in Cassidy's face. "What the fuck?"
"I'm head wrangler. Your cousin hired me."
Travis shook his head. "I meant what the fuck were you thinking? You were there and then you were gone. Not a trace, not a note. I had no idea what had happened. You could have been dead in some ditch for all I knew."
"I told you I was going."
Hands slammed onto his shoulders, fingers closing into fists as Travis grabbed his jean jacket. He leaned in, their faces only inches from each other. "You said I couldn't have what I wanted. You didn't tell me you were going to fucking pack up your life and never come back. Asshole."
Cassidy stiffened his spine and refused to give in to the urge to wrap his arms around his friend and hold on tight. Focused on the job—on what he'd have to do to make it through the summer in one piece without giving in to what Travis had demanded.
Focused on what he'd have to do to avoid falling for him hard.
There was one question to ask straight out. "You want me to quit working for Trailblazers?"
"Not my damn choice." Travis released his grasp so quickly Cassidy rocked on his feet.
He probably deserved a little of this bullshit. "I'm sorry I didn't give you a warning. I only got the news you were coming in Karen's place two days ago."
"It was a last-minute decision."
"I figured." Time to change tack. Maybe if they pretended they were meeting for the first time, they would survive at least a few days without blowing up. Cassidy pointed over his shoulder. "You've got a place of your own here to set up. I can show you around, introduce you to the crew tonight. Tomorrow we can ride to Second Camp."
Travis picked up his bag and settled it on his shoulder again. "Fine. Only let's wait until Ashley arrives. She was only a few minutes behind me."
Ashley?
"Oh, the photographer. Right—Karen sent word about her as well." Good, Travis seemed to be game for changing the topic. "We won't have many guests for the first while, so I figured she could bunk in one of the guest tents."
Travis flashed his grin, all cocky and bright again. Warning signals instantly went off in Cassidy's brain.
"Oh, you don't need to find her another space. She'll be bunking with me."
A dart of jealousy slammed him in the gut. Cassidy beat the sensation down with a firm fist as quick as possible. He pasted on a smile. "Single cot in your cabin."
Travis raised a brow. "We'll figure something out."
Bastard.
Cassidy turned toward the parking lot, deliberately ignoring Travis's gloating expression. The sinking sensation in his stomach was stupid. This was great news. If Travis was fooling around with some woman, Cassidy had nothing to worry about. Simple.
So why do I feel as if I've been kicked?
He shoved his confusion aside and instead focused on the throwback-to-the-hippy-generation van rolling into the parking lot. The ancient vehicle with the artsy paint job was like something out of a sixties magazine. The blonde who stepped from the driver door twirled, her bright gypsy skirt flaring around her as she raised her arms to the sky and squealed happily.
She was wearing beaded sandals, and Cassidy laughed. "Damn, Travis, did you use a time machine to pick her up?"
Cassidy's taunts fell away as she continued to pivot, the sunlight shining through her thin garments. Fabric pressed against her soft curves highlighting her feminine form with its high breasts and smooth upper arms. She faced them and another jolt hit hard. The woman wasn't the most beautiful he'd ever seen, but she wore a smile full of mischief, her lively gaze darting around the area to take in everything. Full, sensual lips combined with high cheekbones. He could imagine digging his fingers into the thick mass of her blonde hair and fisting it tight, tugging to expose her long neck for kisses all along the smooth column down to the soft skin bared by the V neckline of her top.
He was staring, he knew he was, but Cassidy was too caught up in admiration to care.
Until Travis cleared his throat.
Fuck it. Cassidy tore his gaze off the woman's curved waistline, off the hips he was already imagining catching hold of and—
"Ash, come meet the head wrangler." Travis's grin taunted Cassidy. "Cassidy, this is Ashley Sims."
The wild gypsy woman lifted her eyes, and Cassidy was tossed into a cloudless Alberta sky. In her gaze the full heat of a summer day blazed down on him as she checked him over far more blatantly than his examination a moment earlier.
She hummed happily and held out a hand. "Well, well. You feel the urge to round anything up, give me a shout. I'd love to see you in action with a rope."
Purchase
Nowadays there is lot of unforeseen circumstance which force people to take remedies. You can order medicines directly your office. In these latter days the stock you can find in online pharmacy is actually high. Some medications are as a rule used to treat many types of bacteria, such as tonsillitis and infections of the throat. Other ones are used to treat diabetes. Cialis is a remedy used to treat divers afflictions. What do you have to know about cialis order online? Presently many families search for the exact keyword ordering cialis online on the Internet. Perhaps you already read something about it. Having erectile dysfunction can beyond doubt complicate romance. What can cause erectile dysfunction? A row of psychological issues can produce erectile disfunction. What should you discuss with a physician before taking Cialis? Any curing may cause dangerous side effects. Sometimes side effects can be actually dangerous. Talk to your pharmacist about the proper disposal of your drug.