Release Day: A RANCHER'S SONG
Today is the release of A RANCHER'S SONG. Walker Stone and Ivy Fields are getting their second chance at love.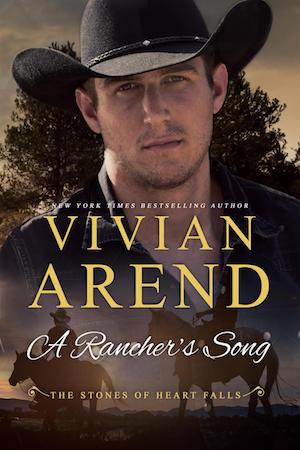 Can love help a champion bull rider face his fears and find his future? Welcome to Heart Falls, a new series from New York Times bestselling author Vivian Arend.
Ivy Field's heart nearly broke when she left Heart Falls, but her high school sweetheart insisted she follow-through on her dream of becoming a teacher. She thought that meant putting their relationship on hold briefly, but it's taken eleven years to return. Now she's back, no longer a painfully shy young girl but a confident woman who knows exactly what and who she wants—a home and a family—with too-sexy-for-his-boots Walker Stone. He was her first; she wants him to be her last.
Walker "Dynamite" Stone was still reeling from his parent's unexpected death when Ivy left. He let her go, throwing himself into work on the Silver Stone ranch and dangerous living on the rodeo circuit. But lately Walker's adrenaline junkie ways have crashed—he's having panic attacks. Potentially devastating to his budding music career, they're a deadly handicap when shooting for eight seconds aboard an angry bull. He needs to learn to face his fears to save the family fortunes. If he succeeds, this time Walker will be the one to leave Heart Falls, and Ivy, behind.
Will Ivy and Walker have to give up on forever, or can they turn this rancher's song into a winning duet?
Purchase: 
Excerpt:
She reached for her buttons, her fingers shaking so hard she couldn't catch hold of anything.
"I'll take care of you." Walker's voice, soft and gentle now, and she let her eyes stay closed because it would be easier to not see him.
So much easier not to watch as he, gently as possible, stripped away her soggy wet blouse and pants Because if she was watching his face and saw even a hint of desire, she was going to do something regrettable.
She also wanted to find a large object and smack him over the head with it. "What were you doing on the rocks?"
He made a soothing noise as he took the blanket off of her bed and wrapped it around her shoulders. "Something foolish. I'm sorry you got caught up in it."
"Troublemaker."
He reached around her, undoing her bra and slipping it off her body under the cover of her blanket. "Yep. You and me, Snow. A ball full of trouble."
Fire and ice. That's what she was thinking because he was peeling her wet panties down her legs, and her eyes popped open just to torment her. His face was set like the stone of his name, as if he were trying desperately to get through this.
Because it was difficult to touch her? Or difficult not to touch?
Her head ached too much to give the dilemma anymore thought. When he picked her up and laid her in the middle of her bed, pulling the blankets over her, she decided she'd have to think about it sometime when her teeth weren't rattling like castanets.
She lay there and shivered, breathing shakily and trying desperately to find a way to suck heat out of the air.
The mattress dipped. A heavy male body joined her, skin connecting with hers as Walker folded himself around her.
"Oh my God."
Somehow those words came out crystal clear. Walker was in bed with her, both of them naked, in her parents' house.
Maybe she was further gone than she thought, and now she was hallucinating.
"I need to warm you up. Relax, honey. You're going to be okay."
A thick band of muscle curled around her as he pulled her in tighter, that furnace inside him operating at full volume. He put out more heat than standing in front of a wood-burning stove.
It was really too bad she was beyond exhausted and couldn't enjoy this as much as she should. Muscles pressed against her, his warm breath sliding over her shoulder as he nestled his face in the curve of her neck. Their legs tangled together, the hair on his limbs scratching like erotic sandpaper.
It took a while before the knot inside began to melt and her body relaxed enough so that blood could flow again. Her head ached, and her muscles were tired as if she'd run a marathon. But she was warm, and she felt safe.
Of course I feel safe—I'm in Walker's arms.
As she drifted off the last thing on her mind was still confusion.
What had Walker been doing in the first place?