In honour of HIGH RISK officially arriving March 5, we're going traveling.
Since this is something new–new series, new publisher, new genre–I wanted to do something else new. So we're taking a tour to some of my favourite blogs over the next week. And I'm showing you pictures. LOL– you know, like that annoying person at the office party? Except I hope you enjoy these pictures. I'm sharing some highlights from trips I've taken over the years. Amazing scenery and fun activities to get us in the mood to read HIGH RISK, which is set in the incredibly beautiful Canadian Rockies, and stars some active and adventurous people.
I'm not nearly as adventurous as they are. Just saying.
But many of you have asked about my travels before. Here's a chance for you to drop in and join me! There are a couple places to visit most days, so bookmark this blog and remember to come back to see what's new. Each place I visit you'll have a chance to win an Adrenaline Swag pack, and choice of ebook from my backlist.
Ready to take a trip?
Monday
GUILTY PLEASURES
Tuesday
SMEXY BOOKS
NOVEL THOUGHTS
Wednesday
DELIGHTED READER
BOOK LOVERS INC
Thursday
HANGING WITH BELLS
THE BOOK PUSHERS
Friday
WICKED 'LIL PIXIE
THE BOOK READING GALS
BOOK BINGE 
Monday
FICTION VIXEN
UNDER THE COVERS
THE BOOK VIXEN
Tuesday
HEA USA TODAY
~~**~~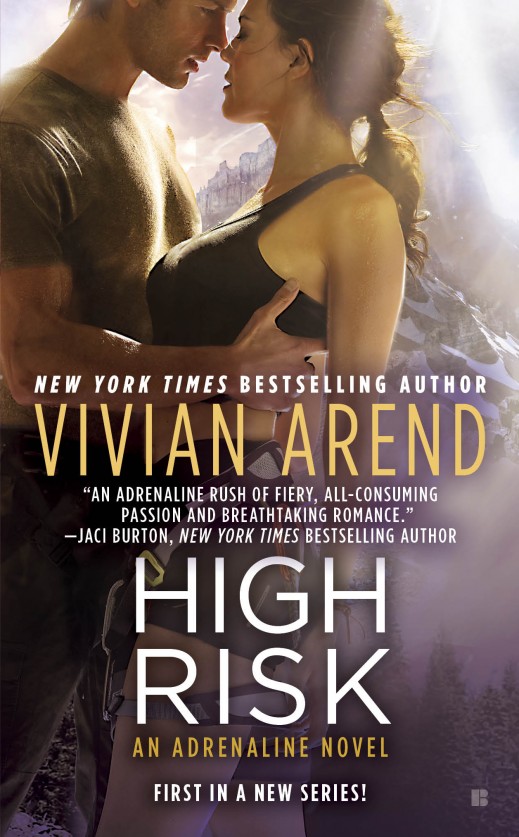 High Risk
Adrenaline, Book 1
LIFELINE: an elite search-and-rescue squad based out of Banff, Alberta. Specializing in high-risk rescue missions, this team goes wherever the job takes them…

Rebecca James was once revered for her devil-may-care attitude and backcountry survival skills. But ever since she lost her partner in a fatal accident, patches of her memory have been missing. And until she can recall those final, tragic moments before the accident, she can't move on.
Since Marcus Landers was permanently injured during a mission, all his energies have been focused on his Lifeline team. When Becki—whom he had an intense affair with seven years ago—arrives in Banff, he's inspired to reignite the spark they once had. Their mutual ardor slowly awakens Becki's dormant, haunting memories.
New truths surface until Becki must at last confront her greatest fear. Remembering the past might mean a future without the man she loves…
Available March 5
Digital
Amazon | Barnes & Noble
Mass Market Paperback
Amazon | Barnes & Noble | Book Depository  | Booksamillion | Powells
Nowadays there is lot of unforeseen circumstance which force humanity to take remedies. You can order medicines directly your office. In these latter days the stock you can find in online pharmacy is actually high. Some medications are as a rule used to treat many types of bacteria, such as tonsillitis and infections of the throat. Other ones are used to treat diabetes. Cialis is a remedy used to treat divers afflictions. What do you have to know about cialis order online? Presently many families search for the exact keyword ordering cialis online on the Internet. Perhaps you already read something about it. Having erectile disfunction can beyond doubt complicate romance. What can cause erectile dysfunction? A row of psychological issues can produce erectile dysfunction. What should you discuss with a physician before taking Cialis? Any medication may cause dangerous side effects. Sometimes side effects can be actually dangerous. Talk to your pharmacist about the proper disposal of your medicine.
Leave A Reply