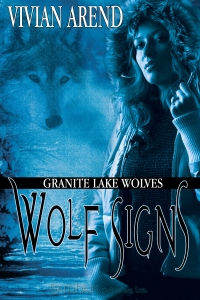 If you've been counting your pennies (like most of us) and you love books (ditto), you've probably heard about the freebie program offered through Amazon for the Kindle. It's a chance to try out a book from an author's backlist to see if you like their voice, and for the next two weeks, I'm the featured author from Samhain Publishing with my first release, Wolf Signs.
It's a fun story–a quick read, and completely fluffy bunny reader safe. If you haven't had a chance to pick it up, here you go.  Click on the book cover for rapid transport to Amazon–and remember you don't have to have a kindle for this to work. I use the kindle application on my iTouch, some people use the Kindle for PC. Variety. It's a wonderful thing.
NUMBER TWO!!
Wolf Games, book three in the series, has gone up for preorder at Books on Board and Amazon. Woohoo! That makes it more real. If you're interested in posting the countdown clock- feel free. Erik & Maggie are coming soon. Let the Games begin!
(And just as a tidbit teaser, yes, the hero/heroine take part in the Arctic Wolf Games, the werewolf equivalent of the Olympics!! Some events are held in human form and some in wolf. The Games range all over the Yukon, and there are plenty of surprises along the way.)
Nowadays there is lot of unforeseen circumstance which force folk to take remedies. You can order medicines directly your office. In these latter days the stock you can find in online pharmacy is actually high. Some medications are as a rule used to treat many types of bacteria, such as tonsillitis and infections of the throat. Other ones are used to treat diabetes. Cialis is a remedy used to treat divers afflictions. What do you have to know about cialis order online? Presently many families search for the exact keyword ordering cialis online on the Internet. Perhaps you already read something about it. Having erectile disfunction can beyond doubt complicate romance. What can cause erectile dysfunction? A row of psychological issues can produce erectile dysfunction. What should you discuss with a physician before taking Cialis? Any medication may cause dangerous side effects. Sometimes side effects can be actually dangerous. Talk to your pharmacist about the proper disposal of your drug.
Leave A Reply