Ode to Matthew: Emma Lang / Vivian Arend version
Sometimes wonderful coincidences happen in this writing gig. One that's happening right now is that my next book release has this sexy fellow by the name of Matt as a hero. And my friend Beth Williamson also has a sexy Matthew ready to share with the world!
They're both cowboys. All together now? Mmmmmm. ;)
Beth writes historical cowboys under her Emma Lang name, which means between Circle Eight: Matthew and Six Pack Ranch: Rocky Mountain Desire we've got lovely, sexy cowboys in the past and the present to enjoy. I figured we all needed a few doses of said cowboys. Soooo… Beth and I have themed snippets for you to enjoy. You can drop in at these places starting today for a sweet taste, or two, of Matthew:
Cowboys Have Great Hands  January 26: Seductive Musings
Cowboys Are Great Kissers    January 30: The Book Pushers
Cowboys Are Hard All Over   January 31: Under the Covers
Cowboys Know How to Ride  February 1: Guilty Pleasures
Cowboys Love Forever              February 2: Novel Thoughts
We hope you'll enjoy taking a ride with our boys!
~~**~~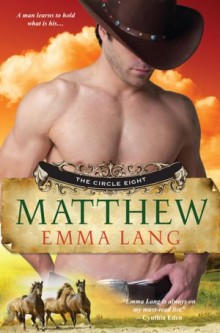 Matthew
 Circle Eight, Book 1
By Emma Lang
A man learns to hold what is his…
It is a vast spread in the eastern wilds of the newly independent Republic of Texas, the ranch their parents fought for … and died for. To the eight Graham siblings, no matter how much hard work or hard love it takes, life is unthinkable without family…
In the wake of his parents' murder, Matthew Graham must take the reins at the Circle Eight. He also needs to find a wife in just thirty days, or risk losing it all. Plain but practical, Hannah Foley seems the perfect bride for him . . . until after the wedding night.
Their marriage may make all the sense in the world, but neither one anticipates the jealousies that will result, the treacherous danger they're walking into, or the wildfire of attraction that will sweep over them, changing their lives forever.
~~**~~
Buy links: Book releases January 31, 2012
Amazon | Barnes & Noble | B-A-M | Chapters | IndieBound | Powell's
Emma Lang/Beth Williamson: Website | Blog | Twitter
~~**~~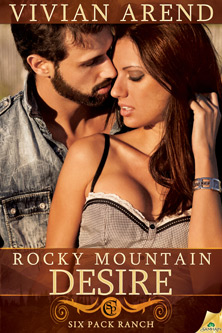 Rocky Mountain Desire
Six Pack Ranch, Book 3
By Vivian Arend
Nothing comes easy. You've gotta work for it.
Matt Coleman always figured at this point in his life, he'd be settled down with a family. Since his ex split for the big city, though, no way will he give anyone else the chance to drop-kick his heart. Physical pleasure? Hell, yeah, he'll take—and give—with gusto, but nothing more.
Hope Meridan is working long hours to hold on to her new quilt shop, going it alone since her sister/business partner ran off. Sex? Right, like she's got the time. Not that she doesn't have the occasional dirty fantasy about Matt. Fat chance he'd dream of knocking boots with her—the younger sister of the woman who dumped him. Nope, she'll just have to settle for the F-word.
Friends would be far easier if there wasn't something combustible going on between them. And when casual interest starts to grow into something more, their tenuous bond strengthens in the heat of desire. But it may not survive the hurricane-force arrival of the last person either of them ever wanted to see again…
Warning: Small-town rivals, men in pursuit and family meddling—in good and bad ways. Look for a cowboy who knows how to rope, ride and rein in a hell of a lot more than eight seconds of sheer bliss.
~~**~~
Buy links: (ebook releases March 13, 2012)
 Amazon | Barnes & Noble
Nowadays there is lot of unforeseen circumstance which force people to take remedies. You can order medicines directly your office. In these latter days the stock you can find in online pharmacy is actually high. Some medications are as a rule used to treat many types of bacteria, such as tonsillitis and infections of the throat. Other ones are used to treat diabetes. Cialis is a remedy used to treat divers afflictions. What do you have to know about cialis order online? Presently many families search for the exact keyword ordering cialis online on the Internet. Perhaps you already read something about it. Having erectile dysfunction can beyond doubt complicate romance. What can cause erectile dysfunction? A row of psychological issues can produce erectile dysfunction. What should you discuss with a physician before taking Cialis? Any medication may cause dangerous side effects. Sometimes side effects can be actually dangerous. Talk to your pharmacist about the proper disposal of your drug.